Review: 'The Humans' at the Ahmanson: Quite possibly the best cast of actors you can see anywhere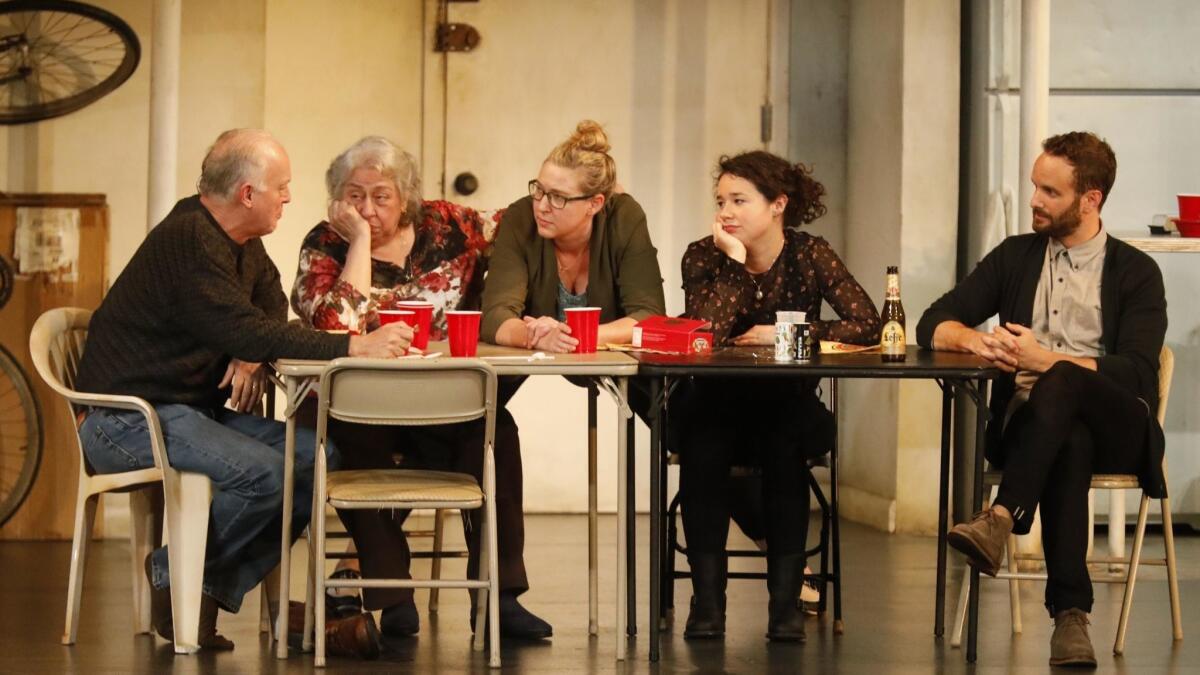 Theater Critic
If there's a better acting ensemble working in America right now than the extraordinary cast of "The Humans," which opened Wednesday at the Ahmanson Theatre with nearly the entire Broadway cast intact, I'm unaware of its existence.
Stephen Karam's drama, which won the 2016 Tony Award for best play, is a meticulously observed study of a family gathering for Thanksgiving in the New York apartment the youngest daughter has just moved into with her older boyfriend. The setup may sound yawningly familiar, but the playwright captures contemporary American domestic life in such wincingly accurate detail that something at once eternal and urgently of the moment is achieved.
The behavioral rhythms and holiday rituals of the Blake family, an Irish-Catholic clan that hails from Scranton, Penn., guide Karam's discreet handling of his minimal plot. There's no shortage of revelations. Each character grapples with private misfortune that's all-too-painfully real. But the play's vitality springs from the affection and annoyance, the laughter and anxiety, the tenacity and growing sense of defeat of family members who, no matter what is thrown their way, will always be lovingly and exasperatingly connected.
It's probably too soon for tense, touchy Brigid (Sarah Steele) and her good-natured boyfriend, Richard (Nick Mills), to host Thanksgiving dinner. The moving truck with their furniture has yet to arrive, lightbulbs are burning out with no replacements on hand and the building's strange noises (from an upstairs neighbor who sounds like she's operating a crane to a trash compactor that seems to be gorging on pipes) are rattling visitors who are jumpy enough being in a designated flood zone just a few subway stops from Ground Zero.
Although constructed with painstaking realism, "The Humans" is shot through with a sense of surrealistic foreboding. Characters tell one another about their terrifying dreams, and nerves are so jangled by the unfamiliar environment that when a cockroach runs across the floor it becomes almost a full-blown emergency.
But for all the tantalizing horror-film hints, it's everyday life that turns out to be the most fearful proposition of all.
The production, directed by Joe Mantello with an unerring instinct for the inherent theatricality of psychological truth, is grounded in inescapable reality. David Zinn's split-level apartment set, a sunless living space that by Manhattan standards is a real find for the square footage, has been perfectly fitted to the Ahmanson stage.
Intimacy is achieved along with breadth. With the finesse of a camera, the production zooms in on an exchange between characters before pulling back again on the big picture. The cast members, who include the irreplaceable Jayne Houdyshell and the indispensable Reed Birney reprising their Tony-winning performances as parents struggling to stay afloat as the waters around them keep rising, reveal as much when on the periphery of the action as when at the center of attention.
Whole histories are caught in body language. The way Houdyshell's Deirdre troops up and down the winding staircase on her arthritic knees, always ready to console or clean up or take care of whatever anyone else would rather avoid, paints a portrait of a mother who's not about to let age stand in the way of her mothering. When Birney's Erik, the "Big Guy" of the family, hunches alone in a corner like a tower crumbling into softening ground, the question hovering over him —"Don'tcha think it should cost less to be alive?"— echoes without words.
As Aimee, the eldest daughter grappling with ulcerative colitis, the breakup of her long-term lesbian relationship and the news that she's no longer in line to make partner at her law firm, Cassie Beck divulges all we need to know through her character's sorrowful glances at her Blackberry. Lauren Klein, who plays "Momo," Erik's mother suffering from senile dementia, has an uncanny ability to fade into the background when not called upon to create boisterous havoc.
Steele's Brigid, a would-be composer saddled with student loans and self-doubt, has a rubber-band temperament. Capable of being generously stretched, she's quick to snap back with a vengeance. Her reactions, while never overplayed, become a main portal in understanding the family dynamics.
Mills, who was Arian Moayed's understudy in the role in New York, is the only new face in this production. He imbues Richard, the outsider in the family, with an imperturbable kindliness. A budding social worker who wears his sensitivity on his sleeve, he stands in marked contrast from the blue-collar world that molded Erik's grin-and-bear-it masculinity. In not wanting to call attention to the cultural differences, Mills' Richard indirectly sheds light on them. His agreeable affect is a perk of his more elevated social class.
This is my third time seeing "The Humans," and I keep discovering new layers. When I first encountered Mantello's production off-Broadway at the Roundabout Theatre Company, I was blown away by the seamlessness of the ensemble. On Broadway, I was gripped by the confrontation with middle-class struggle.
A companion of mine in New York suggested that Karam should have called his play "The Americans," but at the Ahmanson I was more convinced about the suitability of the title. Yes, the play takes the measure of American life, with all the stresses and strains of our brutal economy. But it's the existential precariousness reverberating through family bonds that gives the play a scope that took me some time to appreciate.
The ending has been slightly toned down. Justin Townsend's lighting and Fitz Patton's sound effects don't pack the same eerie punch as they did in New York. But Mantello's production has come to L.A. at full-strength.
"The Humans" offers a banquet of superlative acting. If I could preserve one moment in my theatrical archives, it would be the way Houdyshell's Deirdre, after bringing her daughters up to speed on all the latest tragedies in Scranton, exhales with maternal indomitability, "What else ..." The reactions to that philosophical question are as compelling as Houdyshell's brilliant delivery.
♦ ♦ ♦ ♦ ♦ ♦ ♦ ♦ ♦ ♦
'The Humans'
Where: Ahmanson Theatre, 135 N. Grand Ave. L.A.
When: 8 p.m. Tuesdays-Fridays, 2 and 8 p.m. Saturdays, 1 and 6:30 p.m. Sundays; ends July 29 (call for exceptions)
Tickets: $30-$130 (subject to change)
Information: (213) 972-4400 or centertheatregroup.org
Running time: 1 hour, 40 minutes (no intermission)
Follow me @charlesmcnulty
Get our L.A. Goes Out newsletter, with the week's best events, to help you explore and experience our city.
You may occasionally receive promotional content from the Los Angeles Times.