Review: In 'Native Gardens,' bad fences make for a fun, formulaic comedy about bickering neighbors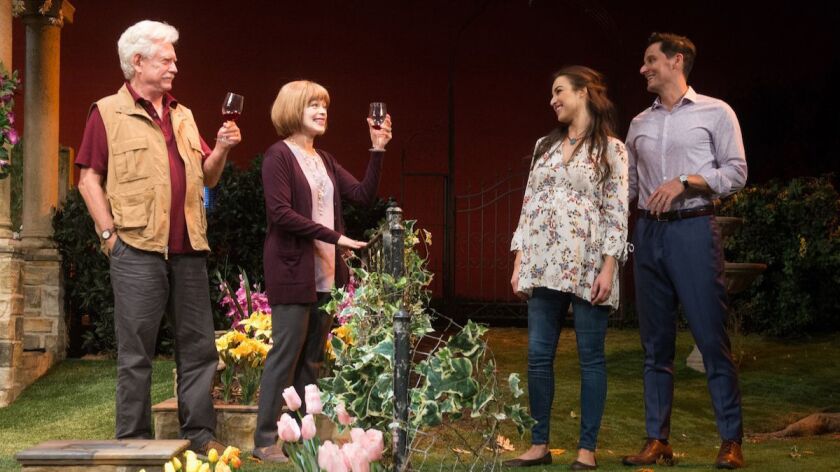 Theater Critic
Could light comedy be making a comeback in the theater? Neil Simon is no longer with us, but a few notable playwrights are giving the genre a go.
Matthew Lopez's "The Legend of Georgia McBride" (a hit at the Geffen Playhouse last year) had the energy (and predictability) of a big-screen romp. (Jim Parsons is reported to be producing and starring in the upcoming movie version.) Jocelyn Bioh's "School Girls; Or, The African Mean Girls Play" (currently pleasing crowds at the Kirk Douglas Theatre) tackles more challenging material but with a concept that owes a debt to the comic instincts of Tina Fey.
Karen Zacarías, who lovingly lampooned the telenovela to giddy effect in "Destiny of Desire," has now written what is essentially a sitcom for the stage. "Native Gardens," the title of this sweet confection appearing on the menus of regional theaters across the country, had its official press opening Sunday at Pasadena Playhouse in a bouncy production directed by "Seinfeld" legend Jason Alexander.
All the elements of a proper situation comedy are in place, except the cameras and the laugh track. The story is as carefully carpentered as an episode of "The Lucy-Desi Comedy Hour." In fact, the plot, revolving around a dispute between neighbors over the placement of a fence that will mar the proud garden of one of the homeowners, seems lifted straight from some television source book.
The play is political but no more so than the reboot of "Roseanne." Pablo (Christian Barillas) and Tania (Jessica Meraz), newcomers to the stately Washington neighborhood where the play is set, are progressive Latinx Democrats awaiting the birth of their first child. Frank (Bruce Davison) and Virginia (Frances Fisher), an older couple on the brink of retirement, are white establishment Republicans, kindly but entitled.
Frank tends to his European-style garden with fastidious care. (David Meyer's set can't help seeming artificial, with plastic-y flowers that look in danger of melting under the lights, but the general idea is established.) Tania, who's finishing her dissertation in the last weeks of her pregnancy, has strong ideas about planting only indigenous flora that is beneficial to the ecosystem.
Frank and Tania agree to disagree, but tensions are systematically ratcheted up. Pablo, who's anxious about making partner at his law firm, has spontaneously invited his colleagues to a party at the new house. Tania objects but then reluctantly consents after seeing how important it is to Pablo's career. The house still not unpacked, they decide to hold the party in the backyard, where an ivy-covered chain-link fence will have to be replaced to make the house more presentable.
A surveyor reveals that the property line of Tania and Pablo's house actually extends into Frank's precious tulips. There's no gingerly way to handle this information, but the young couple try their best before all hell breaks loose. Frank is understandably keyed up because, as required by the American sitcom handbook, judges from the Horticultural Society are coming to look at his verdant handiwork the day after his neighbors' all-important barbecue. And tired of always receiving honorable mention, Frank is determined this year to nab first prize.
Zacarías uses her conventional setup to explore cultural and generational differences in a way that is meant to convince no one of anything while pleasing as many as possible. The characters at times seem as fake as Frank's garden. Frank and Virginia have important jobs in government and are conspicuously upper-middle class, yet when Tania asks if Frank listens to NPR, she follows up by clarifying that she's referring to National Public Radio.
Yes, that NPR.
Frank and Virginia might parrot dumb ethnic stereotypes, but they'd be more interesting characters if they betrayed their prejudices in less hackneyed ways. Comparing Pablo, an elegant attorney with a keen mind, to "that fun guy from that TV show... Rico? Chico?" (Frank finally fills in the blank with "Chico and the Man") makes these Washington insiders seem like rubes.
The writing, for the most part, has a gleaming TV-style effectiveness. But the main pleasure of "Native Gardens" comes from seeing a quartet of acting pros volleying lines with athletic finesse and adding comic topspin to every double-take and slow-burn.
Alexander elicits top-notch work from his cast members, including the trio of performers (Julian Armaya, Richard Biglia and Bradley Roa II) who take on the role of gardeners, dancing in and out to lively Latin music during scene transitions while preparing the stage and counting down the days of the week to the final showdown. The tempo is ebullient and the mood infectiously merry. When I wasn't raising an eyebrow at something ludicrously obvious, I was smiling.
So what's the problem?
Nothing really, if you don't mind making a special trip to be diverted for 90 quickly evaporating minutes. The American theater is large enough to accommodate such well-meaning box-office fare, but it would be more heartening to see a playwright as talented as Zacarías layer more reality into her comedy.
Writers on network television can still make a nice living supplying algorithmic laugh lines and the sweet little lies of easy resolutions, but artists have a duty to complicate our understanding of the world. In the theater, art and entertainment can happily coexist. "Native Gardens," though amiable to a fault, throws up a fence between them.
♦ ♦ ♦ ♦ ♦ ♦ ♦ ♦ ♦ ♦ ♦
'Native Gardens'
Where: Pasadena Playhouse, 39 S. El Molino Ave., Pasadena
When: 8 p.m. Wednesdays-Fridays, 2 and 8 p.m. Saturdays, 2 and 7 p.m. Sundays. (Call for exceptions.) Ends Sept. 30
Tickets: Start at $29
Information: (626) 356-7529 or PasadenaPlayhouse.org
Running time: 1 hour, 30 minutes
Follow me @charlesmcnulty
---
Inside the business of entertainment
The Wide Shot brings you news, analysis and insights on everything from streaming wars to production — and what it all means for the future.
You may occasionally receive promotional content from the Los Angeles Times.