Review: 'School Girls; Or, the African Mean Girls Play' is a refreshing take on youthful rivalries and machinations
Theater Critic
The title of Jocelyn Bioh's "School Girls; Or, the African Mean Girls Play," is an accurate description of this entertaining comedy, which transplants a familiar American scenario to a new cultural context.
Set at a boarding school in central Ghana in 1986, the play, which opened Saturday at the Kirk Douglas Theatre, follows the youthful rivalries and machinations of a group of high school girls. (Fans of the "Mean Girls" movie with Lindsay Lohan or the musical version based on Tina Fey's screenplay will appreciate how Bioh has made the underlying concept completely her own.) This clique is under the dominion of a fellow student named Paulina Sarpong (MaameYaa Boafo), whose edicts on dieting and fashion carry the weight of punitive law.
To Nana (Abena Mensah-Bonsu), a large-framed classmate trying to enjoy her porridge, Paulina is particularly blunt: "So…do you want to be fat-fat? Or fit and popular?" The other girls at the cafeteria table must gigglingly go along with whatever Paulina decrees or face the adolescent tyrant's wrathful gaze.
Two developments shake up the normal order at the Aburi Girls Boarding School. A transfer from America, Ericka Boafo (Joanna A. Jones), has just arrived, and Headmistress Francis (the indispensable Myra Lucretia Taylor) has asked the students to help the newcomer find her way.
The even bigger news is that a recruiter for the Miss Ghana Pageant, Eloise Amponsah (a formidable Zenzi Williams), is planning a visit to the school. Paulina is sure that she will be selected, and her minions have no reason to doubt her. But Ericka, who carries herself with quiet confidence, is strikingly pretty. The daughter of a Ghanaian cocoa factory mogul and a white mother, she quickly wins over the other girls with talk of her lotions, makeup and Bobby Brown poster.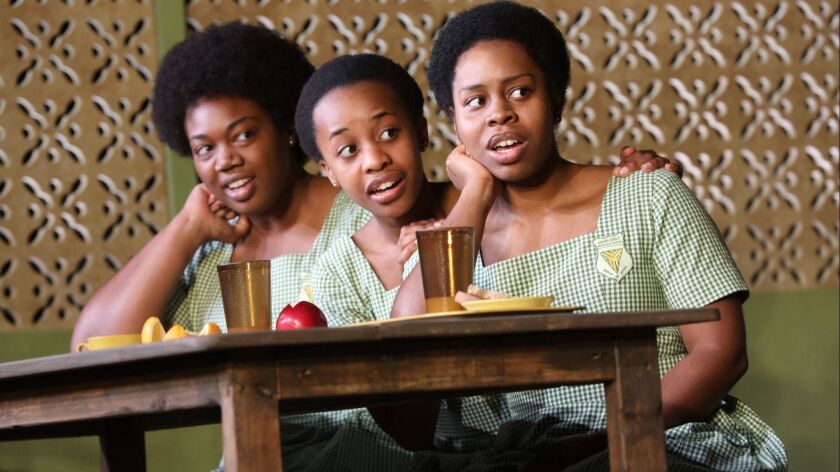 Paulina grows increasingly agitated when she learns that Ericka has signed up for the pageant. She blackmails Nana into stealing the new girl's file to see what dirt she can find on the only student who poses a threat to her. A future beauty queen can't leave anything to chance.
The situation is as tightly constructed as a network situation comedy. The plotting is formulaic, but the cultural setting introduces new wrinkles into the familiar setup.
Eloise, who regularly reminds everybody of her title ("I'm Miss Ghana 1966"), wants to find a girl who can appeal to a worldwide audience. She knows the reality of colorism, having been victimized by it herself, and she wants the next Miss Ghana to have a chance at the Global Universe Pageant. Eloise believes the country's future depends on breaking through to a universal stage, and no one would dare argue with this imperious former contest winner, who sees opportunity in lighter-toned Ericka and a reflection of herself in determined and darker Paulina.
The play doesn't say anything astonishingly new. Appearances turn out to be reliably misleading; truth, as we might suspect, lurks beneath the surface. But the experience of these young women is deliciously brought to life by a terrific ensemble.
The production, which originated off-Broadway at MCC Theater, where the play had its premiere last year, is under the pitch-perfect direction of Rebecca Taichman. It's hard to imagine a better staging.
Every character, no matter how cursorily outlined, becomes fully individualized by the bearing and byplay of the actors (many of whom were in the original New York cast). The deadpan expressions and head-tilts of Latoya Edwards' Ama, Paige Gilbert's Gifty, Mirirai Sithole's Mercy and Mensah-Bonsu's Nana reveal everything you need to know about the shifting hierarchical dynamics at the school.
The simmering war between Boafo's Paulina and Jones' Ericka is handled in such a way as to lead us deeper into what the girls ultimately have in common. And the adults in the room, Taylor's headmistress and Williams' Eloise, expose just how sadly entrenched discriminatory attitudes are in the culture.
Bioh, an actor as well as a writer, provides room for the characters to grow. The situation may be confined to the cafeteria but brief glimpses into the inner worlds of the girls expand the territory.
The setting by scenic designer Arnulfo Maldonado is electrified by Jen Schriever's lighting and Palmer Hefferan's sound design. Bursts of R&B between scenes heighten the energy.
"School Girls" isn't especially ambitious, but it is exceedingly well pulled off. You'd be hard pressed to find a more refreshing 75-minute comedy on television, never mind one with the added benefit of righting a wrong of under-representation.
♦ ♦ ♦ ♦ ♦ ♦ ♦ ♦ ♦ ♦ ♦
'School Girls; Or, the African Mean Girls Play'
Where: Kirk Douglas Theatre, 9820 Washington Blvd., Culver City
When: 8 p.m. Tuesdays-Fridays; 2 and 8 p.m. Saturdays; 1 and 6:30 p.m. Sundays; ends September 30. Call for exceptions.
Tickets: $25 to $72 (subject to change)
Information: (213) 628-2772 or centertheatregroup.org
Running time: 1 hour, 15 minutes (no intermission)
Follow me @charlesmcnulty
---
The complete guide to home viewing
Get Screen Gab for weekly recommendations, analysis, interviews and irreverent discussion of the TV and streaming movies everyone's talking about.
You may occasionally receive promotional content from the Los Angeles Times.