As we enter the final two days of the TCM Classic Film Festival, our attention turns to tributes. Attention must be paid, as it were, and the lineup is an eclectic one with some potentially fascinating subjects taking the stage for extended conversations.
"An Afternoon With Carl Reiner" is exactly what it sounds like. Spend the day with the longtime funnyman beginning with a screening of his 1982 noir parody "Dead Men Don't Wear Plaid," starring Steve Martin, on Saturday at 12 p.m at the TCL Chinese Theater. Afterward, Reiner will share stories from his career in show business. At 2:15 p.m., the apparently tireless 94-year-old writer-director-actor will do a book signing in the theater lobby.
"Dead Men" comes from a fruitful five-year collaboration with Steve Martin that also included Reiner directing "The Jerk" (1979), "The Man With Two Brains" (1983) and "All of Me" (1984) and really launched the banjo-playing stand-up's film career. A clever cinematic sleight-of-hand edited by Bud Molin, "Dead Men Don't Wear Plaid" finds Martin playing opposite the likes of Barbara Stanwyck, Ray Milland and Humphrey Bogart via black-and-white footage shot by Reiner and cinematographer Michael Chapman matched to vintage clips from mostly 1940s movies.
SIGN UP for the free Classic Hollywood newsletter >>
There is a plot of sorts involving Rachel Ward hiring Martin's private detective, Rigby Reardon, to solve her father's murder, but the real fun lies in identifying the various classic films deployed. Eight-time Academy Award-winner Edith Head, in her final film credit, designed the costumes. How is that for verisimilitude? A perfect "modern" film for the festival.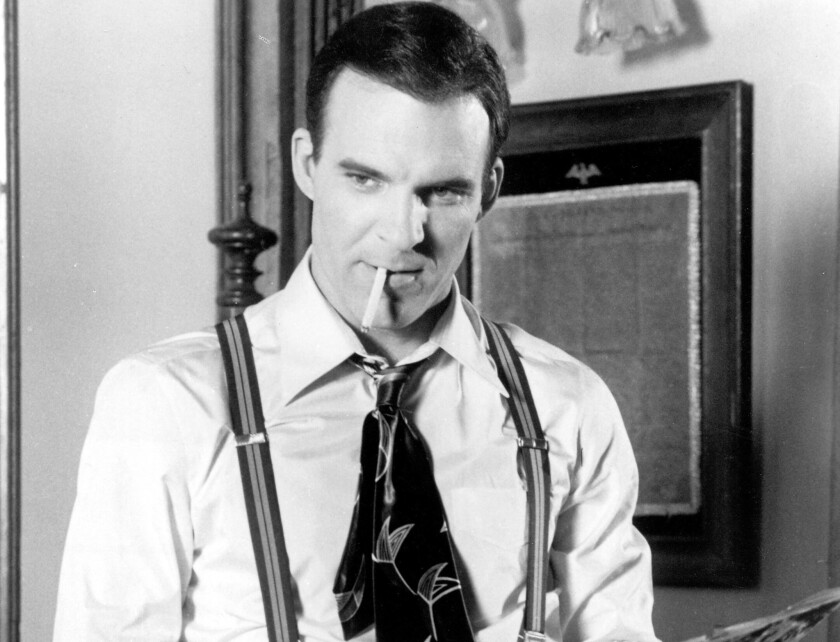 Reiner also appears in "The Russians Are Coming, the Russians Are Coming," director Norman Jewison's 1966 Cold War satire screening Sunday at 4:15 p.m. at the Egyptian. Star Eva Marie Saint participates in a preshow conversation.
Later on Saturday is a conversation that could get really interesting. The always provocative Alec Baldwin will interview Elliott Gould about his 50-year career at 4 p.m. at Club TCM at the Hollywood Roosevelt Hotel. At first glance, the two don't appear to have much in common beyond acting careers that span theater, film and television. However, an examination of IMDb reveals that not only are they both members of "Saturday Night Live's" Five-Timers Club, with Gould hosting six times and Baldwin a record 16, but the pair also crossed paths in the 2002 "Friends" episode "The One In Massapequa," though I could not tell you if they shared any scenes.
Gould will make two more appearances at the festival with conversations accompanying films he made with Robert Altman. He will appear before the screening of "The Long Goodbye" on Saturday at 6:15 p.m. at the Egyptian Theatre. Gould plays a 1970s version of Raymond Chandler's Philip Marlowe in an adaptation written by Leigh Brackett, who owns a mindbending resume that includes "The Big Sleep" (1946), "Rio Bravo" (1959) and "The Empire Strikes Back" (1980).
On Sunday, Gould will follow the 9:15 a.m. screening of "MASH" (1970) at the TCL Chinese Theatre with another conversation. Gould stars as "Trapper John" McIntyre opposite Donald Sutherland's Hawkeye Pierce in the dark comedy set during the Korean War.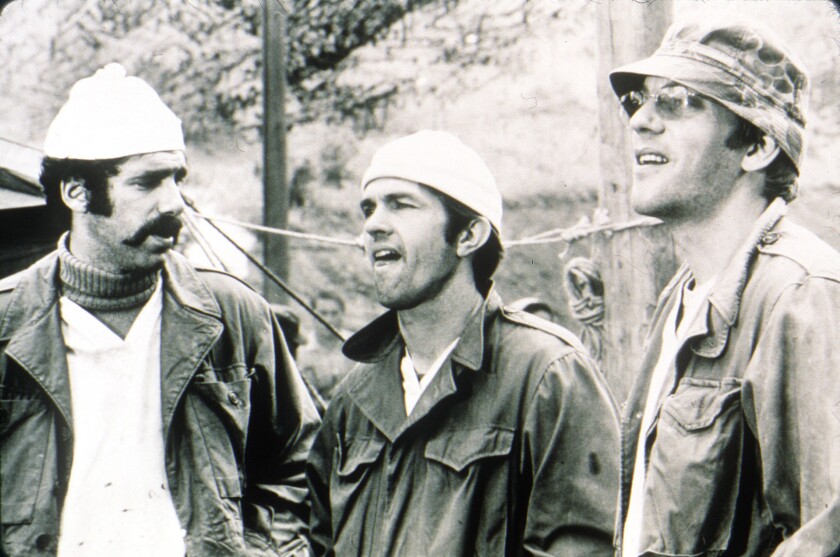 Gina Lollobrigida, the Italian actress and artist who once interviewed Fidel Castro, appears at the festival in support of two films. "Trapeze" with Tony Curtis screened Friday and "Buona Sera, Mrs. Campbell" plays Saturday at 3:30 p.m. at the TCL Chinese Theatre. Lollobrigida will also be interviewed at 2:30 p.m. on Sunday at Club TCM.
In "Buona Sera," Lollobrigida plays an Italian woman who sleeps with three American servicemen (played by Phil Silvers, Peter Lawford and Telly Savalas) during the occupation. When she realizes she is pregnant, the trio is long gone. Twenty years later, she has raised her daughter to believe her "father" (with a name borrowed from a soup can) died in the war. A reunion of the GI's in the small village triggers a series of comic events as the men try to determine who is the actual father. The plot was later repurposed for the ABBA musical "Mamma Mia!"
Sunday at 3 p.m., Faye Dunaway will tape "Live From the TCM Classic Film Festival" at the Montalban Theatre. It is a passholder-only event but will be shown later on TCM. Dunaway will also appear before the Sunday, 8 p.m. screening of "Network" (1976) at the Egyptian.
The star of "Bonnie and Clyde" (1967) and "Chinatown" (1974), Dunaway won an Academy Award as best actress for her portrayal of a tough television executive in the media satire written by Paddy Chayefsky and directed by Sidney Lumet. "Network" also won Oscars for best actor Peter Finch, best supporting actress Beatrice Straight and best original screenplay for Chayefsky.
------------
TCM Classic Film Festival
Where: TCL Chinese Theatre, 6925 Hollywood Boulevard, Hollywood; Egyptian Theatre, Egyptian Theater, 7612 Hollywood Blvd., Hollywood; Montalbán Theater, 1615 Vine St, Hollywood; and other Hollywood venues
When: Through Sunday
---