WME/IMG's $4-billion deal for UFC shows the power of sports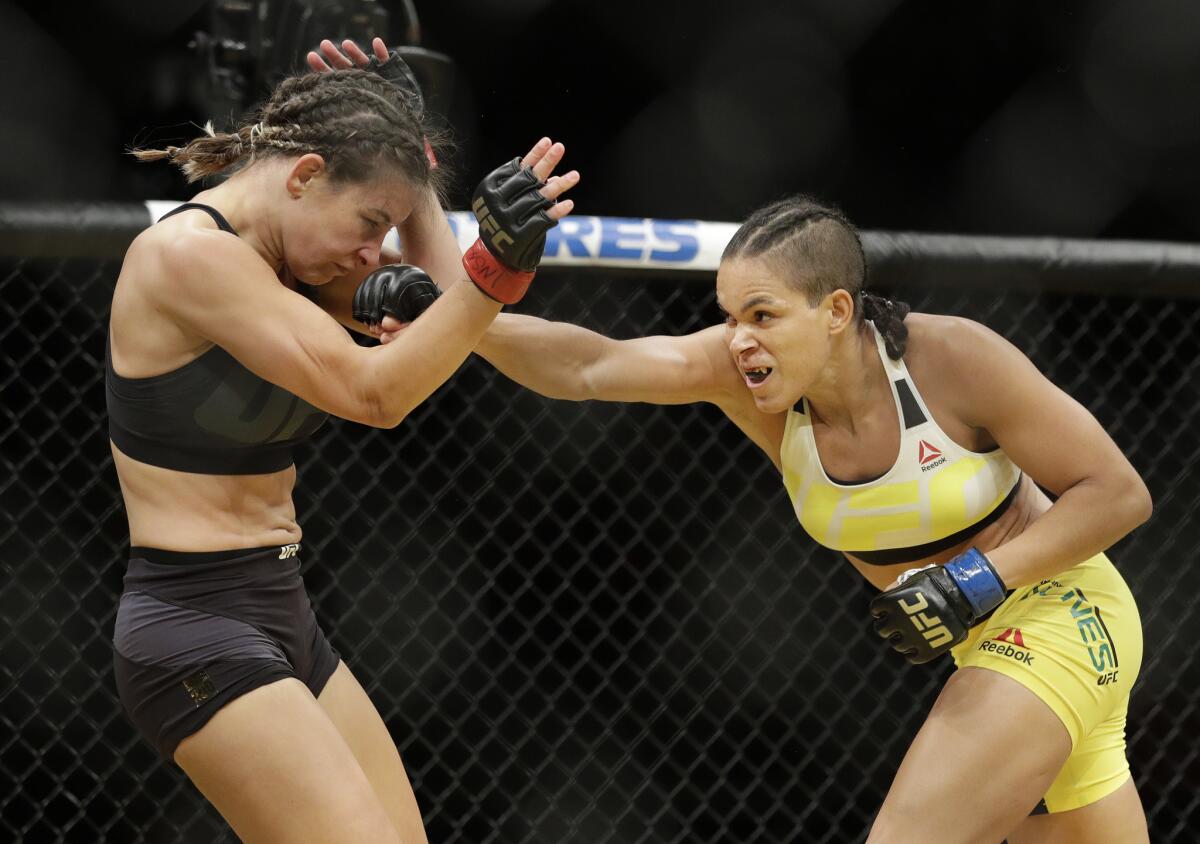 Fifteen years ago, mixed martial arts league Ultimate Fighting Championship sold for $2 million. Back then, the sport featured bone-crushing, blood-smearing action that was dismissed as "human cockfighting" by Sen. John McCain.
Now, the UFC is changing hands for $4 billion.
Hollywood mega-talent agency WME/IMG's acquisition of the league is a major bet on the power of live sporting events in an increasingly fragmented media landscape. And the deal is viewed by sports business experts as a good one.
Sports are in demand because they can be shown across many platforms, attract high viewership and are coveted by advertisers looking to reach consumers who'll tune into live broadcasts. UFC generates added revenue from video games, clothing and ticket sales to its live fights.
"The TV ecosystem is evolving and this underscores the cliche that 'content is king' — although certain content is more valuable than others," said Eric Katz, media analyst with Wells Fargo Securities. "Sports is appointment-viewing, and generally watched live, and that is why it is becoming more valuable."
Sports is appointment-viewing, and generally watched live, and that is why it is becoming more valuable.
— Eric Katz, media analyst with Wells Fargo Securities
WME/IMG, based in Beverly Hills, is taking ownership of a league that made its name through a slew of tattooed fighters who've had their share of run-ins with the law and the U.S. Anti-Doping Agency.
But under casino-owning brothers Frank and Lorenzo Fertitta, who acquired the league in 2001 and ran it via Las Vegas-based parent Zuffa, the UFC has sought to smooth over its rougher edges. Under Chairman Lorenzo Fertitta, the UFC has increased regulation of fighters, streamlined combat rules and instituted drug testing. The brothers, who control a majority stake in the league, stand to profit handsomely from the sale.
The high-profile acquisition, which was announced Monday, could invite greater scrutiny for the UFC as it becomes more of a mainstream sport. Larger and more established leagues, such as the National Football League and the National Hockey League, have been criticized for the level of violence during games, injuries sustained by players and the off-field conduct of some athletes.
UFC bouts last from three to five rounds, with each spanning five minutes. The sport's unpredictability is part of the allure. For instance, fighter Conor McGregor late last year ended featherweight champion Jose Aldo's 10-year unbeaten reign with a knockout punch in 13 seconds, while last weekend, the underdog female fighter Amanda Nunes won the women's bantamweight belt by breaking Miesha Tate's nose with a punch and forcing her to "tap out" with a chokehold submission.
The UFC, according to Fox Sports, has become one of the top sports draws for delivering a large television audience of men ages 18 to 49 — a lucrative demographic for advertisers.
Ratings have been on the upswing. Viewership for UFC live fights on the Fox broadcast network and cable channel Fox Sports 1 increased 10% last year, compared with 2014. This year, UFC fights on the Fox broadcast network have been averaging 2.6 million viewers. Still, that is a fraction of the crowd tuning in for America's most popular sport: football. Last year, "Sunday Night Football" on NBC attracted an average of 22 million viewers.
Just like boxing, UFC has tapped pay-per-view as a key revenue source. On Saturday, the league's slate of live fights in Las Vegas was offered to consumers for $59.95. Sales figures were not available, but the event was expected to match or surpass the record 1.6 million buys generated by a similar telecast in March. The league also produces a reality show, "The Ultimate Fighter," on Fox Sports 1.
WME/IMG's expertise could help expand the UFC's global reach and digital efforts. The agency has proved proficient in knitting together a client base of A-list entertainers, sports leagues and digital businesses. Consider WME/IMG client and UFC fighter Ronda Rousey, who has become a Hollywood star, hosting "Saturday Night Live," appearing in feature films as "Furious 7" and "Entourage," and writing a book, "My Fight / Your Fight."
The agency represents A-list entertainers such as Ben Affleck, Oprah Winfrey and Martin Scorsese, and athletes such as Lebron James, Serena Williams and Cam Newton. It counts Visa, Rolex and T-Mobile as clients and handles international TV rights for Major League Soccer, NFL and NASCAR. (Additionally, WME/IMG has represented the UFC itself, negotiating TV deals such as the one for "The Ultimate Fighter.")
"With the access to [WME] human, financial and political capital, I think they're poised to continue their success and their growth projection," said Jeff Marks, managing director of Premier Partnerships, a Santa Monica-based sports business consultancy.
To acquire UFC, the agency beat out a handful of bidders, among them China's Dalian Wanda Group, which owns the theater chain AMC Entertainment and production company Legendary Entertainment.
The deal is expected to close later this year. WME/IMG said in a statement that the purchase was backed by private equity company Silver Lake Partners, investment firm KKR, and the private investment entity of Michael Dell, the billionaire founder of computer company Dell Inc.
WME/IMG, which is headed by Ari Emanuel and Patrick Whitesell, declined to comment.
A series of deals in recent years has transformed WME/IMG into the largest talent agency in the world.
Four years ago, Silver Lake, based in Menlo Park, Calif., acquired a 31% stake in the talent agency, and later upped its interest to 51%. With Silver Lake's backing, WME acquired New York-based sports and media group IMG Worldwide Inc. in 2014 for $2.4 billion. That deal created WME/IMG, and married WME's Hollywood expertise with IMG's acumen in sports and marketing.
Since then, WME/IMG has bought other sports businesses, including last year's purchase of the Professional Bull Riders organization.
WME/IMG is not the only Hollywood talent firm to embrace sports. Rival Creative Artists Agency launched its sports practice in 2006, representing athletes and striking deals for venue-naming rights, among other services.
"Increasingly, the major talent agencies are seeking to roll up compelling industry sectors in an effort to deliver economies of scale in terms of content, sponsorship and other cross-promotional and cross-selling efforts," said David Carter, executive director of the Sports Business Institute at the USC Marshall School of Business.
The blockbuster deal, which was finalized over the weekend, provides a capstone to the Fertittas' decade-plus effort to transform mixed martial arts into a major sport. Such lofty ambitions seemed far-fetched in 2000, when MMA manager Dana White discovered that UFC's then-ownership was considering bankruptcy.
At that time, the company faced the wrath of McCain, the Arizona Republican, who was campaigning to ban "no-rules" fighting. Groin punches, hair-pulling and head-butting took place in early fights. White, a high school friend of Lorenzo Fertitta, called the brothers and said, 'Guys, this thing's in trouble now. I think we can buy the UFC and I think we should do it.'"
Recounting the moment Monday, White, now the UFC president, said: "A month later, we owned the company."
In the intervening years, the Fertittas, who also are prominent art collectors, worked to legitimize the organization. A year after the purchase, Lorenzo Fertitta, who had served on the Nevada State Athletic Commission, won approval for UFC regulation in the world's fight capitol, an important early milestone.
"We run to regulation" became a mantra for Fertitta, who invested deeply and absorbed millions of dollars in losses working to promote the sport and retain talent. His efforts were successful. New York earlier this year overturned its law banning MMA, and the UFC will debut at Madison Square Garden on Nov. 12.
Forbes estimates that the Fertitta brothers, who also have interests in the Station Casinos chain, each will be worth about $2.4 billion after the deal closes. They own about 80% of the league. While the brothers will relinquish day-to-day control, they plan to keep a small investment in the UFC. White, who intends to stay on as UFC president and retains a stake in the league, said he believes the right buyer has been found.
"As far as the business goes, our goal was to always take this sport to the next level, and Ari and WME/IMG are the guys to take it from here," White said.
Twitter: @DanielNMiller, @latimespugmire and @TylerHersko
ALSO
Fox launches prime-time live-stream of its shows
See Kongs battle in this exclusive 'Kong of Skull Island' preview
How the motion picture academy moved the needle on its diversity push: We crunch the numbers
From the Oscars to the Emmys.
Get the Envelope newsletter for exclusive awards season coverage, behind-the-scenes stories from the Envelope podcast and columnist Glenn Whipp's must-read analysis.
You may occasionally receive promotional content from the Los Angeles Times.