Shanghai Disney theme park trading Main Street for the Garden of the Twelve Friends
Displays showing the new Shanghai Disney attractions during a presentation at the Shanghai Expo Centre include artist renderings of the "Star Wars" attraction.
(Julie Makinen / Los Angeles Times)
Shanghai Disney will have six distinct "lands," including the pirate-themed Treasure Cove, anchored by an all-new, high-tech "Pirates of the Caribbean: Battle for the Sunken Treasure" attraction.
(Julie Makinen / Los Angeles Times)
Displays show the new Shanghai Disney attractions during a presentation held at the Shanghai Expo Centre. Among them is a "Frozen"-themed production.
(Julie Makinen / Los Angeles Times)
A huge model of the new Shanghai Disney Resort is displayed at the Shanghai Expo Centre.
(Julie Makinen / Los Angeles Times)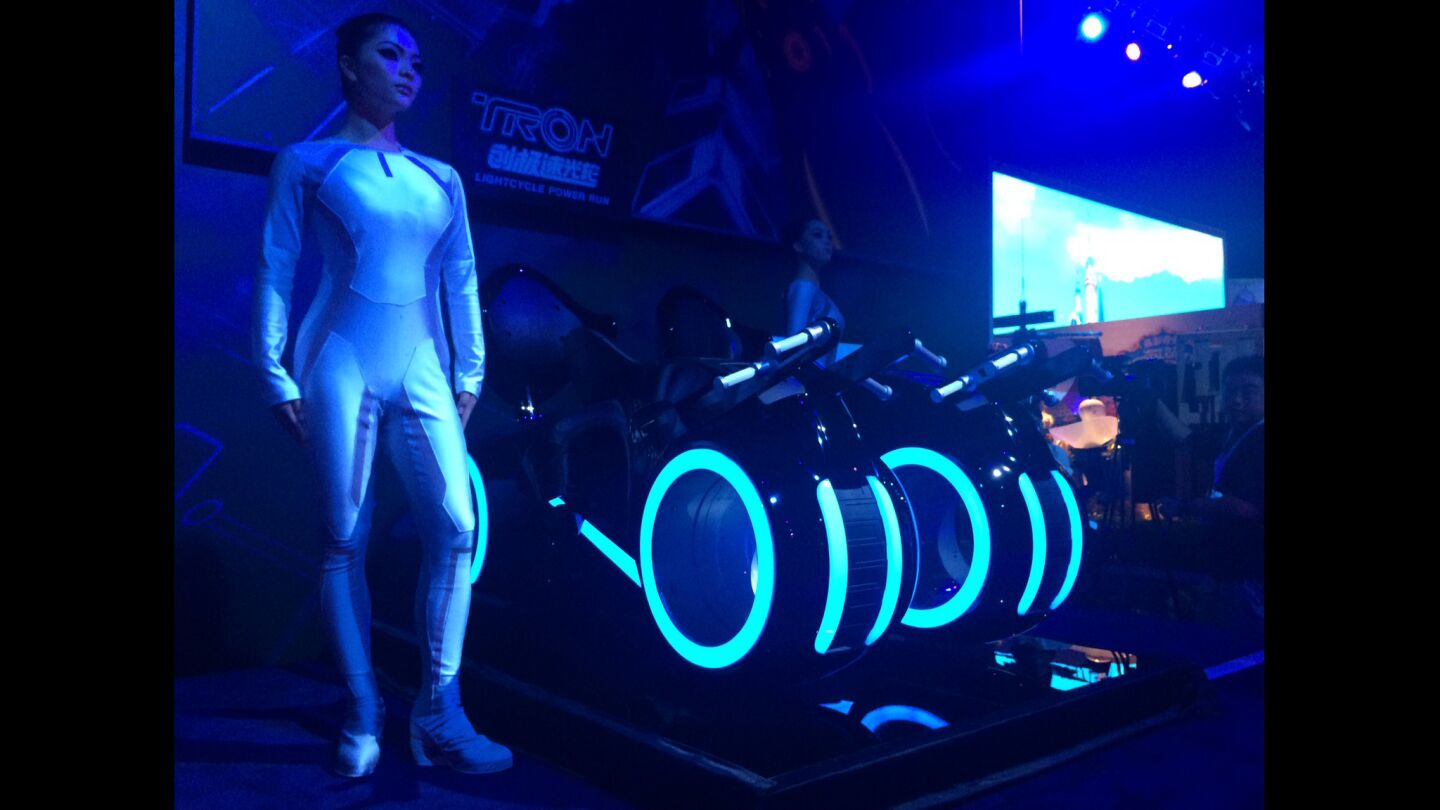 Displays showing the new Shanghai Disney attractions during a presentation held at the Shanghai Expo Centre include a "Tron" roller coaster.
(Julie Makinen / Los Angeles Times)
SHANGHAI —
Walt Disney Co. will roll out attractions based on "Star Wars" and Marvel superheroes at its new Shanghai theme park when the $5.5-billion facility opens next year, Chairman and Chief Executive Bob Iger said here Wednesday as the company kicked its publicity efforts for the long-in-the-making resort into high gear.
After stumbling with the launches of California Adventure in Anaheim in 2001 and Hong Kong Disneyland in 2005, the company is out to prove that it has learned from past mistakes such as building less ambitious parks and failing to understand the cultural and culinary habits of its customers. Disney has spent handsomely to expand and upgrade Hong Kong Disneyland and California Adventure since their openings.
At a splashy news event, Iger unveiled a huge model of the resort in front of Chinese journalists, thanked the Chinese government and promised that visitors would discover Disney's "most technologically innovative park."
"Here in Shanghai we are applying everything that we've learned from our six decades of relentless innovation and creativity to deliver a world-class destination," Iger said. "Our goal was to create something that was authentically Disney and distinctly Chinese, and we believe we've achieved the perfect blend."
The appeal of China is obvious: The most populous country — with roughly 1.3 billion people — is home to an expanding class of consumers that relishes the slick products that Disney generates.
Stunning photos, celebrity homes: Get the free weekly Hot Property newsletter
It wasn't always that way. Disney films were briefly banned in China in the mid-1990s after the company distributed a film about the Dalai Lama. But that changed in 1999 with the release of "Mulan," which was based on a Chinese tale. Now Disney's superhero and action films do massive business here. "Avengers: Age of Ultron," which was released in China in May, grossed about $240 million here.
When the Shanghai Disney Resort finally opens next year, it will be after years of negotiations and one major delay. In spring 2014, Disney said it would spend an additional $800 million to add attractions; earlier this year, it said it would delay the opening until 2016. No specific date has been set.
Three employees of companies working on site said extra time was also necessary to remedy construction problems caused by Chinese contractors who cut corners and didn't meet Disney's standards.
Asked about the reasons for the delay, Disney spokesperson Angela Bliss said: "Shanghai Disney Resort is our most ambitious project and represents the Walt Disney Company's biggest foreign investment. It is also one of the largest foreign investments in the history of China. As a result of accelerating our expansion plans, we decided to target the spring of 2016 for opening."
Gary Goddard, a former Disney Imagineer who runs his own entertainment design firm and has worked extensively in China, said he thinks the delay was a positive sign.
"I don't think Mr. Iger wants to open Shanghai and then have to fix things for the next 10 years as had to be done with parks of the last decade and a half," Goddard said. "Hopes are high."
Shanghai Disney, which is 57% owned by the state-owned investment consortium Shanghai Shendi and 43% by Disney, represents a huge potential new revenue source for the Burbank-based entertainment giant, complementing and enhancing its film, TV and merchandising businesses. Although the Chinese government remains cautious about "foreign cultural influences," Disney has managed to gain a substantial foothold in the country.
Disney movies including "Avengers: Age of Ultron" and "Big Hero 6" earned more than $400 million in Chinese theaters in the first half of this year alone, and its cartoons are among the few foreign animations aired on state-run television. The company has a chain of language-training centers called Disney English, and last month it opened a flagship Disney store in Shanghai — the largest in the world at 54,000 square feet.
Although Shanghai Disney has not disclosed target attendance figures or ticket prices, about 330 million of China's 1.3 billion people live within a three-hour drive or train ride from Shanghai, a metropolis of 24 million, giving the resort a huge potential audience for years to come.
Walt Disney World in Florida, the world's most-attended theme park, attracted 19 million visitors last year, according to the Themed Entertainment Assn. Disney parks worldwide attracted 148 million visitors; nine of the top 10 most-visited parks were Disney properties.
Jeffrey Towson, a professor of investment at Peking University and author of the "One Hour China Consumer Book," noted that the Shanghai Expo, a world's-fair-type event in 2010, attracted 73 million visitors in just six months.
"Demand for Shanghai Disneyland is going to be overwhelming," he said. "Usually in emerging markets, you never quite know if the demand is there before you start selling, but this is a rare exception to that rule — the demand is so abundantly clear."
Towson said pricing will be crucial in managing visitor flow. A one-day Hong Kong Disneyland ticket costs about $64. It is unclear whether the opening of Shanghai Disney might diminish crowds at Hong Kong Disneyland, which finally began turning a profit in 2012. Last year, 48% of visitors to that park were from mainland China.
The 2016 opening of Shanghai Disney will come as China is in the midst of a wave of theme-park building. China is expected to add 59 theme parks by 2020, according to a report last year by industry analyst Aecom. Universal Parks & Resorts announced last fall that it would build a $3.3-billion, 300-acre theme park in Beijing to open around 2019.
But many Chinese theme parks tend to be modestly budgeted facilities underpinned with weak or no intellectual property and little lasting appeal.
In Shanghai, Disney is jettisoning Main Street and some of the strongly American features of its other parks and adopting concepts unique to China, such as the Garden of the Twelve Friends, with popular Disney characters representing the dozen signs of the Chinese zodiac amid cherry trees.
Chinese cultural elements will also be expressed during live entertainment coordinated to Chinese holidays and traditions. Although a Chinese-tiled roof for the Enchanted Storybook Castle was rejected in early planning stages, subtle Chinese flourishes are in evidence — the finial is topped with a peony, the national Chinese flower. The castle is billed as the "tallest, biggest and most complex" of any Disney castle, an important bragging right for the Chinese market.
Stefan Zwanzger, a Singapore-based theme park expert, said one difficulty might be maintaining Disney's traditional practice of visually isolating visitors from the outside world because the park is situated not far from some of the world's tallest skyscrapers. "I hope you won't see a Chuansha town office tower from the Dumbo the Flying Elephant" ride, he said.
Pollution and weather also could be challenging factors for Shanghai Disney; a recent spate of torrential rains has affected the resort's round-the-clock construction schedules and turned the site into what one worker described as a "big mud pit."
Shanghai Disney will have six distinct "lands," including the pirate-themed Treasure Cove, anchored by an all-new, high-tech "Pirates of the Caribbean: Battle for the Sunken Treasure" attraction. Other lands include Tomorrowland and Fantasyland. Attractions will include a Tarzan live show featuring Chinese acrobats and a "Frozen"-themed production.
Outside the main park, a theater situated in a shopping, dining and entertainment district will present a Mandarin-language version of the Broadway production "The Lion King." The resort will include two hotels.
"We know about the new Shanghai Disney Resort and we plan to visit," said Li Jinping, a 16-year-old student from China's Guangxi province who was attending a "Frozen"-themed ice show in Beijing. "I want it to be more thrilling than the one in Hong Kong, where the rides were a bit naive for us."
julie.makinen@latimes.com
Tommy Yang and Harvard Zhang in The Times' Beijing bureau contributed to this report.
---
Get our L.A. Goes Out newsletter, with the week's best events, to help you explore and experience our city.
You may occasionally receive promotional content from the Los Angeles Times.