DreamWorks' shares fall as investors worry about financial issues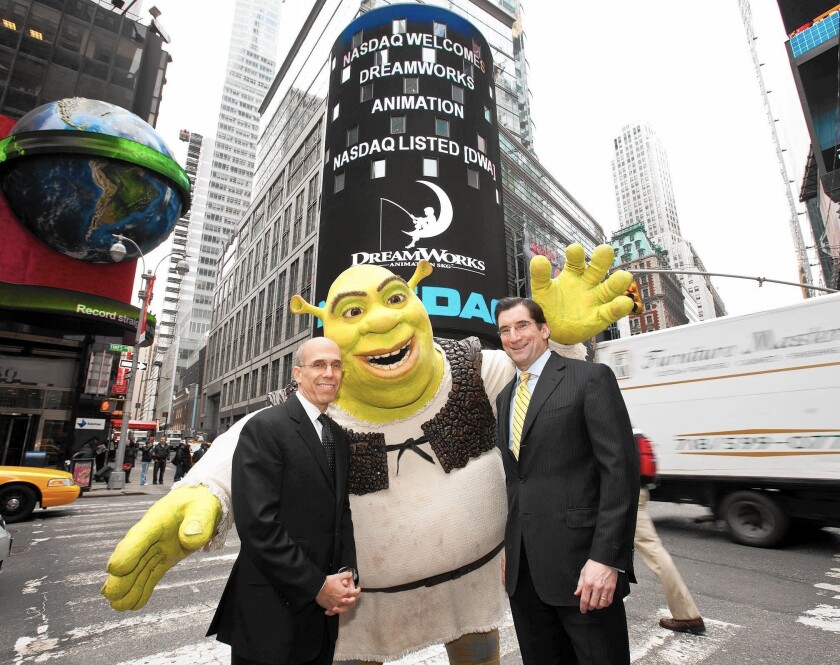 DreamWorks Animation's plans to lay off 500 people, overhaul management and release fewer movies was intended to reassure investors that the struggling Glendale studio was taking steps to right itself.
But the moves had the opposite effect on Wall Street: DreamWorks' shares tumbled $1.64, or 7.7%, to $19.67 on Friday. Analysts and investors are worried about the company's long-term financial health, and some predict that the creator of "Shrek" movies could even be forced into bankruptcy in the next two years if box-office results don't improve.
Much of the concern has been focused on DreamWorks' disclosure that it would record expenses of at least $450 million for the restructuring and other write-downs and charges.
"DreamWorks is in a dire situation," Richard Greenfield, an analyst with BTIG, wrote in a note to investors. "While they have sufficient liquidity in the next couple of years, barring every single film being a financial disaster, they are skating on increasingly thin ice."
Greenfield, who has a sell rating on the stock, said DreamWorks could face insolvency by 2019. He cited the uncertain outlook for the studio's upcoming films and the possibility that the global streaming service Netflix may not renew its five-year deal with DreamWorks when it expires in 2018.
Doug Creutz, an analyst with Cowen and Co., downgraded his rating on DreamWorks' stock to "underperform" after the layoffs announcement. He noted that DreamWorks has $500 million in debt and $50 million in cash on the balance sheet, and faced upcoming restructuring costs of $110 million. Making matters worse, the studio has just one film slated for 2015, "Home."
"We think DreamWorks is in a precarious financial position," Creutz wrote. "If the company's 2016 film slate ("Kung Fu Panda 3" and "Trolls") does not perform well, the company could face a serious liquidity crunch.... We think the most recent round of layoffs risks further worsening DWA's competitive position in the very competitive animated market."
Shares in DreamWorks have plummeted 40% in the last year after a string of box-office flops and as DreamWorks has faced growing competition from rivals.
The box-office woes were underscored Thursday when DreamWorks disclosed that it was taking $55 million in write-downs primarily related to its latest release, "Penguins of Madagascar," as well as the earlier "Mr. Peabody & Sherman." The studio also reported that it would take an additional $200-million charge for upcoming films.
Chief Executive Jeffrey Katzenberg sought to mollify investors by announcing plans to cut nearly 20% of the company's workforce, including senior executives, and scaling back production. Katzenberg also vowed to take a more hands-on role in the studio, just months after he ramped up efforts to find buyers for DreamWorks.
Attempts by Katzenberg to sell the studio were rebuffed late last year by several big names, including Japanese telecommunications giant SoftBank, Rupert Murdoch's 21st Century Fox and toy maker Hasbro. There were various reasons why deals never materialized, and it was not known if any of the suitors had a chance to peek into DreamWorks' books.
Its deepening financial woes could make DreamWorks an attractive takeover target, although one analyst believes that bidders might wait to see how the studio performs this year before making any kind of offer.
"The value to a buyer lies in what the company has," said Eric Wold, an analyst with B. Riley & Co., "and frankly the value of their library gets less and less if they don't replenish it with new content."
In one piece of good news for DreamWorks, the studio learned Friday that its 2016 film "Kung Fu Panda 3" will qualify as a Chinese co-production. This ensures that the studio and its partners will gain a larger share of box-office revenue than foreign films that are subject to an import quota.
In the meantime, DreamWorks said it would lower the cost of its movies from $145 million to $120 million, but that's still substantially more than the budget of movies produced by Illumination Entertainment, producer of Universal Pictures hit "Despicable Me" films.
The studio also said that it will cut down the number of films it releases each year to two, split between an original animated film and a sequel. DreamWorks had been making three animated films a year.
"The central challenge of the current business model, i.e., an imbalance between production and releasing costs and declining revenue per film, remains unaddressed," analyst Vasily Karasyov of Sterne Agee wrote in a report. "The probability of the company's next release losing money remains high."
---
From the Emmys to the Oscars.
Get our revamped Envelope newsletter for exclusive awards season coverage, behind-the-scenes insights and columnist Glenn Whipp's commentary.
You may occasionally receive promotional content from the Los Angeles Times.