Hulu shows new aggressive strategy in deal with Epix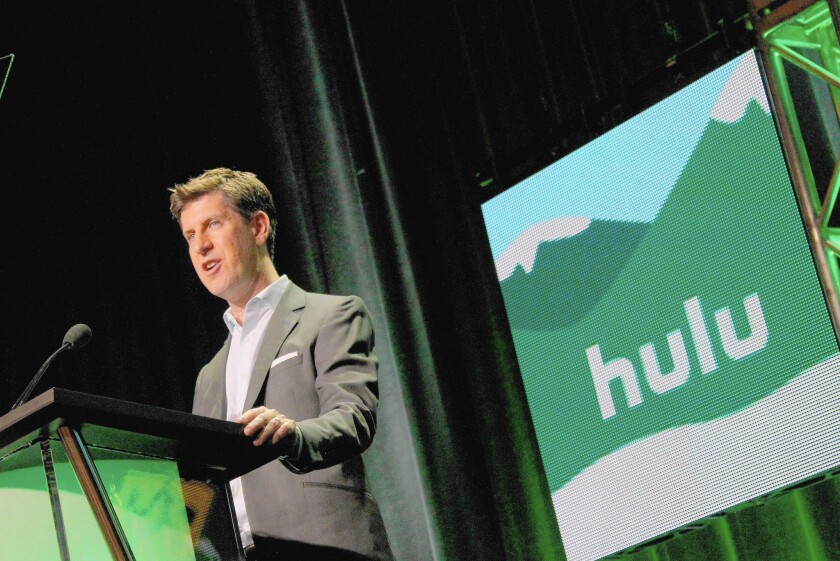 Hulu knows it can be a worthy TV companion to consumers, but now it's angling to make for a better movie date too.
Mere hours after Netflix acknowledged Sunday that it would not renew its distribution deal with pay-TV channel Epix, Hulu wasted little time in announcing that it had cut a multiyear, nonexclusive deal with the network.
Hulu subscribers will gain access to high-profile films such as the "Hunger Games" movies, "Transformers: Age of Extinction" and other titles from Paramount, MGM and Lionsgate, the studios that own Epix. The pact goes into effect Oct. 1.
Stunning photos, celebrity homes: Get the free weekly Hot Property newsletter >>
The matter illustrates the premium that Netflix puts on exclusivity as it seeks to maintain its leadership position in the video streaming world, while also demonstrating Hulu's newfound aggressive strategy to strengthen its content reservoir to build its subscriber base.
The agreement is perhaps the biggest theatrical deal that Hulu has had in its eight-year run.
"It's a huge deal for us," Craig Erwich, the streaming service's head of content, told The Times in a phone interview. "Obviously this is a big move for us in the movie market and really substantially increases the slate we have in our library. And it's certainly not the last movie deal you are going to hear from us. We're going to continue to invest a lot of money in programming."
Netflix content chief Ted Sarandos, in a blog post Sunday, said the Los Gatos, Calif., company had opted not to renew its Epix deal because Netflix is veering away from nonexclusive content.
Netflix had entered a five-year deal with Epix in 2010 at an estimated price of $1 billion in licensing fees for the span of the deal — a pact that was mutually beneficial at the time. It gave Epix a third-party streaming video window and made Netflix privy to content that helped established its identity in its early years. But Netflix lost exclusive rights when Epix signed a deal with Amazon Prime Instant Video in 2012. That deal was renewed in February.
Financial terms of the Epix-Hulu deal were not disclosed, but analysts estimate that the Hulu license fee isn't nearly what it was for Netflix.
Discussions between Epix and Hulu — owned in part by Disney, 21st Century Fox and Comcast — began heating up just before the start of this year. And the agreement follows a string of high-status deals the streaming service has announced in recent months.
In addition to ramping up its slate of original programming, Hulu has nabbed the streaming rights to "Seinfeld," picked up Mindy Kaling's comedy series "The Mindy Project" when Fox decided not to and struck a deal with Showtime that gives its subscribers access to the premium channel's content at an additional cost.
"Hulu is clearly trying to expand its presence in the industry," said Brian Wieser, an analyst at Pivotal Research Group.
"They've been investing heavily in content of different forms because they realize they need to diversify away from content that their founding owners produce," he said. "They can't be dependent on it if they want to have a legitimate shot of having a significant place in the so-called living room."
Hulu, whose basic subscription costs $7.99 a month, has nearly 9 million subscribers — a number that is dwarfed by Netflix's 42.3 million domestic subscriber base.
"We really try and listen to what our viewers are telling us, and our viewers have said they wanted a more diverse selection of films on our service," Erwich said. "There's a very finite pool of these kinds of deals with major studios out there. We've known about this one, and we've been eyeing it very longingly for a while."
Analysts also suspect that there could be long-term benefits for Epix as well, with some predicting that it could set the stage for greater cable deals for Epix on Comcast and possibly other pay-TV distributors.
Epix, which has just over 10 million subscribers, is not offered by Comcast, DirecTV and Cablevision, largely because its movies are available elsewhere. In addition to Amazon Prime Instant Video, Epix recently became available on Dish Network's Sling TV.
Although pay-TV providers generally view Netflix as an instigator of cord-cutting, Hulu's smaller subscriber base — in addition to it being part of the Comcast portfolio — poses less of a threat at this stage, Stifle analyst Benjamin Mogil wrote in a report about the deal.
Epix Chief Executive Mark Greenberg said he certainly wouldn't be opposed to widening its carriage, but maintains that's not the priority.
"I would certainly love the opportunity to connect with Comcast," Greenberg told The Times. "They would be a great partner. And we could bring incremental revenue to their business. Yes, we would certainly enjoy that. But my client that we're focused on right now is Hulu."
Asked why Epix had opted to partner with Hulu rather than launch its own over-the-top streaming service the way HBO and Showtime have, Greenberg said the company wants to stick to being a "packager of content."
"I think that's maybe the right strategy for" HBO and Showtime," he said. "We sort of look at it in a business school primer type of way: If Hollywood manufactures, and we're wholesale, Hulu is a retailer. What we do, we're packagers of that content."
MORE:
The anti-binge? Hulu's original series will be released weekly
Hulu's bold new comedy 'Difficult People' is hilariously tough going
---
From the Oscars to the Emmys.
Get the Envelope newsletter for exclusive awards season coverage, behind-the-scenes stories from the Envelope podcast and columnist Glenn Whipp's must-read analysis.
You may occasionally receive promotional content from the Los Angeles Times.