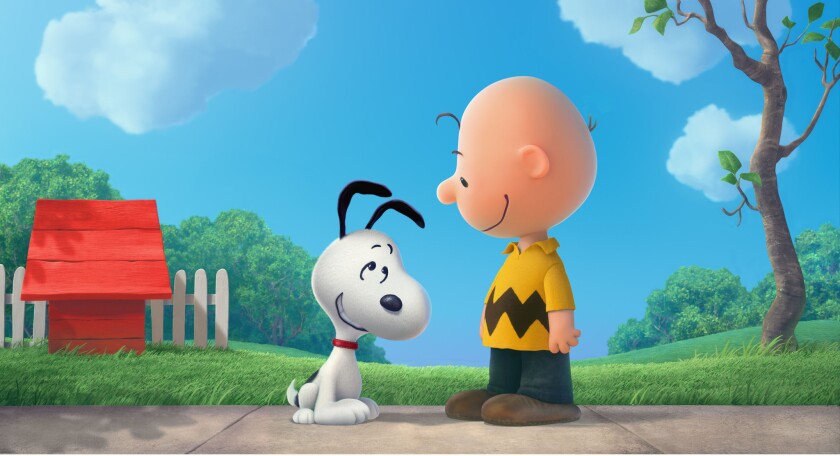 Women owned this weekend's theaters as directors of three premieres across the country — Jessie Nelson's "Love the Coopers" and Patricia Riggen's "The 33" nationwide and Angelina Jolie Pitt's "By the Sea" opened in limited release. But last week's powerhouses "Spectre" and "The Peanuts Movie" won at the box office.
In it's second week at the top, the Sony, Metro-Goldwyn-Mayer Studios and EON Productions film "Spectre" added $35 million in ticket sales in the U.S. and Canada. Though nearly a 50% drop in week-to-week comparisons, the 24th film in the super-spy franchise, and fourth led by Daniel Craig, has grossed an estimated $130 million domestically. Considering its continued success at the international box office — the film has already broken countless records and is on pace to set more in China — it is well on its way to surpassing its $245 million price tag.
"The Peanuts Movie" finished second once more, adding $24 million to last week's debut. The 20th Century Fox picture suffered an estimated 45% drop in sales though its content continues to be one of the few pictures targeting families and youth.
SIGN UP for the free Indie Focus movies newsletter >>
Coming in third and leading all new releases was Nelson's "Love the Coopers." The CBS Films movie, distributed in partnership with Lionsgate, came in well over projections at an estimated $8.4 million for the weekend.
The comedy about four generations of a family coming together on Christmas Eve stars Diane Keaton, John Goodman and Olivia Wilde among other well-known actors. Its star power, however, only received a B-minus grade from audience polling firm CinemaScore and 16% critics approval rating on review site Rotten Tomatoes.
As the season's first premiere with a holiday theme, costing less than $18 million, expectations are that its performance will improve as the Thanksgiving weekend approaches. "Love the Coopers" will be joined next week by "The Night Before" as seasonally themed movies.
Warner Bros. and Alcon Entertainment's "The 33" is a Hollywood dramatization of the 2010 Chilean mining accident that left 33 people trapped underground for 69 days. Starring Antonio Banderas, it landed in the fifth spot, behind "The Martian" which grossed another $6.7 million in its seventh week. "The 33" debuted with $5.8 million in ticket sales, well below projections of $8 million.
Audiences gave the Riggen directed film an A-minus CinemaScore grade, despite only 40% positive Rotten Tomatoes reviews. The film, which cost $25 million to make, tracked the best among adult Latino moviegoers in the western and southern regions of the country.
Rounding out the female-directed weekend, Jolie Pitt's Universal Pictures drama "By the Sea" also opened, but only in 10 theaters. The French-flavored movie, which stars real-life spouses Jolie Pitt and Brad Pitt as a couple coming apart, received over $95,000 in ticket sales, almost $40,000 below its first weekend projections, for a per-screen average of about $9,500. For comparison, "Spotlight," Tom McCarthy's drama about the Boston Globe's 2003 Pulitzer Prize-winning investigation of priest sexual abuse, averaged $60,455 on five screens in its debut last week.
This week, the Open Road Films movie extended to 60 screens, pulling in almost $1.4 million.
Just missing the weekend's top 10 was fellow new release "My All American," a true story about University of Texas football star Freddie Steinmark and his battle with cancer. Acquired by Aviron Pictures for nearly $1 million, the picture took in an estimated $1.4 million this weekend from 1,565 screens, $2 million less than projections. The film, written and directed Angelo Pizzo, received an A CinemaScore grade despite poor critic reviews on Rotten Tomatoes.
Next week begins the much anticipated surge in moviegoing already kickstarted by "Spectre" and "The Peanuts Movie." On the horizon are "The Hunger Games: Mockingjay — Part 2," which arrives Friday, followed by Pixar's "The Good Dinosaur" on Nov. 25 and Disney's "Star Wars: The Force Awakens" on Dec. 18.
Get your life! Follow me on Twitter: @TrevellAnderson.
---