Grateful Dead members hope to boost pot legalization on 'Jimmy Kimmel Live'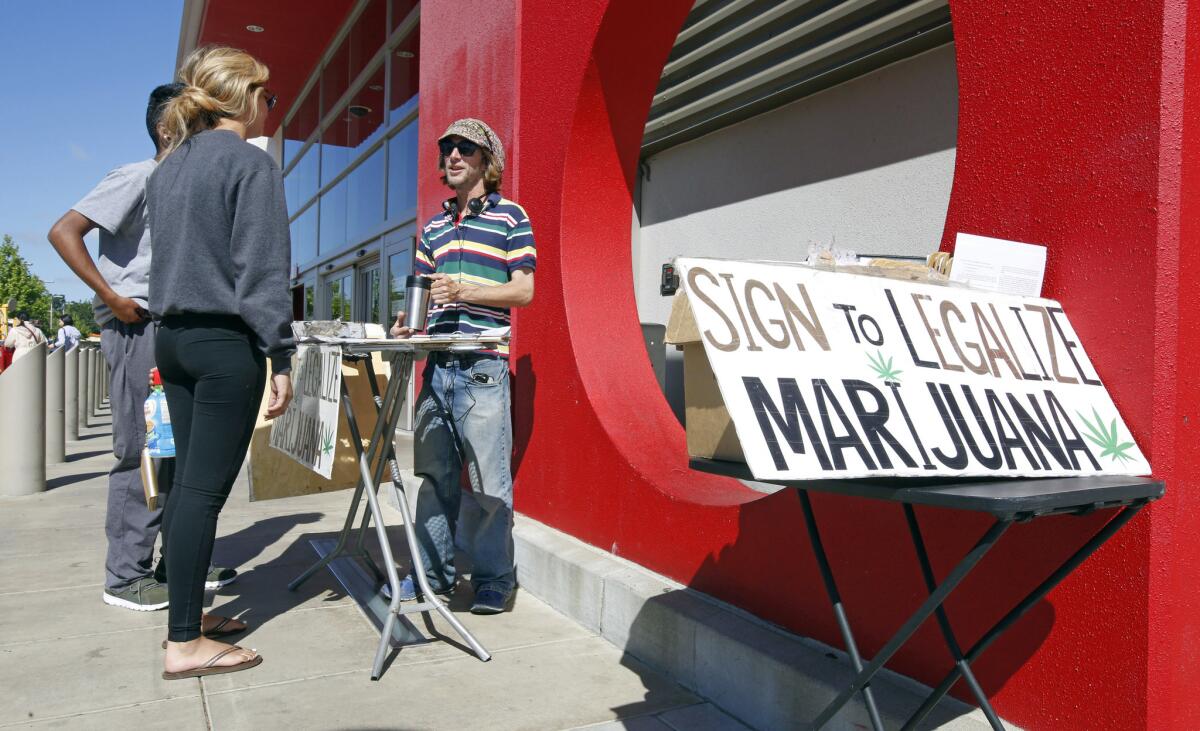 TV ads touting marijuana products are still a major taboo in the media business, but that hasn't stopped members of the Grateful Dead from breaking with convention to puff up their pet cause.
Dead & Company, made up of surviving members of stoner-friendly jam band, are bringing at least 300 supporters of legal pot to their scheduled Tuesday performance on ABC's "Jimmy Kimmel Live," according to representatives of the group.
Members of organizations including the California Cannabis Industry Assn. and the Los Angeles medical marijuana collective Buds & Roses were encouraged to wear T-shirts, carry signs and even dress up as giant joints to get their message seen on national TV.
The "Scarlet Begonias" rockers have long stumped for marijuana legalization, and now they're looking to get the message out beyond their notoriously loyal fan base during the current election cycle. Kimmel's show, which averages about 2.4 million viewers a night on Disney-owned ABC, will represent an unusually mainstream platform for the pro-cannabis crowd.
"The folks it would be hitting on that broadcast would be outside our normal sphere of influence," Bob Weir, a founding member of the Grateful Dead, said in an interview. "We're about music, but we're about other stuff as well, and we always have been. We need to make our feelings on the subject as apparent as we can."
The episode is part of the late-night talk show's televised summer concert series, performed in the parking lot behind the El Capitan Theatre in Hollywood. Representatives for ABC and "Jimmy Kimmel Live" declined to comment.
Dead & Company, which includes singer-songwriter John Mayer in its lineup, had to get creative to get the advocates in front of the Kimmel cameras. The band had originally floated the idea of having the marijuana-advocacy groups sponsor the Kimmel appearance, but that proposal, unsurprisingly, quickly went up in smoke.
Programmers and networks have shied away from accepting advertising from the marijuana industry, even in states where its recreational and/or medical use has been legalized through ballot measures. Last year, an ABC affiliate in Denver, where marijuana is permitted, reportedly reversed plans to run marijuana ads near the Kimmel telecast time slot.
Marijuana use is still illegal in the eyes of the U.S. government. California voters will have a chance to legalize marijuana for recreational use in the November election. The state allows cannabis use for medical purposes.
In the face of restrictions, the band, which is kicking off a U.S. tour, resorted to their so-called guerrilla-style publicity tactics, hoping the presence of members of the pot groups at the show will generate buzz on social media.
Bernie Cahill, who co-manages Dead & Company, said the band members wanted to get their message out in a way that wouldn't raise legal hackles or offend viewers.
"They're respectful advocates, and they're very thoughtful in their approach to this entire industry," Cahill said. "I don't see that changing."
MORE:
Readers react to commentary on Desert Trip mega-concert: 'Ageism cuts both ways'
Desert Trip mega-concert: Here's where to buy tickets and how much they cost
Neil Young walks with dinosaurs at public preview for new album 'Earth'
From the Oscars to the Emmys.
Get the Envelope newsletter for exclusive awards season coverage, behind-the-scenes stories from the Envelope podcast and columnist Glenn Whipp's must-read analysis.
You may occasionally receive promotional content from the Los Angeles Times.