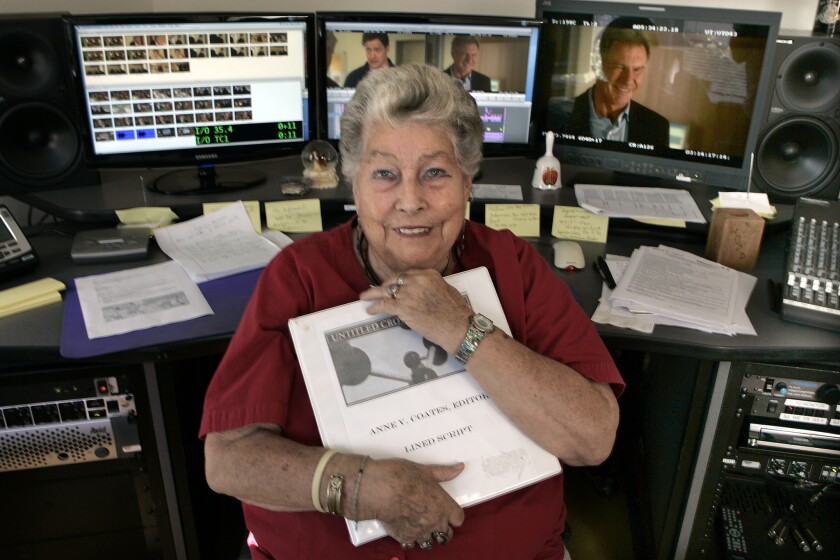 British-born film editor Anne V. Coates, who won an Oscar for David Lean's sweeping desert epic "Lawrence of Arabia," will receive a career achievement award in January from the Los Angeles Film Critics Assn.
The association announced the honor after its meeting Saturday. Coates was nominated five times for an Academy Award, including for the films "The Elephant Man" directed by David Lynch and "In the Line of Fire," directed by Wolfgang Petersen. She has said that one of her biggest challenges was editing about 33 miles of footage from Lean's nearly four-hour masterpiece about T.E. Lawrence.
SIGN UP for the free Essential Arts & Culture newsletter >>
In a field dominated by men, Coates, 89, whose career has spanned decades, has been a gifted force among film editors. She ignored the advice from her movie-producer uncle, J. Arthur Rank ("The Red Shoes"), to avoid the movie business. He thought, she once told the Los Angeles Times' Susan King, that "I was interested in the glamour and sleeping around with the stars."
Coates' first big editing job was on "The Pickwick Papers", the 1952 black-and-white film directed by Noel Langley and based on the Charles Dickens novel. There was a catch, however. "If I didn't make out in the first two or three weeks, they would bring an editor over me," she said.
"That was really nerve-racking. He [Langley] was a first-time director and what he was doing wasn't that great. Even an experienced editor would have problems. I was thinking, maybe, I would get replaced. When they did a courtroom sequence and somehow I just got it right, from then on I was golden. And thankfully, I never really looked back."
The awards dinner for Los Angeles Film Critics Assn. will be held Jan. 9.
Follow me on Twitter @JeffreyLAT
---