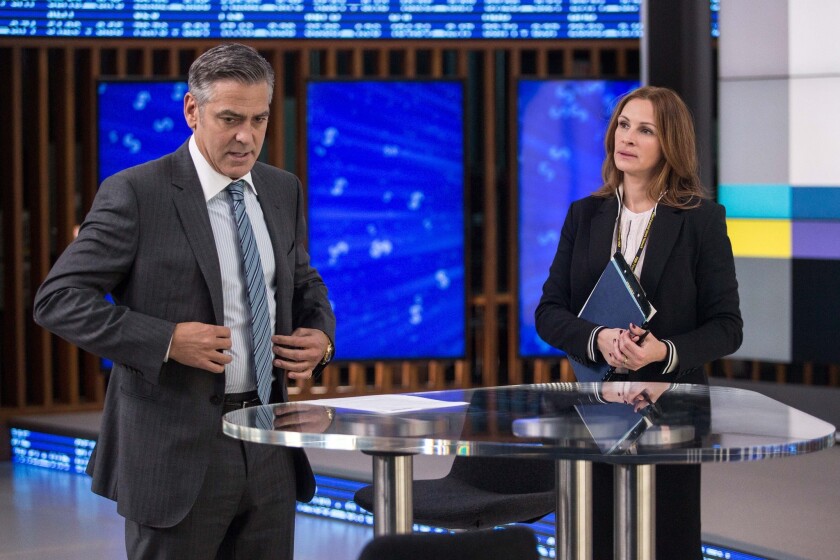 Few people would dare get in the middle of a fight between Captain America and Iron Man, and even fewer movies are willing to challenge the Marvel heroes at the box office.
After a blockbuster $179-million opening weekend, Walt Disney Co. and Marvel Studios' $250-million superhero mashup "Captain America: Civil War" is all but certain to continue its dominance on the domestic charts, as Sony Pictures' "Money Monster" and horror producer Jason Blum's "The Darkness" try to find their own audiences in its wake.
"Captain America: Civil War" is expected to gross $72 million to $80 million Friday through Sunday in ticket sales from the U.S. and Canada, which would represent a 55-60% decline from its massive domestic debut. Last year's "Avengers: Age of Ultron" experienced a similar drop from its debut gross. The original "Avengers" fell just 50% in 2012.
The latest Marvel adventure is expected to flex a stronger hold on audiences than Warner Bros. and DC Entertainment's March offering "Batman v. Superman: Dawn of Justice," which fell 69% in its second weekend. "Civil War" will likely benefit from the generally positive responses from moviegoers and largely stellar reviews.
Through Monday, "Civil War" has taken in more than $190 million at the U.S.-Canada box-office since hitting domestic theaters Thursday night. It has also amassed an international total of $513 million, including a strong $105-million take in China. The film has already sailed past the $700 million mark in terms of global receipts.
The highest-profile new release on Friday will be "Money Monster," an R-rated, socially conscious thriller starring George Clooney and Julia Roberts and directed by Jodie Foster. The movie, which cost $27 million to make, is likely to gross about $10 million through Sunday, according to people who have seen pre-release audience surveys.
In "Money Monster," getting its wide release from Sony's TriStar label, Clooney plays a charismatic financial TV personality who winds up in trouble when an angry investor who lost his shirt takes the studio hostage. The film, which debuts at the Cannes Film Festival this week, is aiming to attract adult moviegoers as "Captain America" extends its rampage.
For horror fans, Focus Features' High Top Releasing unit is launching Jason Blum's latest low-budget horror flick, "The Darkness," starring Kevin Bacon. The supernatural thriller is expected to gross less than $10 million, though the production company says it will be happy with $4 million to $5 million in its initial weekend.
The new film is part of an experiment by the "Paranormal Activity" producer's firm Blumhouse Productions to save marketing and distribution money by releasing movies in fewer theaters and specifically targeting horror genre fans through digital media.
The company tried the strategy with last year's cannibal movie "The Green Inferno" to middling results. That movie took in $3.5 million in its debut, and tapped out at $7.2 million.
Follow Ryan Faughnder on Twitter for more entertainment business coverage: @rfaughnder
---