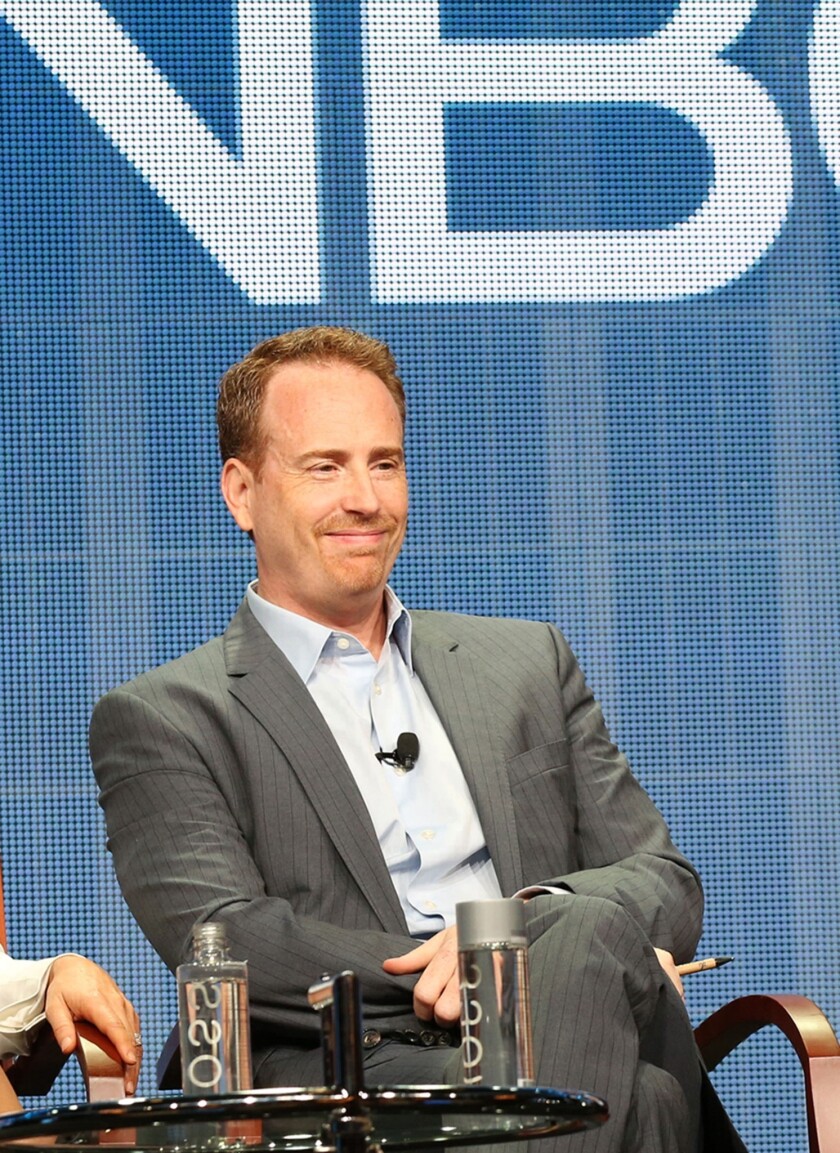 NBC doesn't want to say goodbye to "Tonight Show" host Jay Leno just yet.
"I'm very much hoping we will enter into a new relationship with him after 'The Tonight Show,' " said NBC Entertainment Chairman Bob Greenblatt at the semiannual Television Critics Assn. press tour in Pasadena on Sunday.
Leno, who ends his run as "Tonight Show" host on Feb. 6 (with Billy Crystal as his final guest), has kept mum on his future plans, including whether he will seek another TV hosting gig. Greenblatt said he'd like to have Leno host specials for NBC down the road.
Jimmy Fallon, host of NBC's "Late Night with Jimmy Fallon" will debut as host of "The Tonight Show" on Feb. 17, in the midst of its coverage of the Winter Olympics in Sochi, Russia. The network hopes that the bigger audiences for the Games will mean increased sampling for Fallon.
FACES TO WATCH 2014: Digital media
Greenblatt also said the network has an appetite for more football. The National Football League is soliciting offers for a potential Thursday night package of games. Greenblatt declined to comment on whether NBC, which is home to Sunday night football, had made an offer but said "we'd love to have more NFL games," and "Thursday night games might be really interesting to us."
One reason Thursday football would appeal to NBC is that its comedies on that night have been struggling. The network has programmed sitcoms on Thursday for decades but given its recent challenges, Greenblatt didn't rule out going in a different direction next season. Expensive and heavily promoted new comedies starring Michael J. Fox and Sean Hayes have failed to click with viewers, much to the frustration of the network.
"We're really unhappy that we can't find an audience for them," said Greenblatt, adding that this spring the network will "have to get in the scheduling room and make some hard decisions."
An easy decision for NBC to make was to greenlight another live musical after the surprising success of "The Sound of Music Live" last month. Greenblatt said NBC would take another crack with "Peter Pan" in December. Producers Craig Zadan and Neil Meron, who made "The Sound of Music Live" are also on board for "Peter Pan."
PHOTOS: Behind the scenes of movies and TV
NBC also said it had signed "Parks and Recreation" star Amy Poehler to a production deal and is developing a sitcom she will produce starring Natasha Lyonne ("Orange is the New Black") as a woman who works in a senior care facility.
Networks are typically obsessed with shows about younger people, but NBC executives said this comedy will give it a chance to broaden its casting and appeal to older viewers as well.
"I'd like to see them represented," Greenblatt said.
Other new shows in development include "State of Affairs" starring former "Grey's Anatomy" star Katherine Heigl as a CIA liaison for the White House. The network also has a limited series in the works inspired by Frank L. Baum's books called "Emerald City."
Coming off a strong fall in which its average prime time audience was up 10%, Greenblatt said NBC is unlikely to change the way it develops new shows. Responding to a question regarding Fox's plans to abandon so-called pilot season -- the three month ritual in which networks frantically order scripts, hire actors and shoot trial episodes -- Greenblatt said he is happy with the current model.
"I think you learn a lot from the pilot process," Greenblatt said.
Follow Joe Flint on Twitter @JBFlint.
---