Netflix's 'Love' embraces L.A.'s awkward, appealing dating scene -- while showing our city lots of love
It's not easy finding love in Los Angeles. But Netflix managed to do so.
"Love," the new series that recently launched on the streaming site, takes viewers on the awkward, frustrating and appealing phases of navigating the L.A. dating scene.
The comedy is part of an expanding roster of TV series that film in L.A as Netflix invests more heavily in original programming. In addition to "Love," Netflix has nine other series that film locally, including "Grace and Frankie" and the upcoming programs "Lady Dynamite" and "The Ranch." But with "Love," the story is not only set in Los Angeles, the city is actually a third wheel in the developing relationship at the center of the show.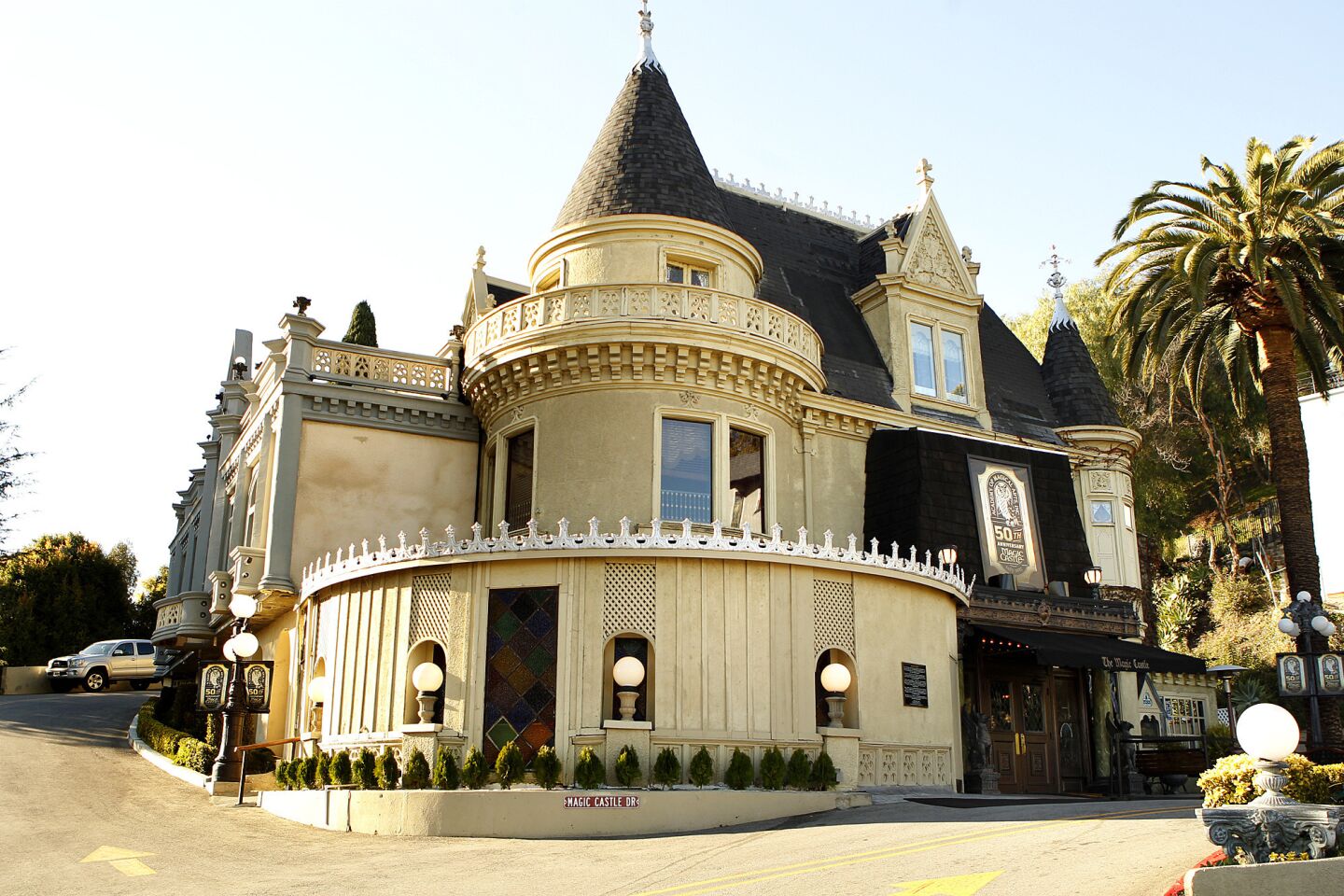 Hollywood's exclusive hot spots such as Magic Castle are there for first dates in "Love."
(Christina House / Los Angeles Times)
An entrance to the Metro Red Line Station in North Hollywood.
(Luis Sinco / Los Angeles Times)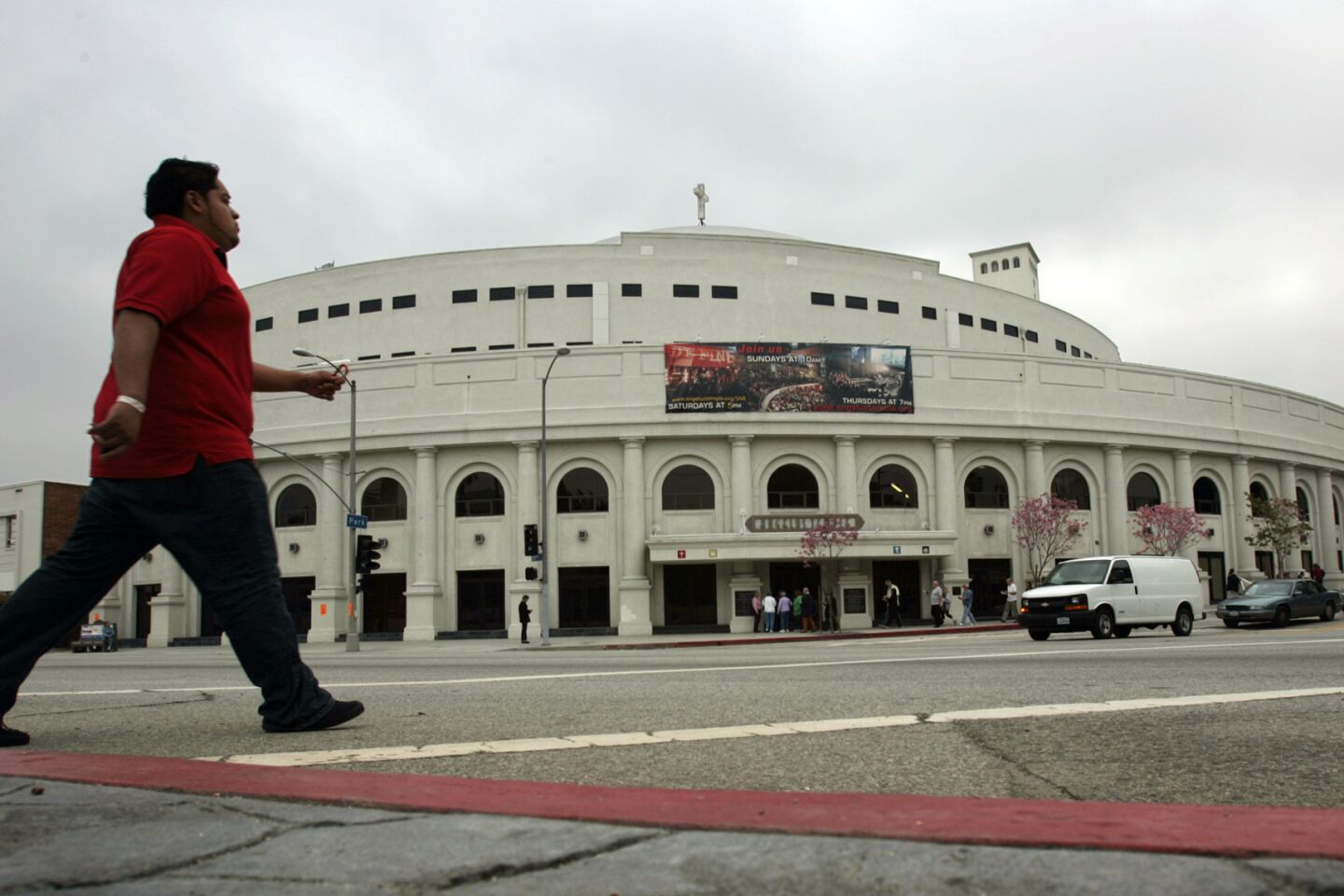 The historic church building of Angelus Temple, near Echo Park.
(Irfan Khan / Los Angeles Times)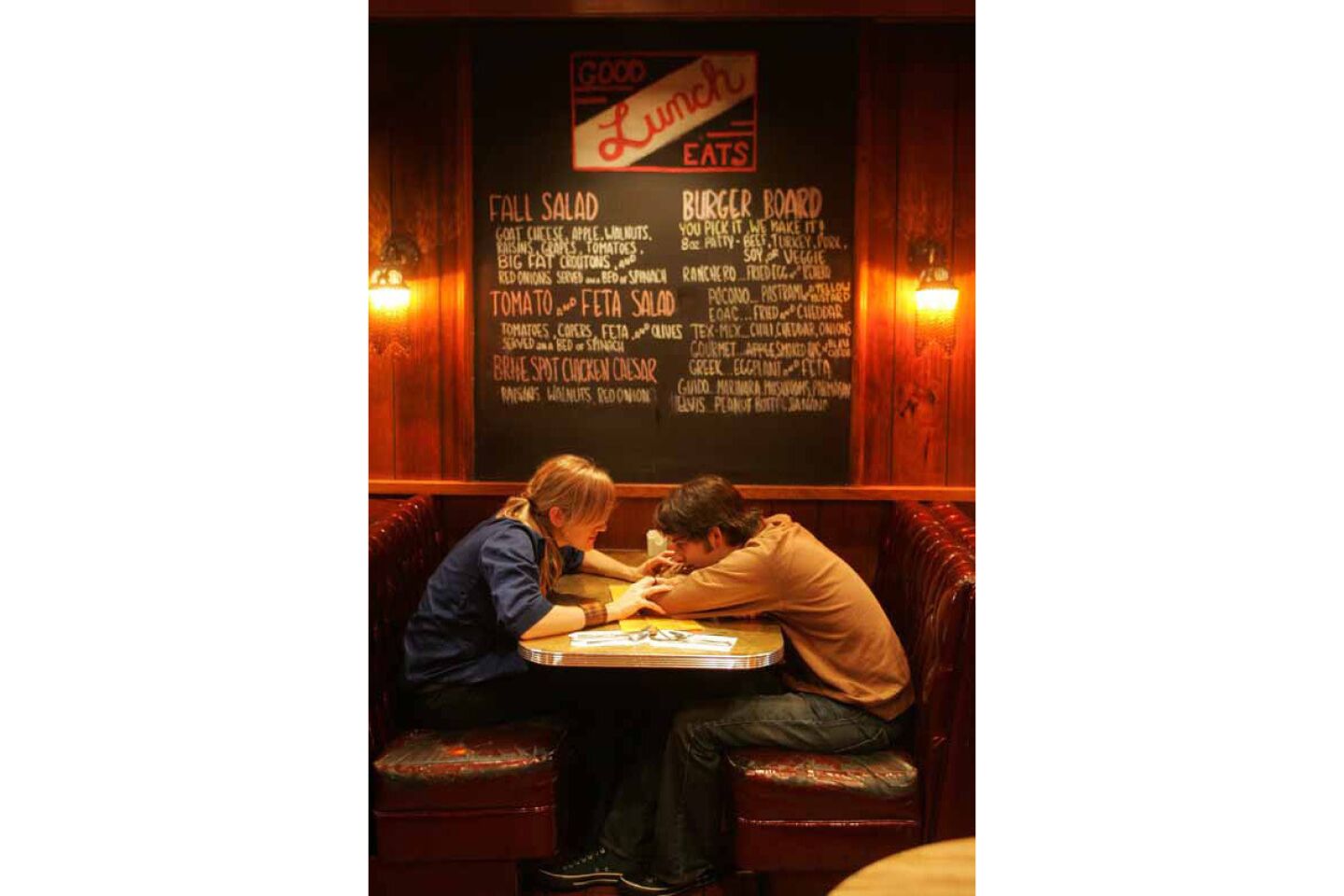 A couple enjoy a quite moment at Echo Park's Brite Spot diner, where several scenes of "Love" have been shot.
(Spencer Weiner / Los Angeles Times)
Gas station mini marts on Sunset Boulevard provide sustenance when love stinks; Hollywood's exclusive hot spots such as Magic Castle are there for first dates; and diners such as Brite Spot in Echo Park serve as meeting grounds for the lovelorn to talk about their prospective matches.
"We felt like there was an opportunity to show off certain aspects of Los Angeles, much in the same way [HBO's] 'Girls' has for Brooklyn," said Judd Apatow, one of the producers and co-creators of 'Love.'"It's more expensive to shoot in Los Angeles — you don't have the same tax breaks as you do in other cities, so I think it motivates most people to leave town. We tried really hard to figure out a way to shoot here."
We felt like there was an opportunity to show off certain aspects of Los Angeles, much in the same way 'Girls' has for Brooklyn.
— 'Love' producer and co-creator Judd Apatow
The series tackles L.A. singledom through the eyes of two people on the fringes of the entertainment industry: wild flower Mickey (Gillian Jacobs, who starred in the TV series "Community") who is a program manager at a satellite radio station and lives in Echo Park; and nerdy guy Gus (Paul Rust), who is a tutor for a child star on a popular TV show and lives in Burbank. The show is loosely based on the off-screen relationship between Rust and his wife, Lesley Arfin, who co-created the series with Apatow.
The series embraces the complications of being single in L.A.
"We always knew it was going to be based in Los Angeles," Rust said. "We talked a lot about how in New York — pre-Uber — it was easier to meet somebody at a bar and then have a couple of drinks and then, like, continue talking on a subway or in a cab back home. But in L.A. it's like, you meet somebody and then you have to separate to different cars and drive to somebody's house and hope that street parking doesn't screw things up."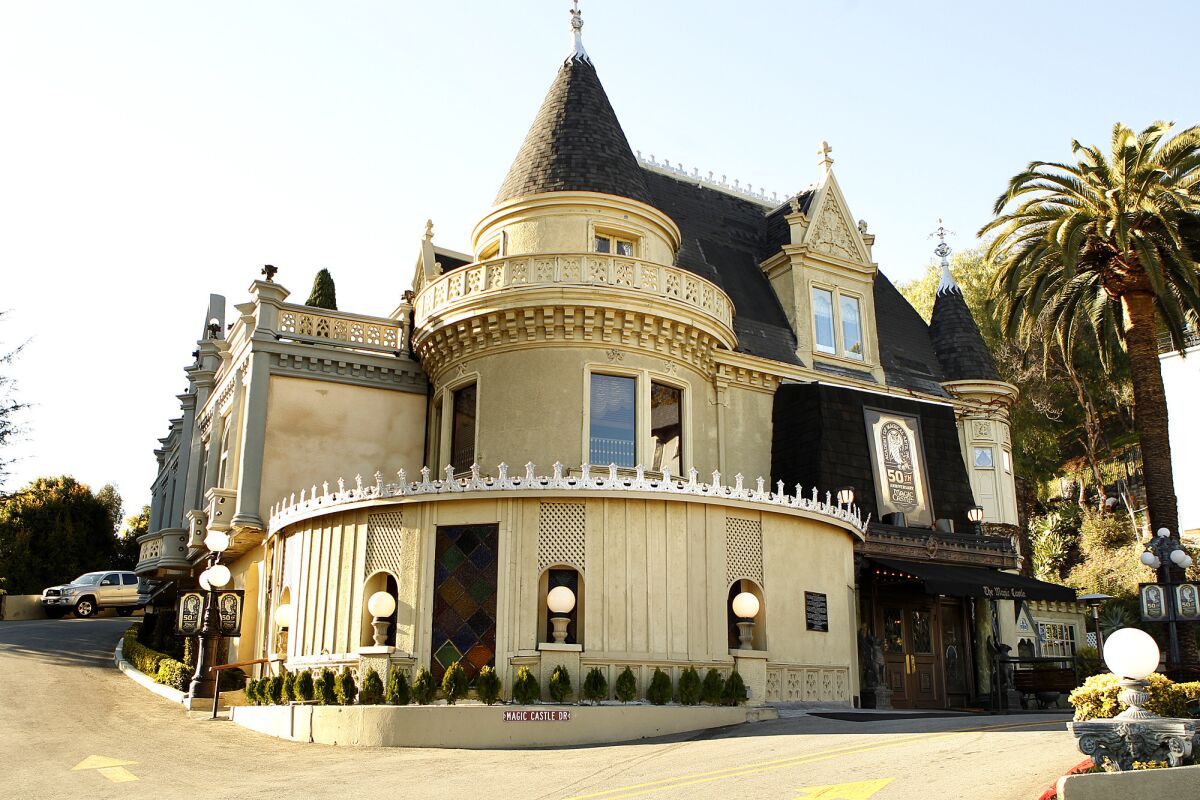 "Love" occupied two soundstages on the Sony lot in Culver City and employed some 140 crew members. The series was location-heavy, filming at about 69 locations over 49 days from May of last year through the end of July, according to FilmL.A. Inc.
It took six days to shoot an episode, and typically half that time was spent shooting on location. Locales featured include Echo Park's United Oil, Angelus Temple and Brite Spot; Santa Monica's Buffalo Club Restaurant; and the Micheltorena Stairs in Silver Lake.
"It was fun to get around the city," said Jacobs, one of the leads. "It's a part of L.A. that I'm starting to see more on TV shows, but I hope we found our own unique corner."
Location manager Jordana Kronen said the goal was to focus on a part of L.A. that represented young adults who are still navigating their paths in careers and relationships.
"It is up and coming, hip and evolving with trends," she said.
While production flight remains an issue in Hollywood, L.A. has attracted several high-profile TV comedies that highlight the city's diverse neighborhoods.
Amazon's "Transparent" traverses Silver Lake and West Hollywood, HBO's "Togetherness" is set in Eagle Rock, and FXX's "You're the Worst" features Echo Park, Silver Lake and surrounding neighborhoods.
Rust is happy to join the club of new L.A.-based shows.
"The thing that I was most excited about is being part of the L.A. locations scene when people talk about shows or movies that film here," Rust said. "Now, maybe, when people drive by United Oil, they'll be like, 'That was in 'Love.' "
ALSO:
Warning: Judd Apatow's fascinating 'Love' on Netflix could cause bingeing
Netflix's 'Fuller House' revives TV family sitcom 'Full House,' with a few twists and updates
New 'Daredevil' trailer shows Elektra and Daredevil in action
From the Oscars to the Emmys.
Get the Envelope newsletter for exclusive awards season coverage, behind-the-scenes stories from the Envelope podcast and columnist Glenn Whipp's must-read analysis.
You may occasionally receive promotional content from the Los Angeles Times.