Web content producer BiteSize making move into network TV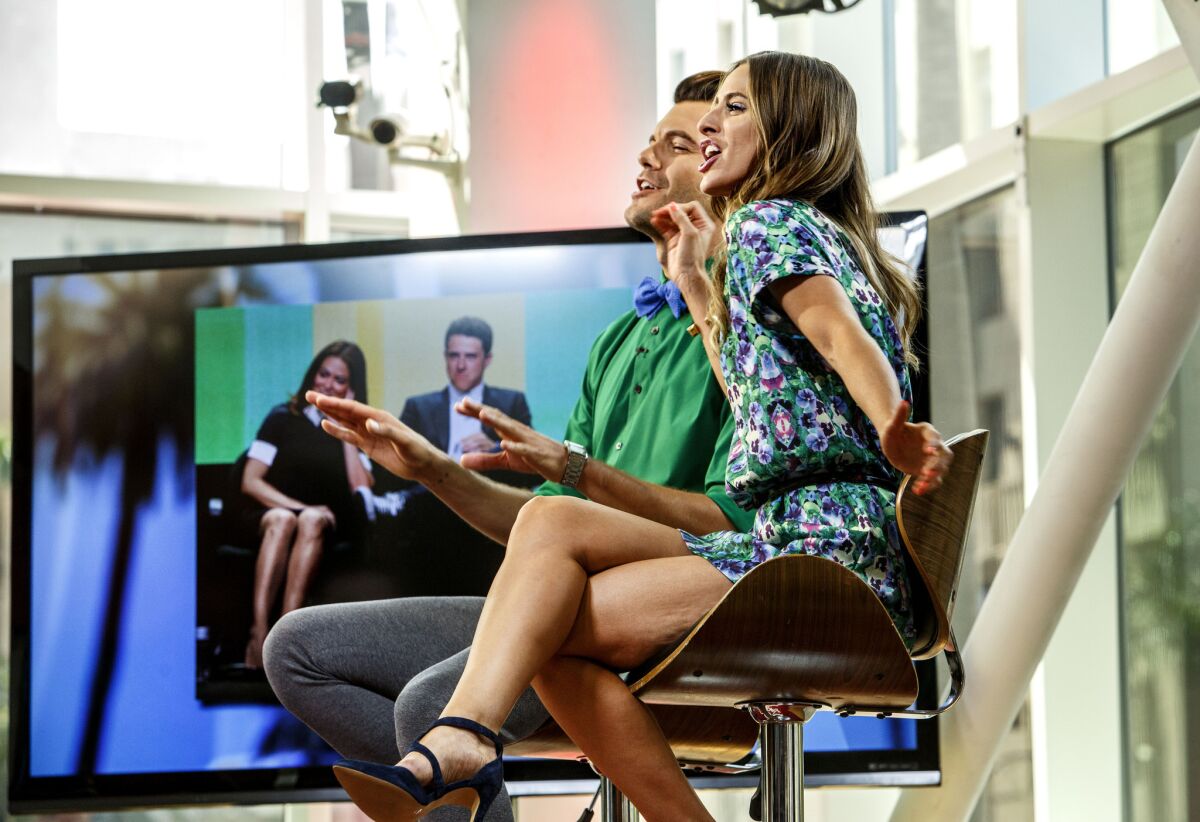 At first glance, the set of "Hollywood Today Live" looks like just another entertainment talk show.
Four hosts — Kristen Brockman, AJ Gibson, Tanner Thomason and Porscha Coleman — sit next to one another on a studio stage at the corner of Hollywood Boulevard and Vine Street, discussing everything from upcoming movies to celebrity Tweets for one hour every day.
"Let's get the party started," Thomason said to the camera after the hosts outlined the program's topics of the day: Kim Kardashian's video game, "Woman Crush Wednesday" picks, a review of "Sex Tape" and other segments.
But unlike programs such as "Entertainment Tonight" or "Access Hollywood," "Hollywood Today Live" is a Web-inspired talk show with fresh-faced hosts who cater to the millennial crowd. The series began in 2012 as an online show for BiteSize TV, a new network that streams, produces and distributes a wide range of programming on its website.
Last week, the series made its network television debut on Fox, which also is producing the show, marking the first time that the network has tested or launched a program based on an online production.
BiteSize's move into network television illustrates how online content creators are expanding their audiences in conventional media. "TMZ" and "TMZ Live," which air on Fox's TV stations in major markets, both evolved from digital property TMZ.com but are produced by Warner Bros.
"Pop Sugar Now," on the TV Guide Network, and "HollyscoopTV," a nationally syndicated entertainment magazine show, were inspired by Web productions on PopSugar.com and Hollyscoop.com.
"What TV has that is magical is that you know what you're going to watch next week," BiteSize TV Chief Executive Ron Bloom said. "You can invest in programming over a year instead of over a day and develop a longer-term, deeper audience.
"But the Internet can change in an instant, it's not so buttoned-down," he said. "The trends in media are such that those two things are coming together."
For Stephen Brown, the executive vice president of programming and development at Fox Television Stations, collaborating with BiteSize was a no-brainer.
"Doing shows the old way is a broken model," Brown said. "Bigger budget shows are not sustainable or financially viable. Ultimately, we have to find a way to produce great quality content in a financially smart way."
Fox also is testing a second show at the BiteSize studio called "The Daily Helpline," featuring a panel of experts who dispense advice on relationships, health and other topics.
"We really like the look and feel, and they fit perfectly with our station lineup," Brown said of the shows.
The youthful vibe of "Hollywood Today Live" also resonates with Fox Television Stations' younger audiences, he said.
According to Nielsen ratings from the 2013-14 year, Fox's "TMZ" show has a median viewership age of 47.7. "Entertainment Tonight," on the other hand, skews older, with a median age of 58.6.
Housed in a 10,000-square-foot facility, BiteSize produces a dozen programs, including "The Girl Spot," a talk show for younger female audiences, and "Barely Hanging On," which documents the adventures of climber Don Bowie. Other shows, such as "Hollywood Tour Wars" and "Kamikaze Paparazzi," highlight Hollywood's subculture.
The network is the latest in an expanding group of Web-based start-ups sprouting across Los Angeles to produce entertainment for YouTube, Yahoo, Hulu and other companies that have invested millions of dollars in creating programming for the Internet.
BiteSize describes itself as a vertically integrated entertainment network, "born on the Internet but modeled after all the good things that come from television and feature film." Its original content spans entertainment, lifestyle, comedy, tech and adventure, and ranges from five-minute segments to one-hour programs.
In the last year, BiteSize has produced more than 5,000 segments of programming, most of which is filmed at the studio or on location in L.A. The digital channel reaches more than 50 million viewers per month and is expected to double its audience by the end of the year, the company said.
Like MTV's "Total Request Live," the studio, which opened in January, has see-through glass walls to enable passersby to peer inside. Adjacent to the studio's stage, at least 20 computers and laptops are spread across two areas on the first floor.
BiteSize has a staff of more than 50 people, most of whom are in their 20s or 30s. Many of them are working on more than one show at a time.
"Everyone does everything," said Steve Holzer, the executive producer of "Hollywood Today Live." "We are truly self-sustaining — we are a studio and a production facility that happens to be in the heart of Hollywood."
The show plays into the "live" aspect by having a cameraman maneuver around the studio with a hand-held camera, zooming in on people who are working behind the scenes, including the guest stars as they get their makeup done.
During filming of its second episode, the show experienced some technical glitches: Teleprompters were down for the first few minutes of production. Rather than panic, the hosts joked that Chandler Kirkwood, the script supervisor, was too busy playing the Kardashian video game to focus on work.
"I'm D-list but I'm getting there," Kirkwood quipped.
"Everything you see is fair game on camera," Holzer said. "We think that's part of the charm."
Get our L.A. Goes Out newsletter, with the week's best events, to help you explore and experience our city.
You may occasionally receive promotional content from the Los Angeles Times.