'Terminator Genisys,' 'Magic Mike XXL' enter crowded marketplace over Fourth of July weekend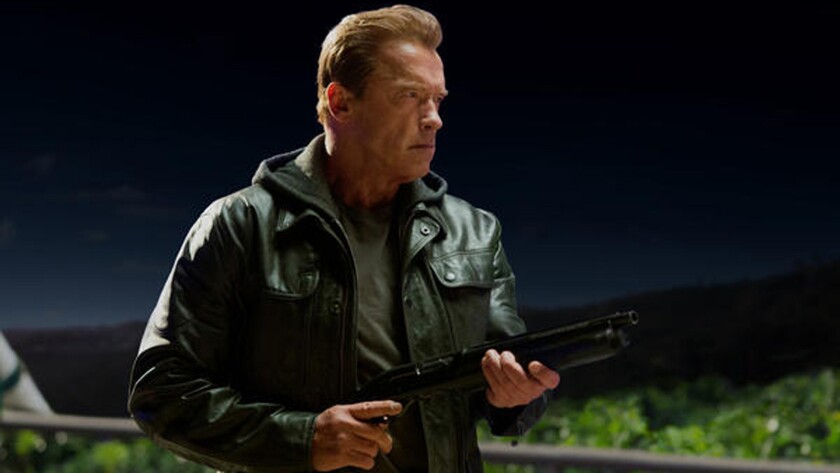 Though there will be fireworks at the box office this weekend, a crowded marketplace may not be enough to help set Independence Day weekend records.
New offerings "Terminator: Genisys" and "Magic Mike XXL" are tracking to make between $50 million to $60 million over the five-day holiday weekend, according to people familiar with pre-release audience surveys. Meanwhile, summer tentpoles "Jurassic World" and "Inside Out" are expected to holdover in the top five and may end up leading the box office again.
"This weekend is a big question mark," said Bruce Nash, founder and publisher of TheNumbers.com, a website with movie financial information. "'Terminator' is a classic July 4 movie but is getting poor reviews right now. 'Magic Mike' doesn't have as much competition as one would have expected. 'Jurassic World' and 'Inside Out' are clearly still going to stay very popular. It's interesting."
None of the films are expected to come close to the $97.8-million Fourth of July weekend record set by "Transformers: Dark of the Moon" in 2011.
This year the holiday falls on a Saturday, which may result in moviegoers ditching theaters for barbecues and fireworks. Analysts expect a better-than-usual Friday turnout followed by drops in ticket sales on Saturday.
However, the industry will likely still end up in better shape than this time last year, when "Tammy," "Earth to Echo" and "Deliver Us From Evil" failed to boost the box office. The summer of 2014 ranked as the worst summer box office since 1997, when adjusted for inflation.
The current box office is up about 7% year-to-date. The summer has been fairly robust, despite a slower start over the Memorial Day Weekend.
"Terminator Genisys," directed by Alan Taylor, is the fifth installment in the franchise. To date, the "Terminator" films have grossed more than $1.4 billion at the worldwide box office since the original 1984 film by James Cameron.
The film cost a whopping $155 million to make. Paramount Pictures and Skydance Productions are hoping to recapture the fanbase of the "Terminator" franchise while also drawing in a new generation of moviegoers. A sixth and seventh installment are reportedly already on deck.
The new movie follows Kyle Reese (Jai Courtney), who is sent back to 1984 by John Connor (Jason Clarke), leader of the human resistance, to protect Sarah Connor (Emilia Clarke) and safeguard the future. An unexpected turn of events creates a fractured timeline, leading Reese, Connor and a Terminator ally (Arnold Schwarzenegger) on a mission to reset the future.
Reviews for the latest installment have been mixed. The film earned a paltry 27% positive rating on Rotten Tomatoes and critics have been giving it generally poor reviews.
The film marks Schwarzenegger's return to the big screen after several duds including "Escape Plan" (in 2013) and "Sabotage" (2014). Though the former California governor hasn't anchored a box office hit in several years, he has maintained a large global fanbase. Thousands lined up outside the Dolby Theatre on Sunday at the film's Los Angeles premiere to catch a glimpse of the star.
"Genisys" has already collected $8.3 million in 10 international territories, a promising start for the "Terminator" franchise overseas. In addition to the U.S. and Canada, the film will open in about 60% of the international marketplace this weekend.
The "Magic Mike" sequel, released by Warner Bros., offers solid counterprogramming to the sci-fi franchise. The film, which cost under $15 million to make, is expected to be a hit for Warner Bros.
The original film, released in 2012, overperformed with a robust opening of $39.2 million. It attracted largely female audiences, drawn to a storyline based loosely on Channing Tatum's experience as a stripper.
This time around, the group of friends (including Tatum, Joe Manganiello, Matt Bomer, Kevin Nash and Adam Rodriguez) road-trip to Myrtle Beach, S.C., to perform at a stripper convention. So far, it's racked up a decent 63% positive rating on Rotten Tomatoes.
For more news on the entertainment industry, follow me @saba_h
---
From the Emmys to the Oscars.
Get our revamped Envelope newsletter for exclusive awards season coverage, behind-the-scenes insights and columnist Glenn Whipp's commentary.
You may occasionally receive promotional content from the Los Angeles Times.