Shari Redstone emerges as a pivotal figure in the battle for Viacom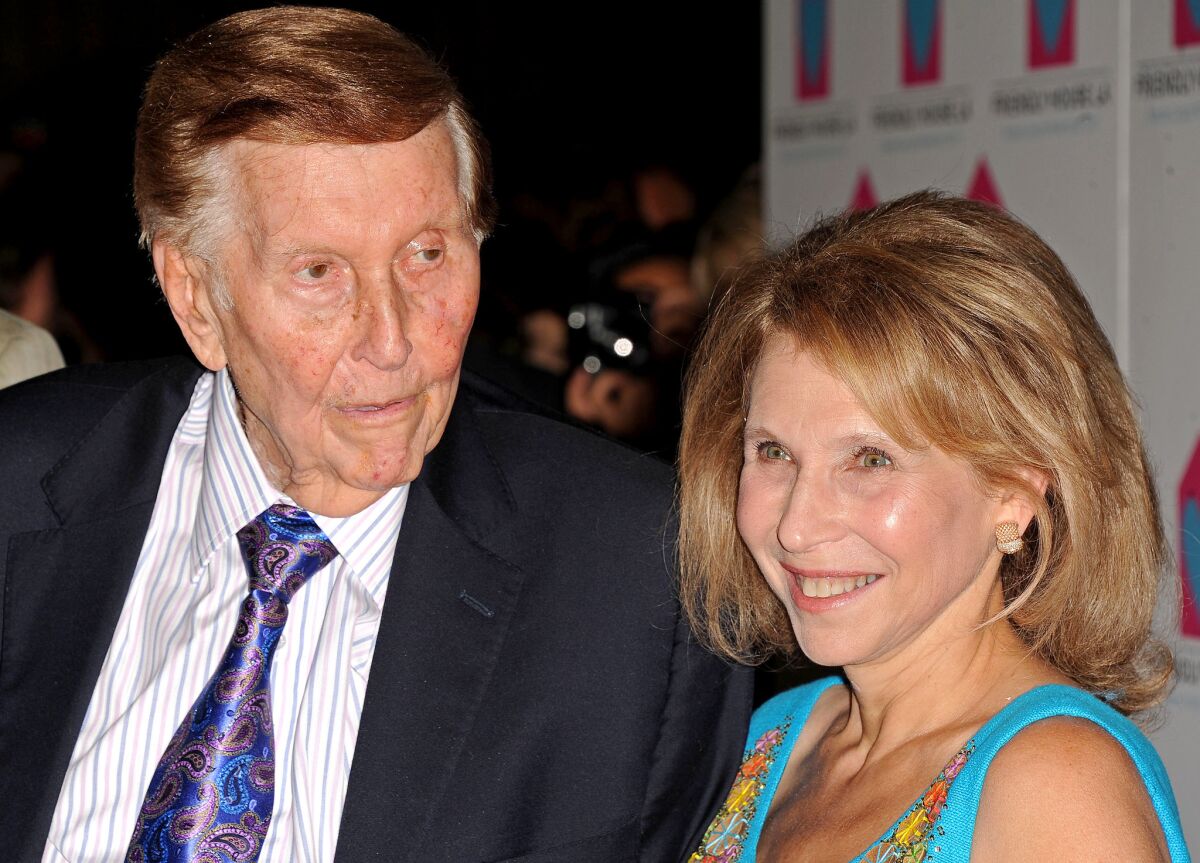 Shari Redstone has long been on the sidelines of her father's $40-billion media empire.
But in the last month she has emerged as a central figure in the battle over the future of Viacom Inc. and CBS Corp.
The 62-year-old vice chair of the two media companies was widely suspected as the force behind Sumner Redstone's unexpected decision last week to oust his longtime lieutenant, Viacom Chief Executive Philippe Dauman, from the trust that will eventually determine the future of CBS and Viacom.
Her influence was further underscored Tuesday when two of her allies were named to the trust that will eventually oversee the Redstone family's nearly 80% voting stake in Viacom and CBS.
One of the appointees, Tad Jankowski, is the general counsel of National Amusements Inc., the Redstone family holding company. He has worked for the family for 35 years and currently reports to Shari Redstone. Another is her friend of 20 years, Jill Krutick, a former Wall Street analyst who once covered Viacom. The pair replace Dauman and another longtime Sumner Redstone advisor who also was jettisoned late Friday.
"She's lining up her alliances and pruning those that aren't in agreement," said C. Kerry Fields, a corporate governance expert at the USC Marshall School of Business. "She's trying to line up her alliances for when her father passes."
She's trying to do a palace coup... She's trying to take over the company, and she's not giving up.
— Peter Sealey
Shari Redstone declined to comment. An attorney for her father, who has great difficulty speaking, dismissed the notion that she is the one calling the shots.
"This dispute is not about Shari Redstone," said attorney Robert N. Klieger.
Nonetheless, industry analysts and company insiders say Shari Redstone's game plan appears to be unwinding Dauman's involvement with her family. That would ease some longstanding friction, and clear her path to control.
She has been unhappy with Dauman's management of Viacom, which has seen its stock price plummet about 40% in the last year. The company's entertainment assets include Paramount Pictures, MTV, Comedy Central and Nickelodeon. Viacom shares rose 3.4%, or $1.35 a share, to $41.30 on Tuesday.
"'She's trying to do a palace coup," said Peter Sealey, a Sausalito, Calif., business and marketing consultant. "She's trying to take over the company, and she's not giving up."
Shari Redstone appears to be playing the long game.
Back in February, she protested a move by the Viacom board to name Dauman as chairman of the media company to succeed her father.
Fellow board members – and even her ailing 92-year-old father -- were unswayed by her argument that Viacom's leader "should be someone who is not ... intertwined in Redstone family matters." She cast the lone vote against Dauman.
But Shari Redstone was handed a big victory this month when a Los Angeles judge concluded that the elder Redstone wanted his daughter -- not his former companion Manuela Herzer -- to oversee his healthcare. Herzer had unsuccessfully sued to reverse his decision to dump her as his healthcare proxy.
Herzer's exit gave Redstone an opportunity to mend a rift with her father, with whom she's long had a tumultuous relationship.
She and her father have famously clashed over the years. Disputes have centered on expansion of the family's cinema chain and who would lead the companies after he was no longer able to do so.
SIGN UP for the free California Inc. business newsletter >>
Shari Redstone, a former criminal defense attorney, serves as president and owns 20% of the family holding company, National Amusements Inc. Sumner Redstone owns the controlling 80%. The company also boasts more than 900 movie theater screens in the U.S., Britain, Brazil and Argentina.
During one family squabble, Sumner Redstone in 2007 wanted to buy his daughter out of the family business. Then in late 2014 he offered her $1 billion to surrender her stake in National Amusements, according to court documents. That deal never happened.
But with his former girlfriend out of the picture, Sumner Redstone last month designated his daughter as his healthcare proxy, giving her a much larger role in his affairs.
She won a major victory last week when Sumner Redstone made the dramatic move to strip Dauman as one of the seven trustees.
"That was an opportunistic move, a very clever tactic," said Mario Gabelli, whose Gabelli funds make up the second-largest voting shareholder of Viacom and CBS, behind the Redstones.
"And since Sumner can't really speak they can say: This is what Sumner wants," he said.
Now at least five of the seven trustees are closely aligned with Shari Redstone, who is also a trustee.
Also on Tuesday, Shari Redstone's daughter Kimberlee Ostheimer was named as a director of National Amusements along with Jankowski and Krutick.
Ostheimer's husband, Jason, co-runs Advancit Capital, Shari Redstone's firm that makes investments in media companies.
Two of Shari Redstone's three children now are more deeply involved with the family's business interests. Her youngest son, Tyler Korff, is one of the seven trustees. Another trustee is the attorney who handled her mother's divorce from Sumner Redstone in 1999. Still another is the lawyer who represented Shari Redstone in her divorce.
What happens next?
One clue is the recent hiring of Los Angeles attorney Michael C. Tu to represent Sumner Redstone. Tu leads the securities litigation practice of the prestigious law firm Orrick, Herrington & Sutcliffe. Unlike Redstone's earlier legal circle, he specializes in corporate securities – not estate planning.
That suggests that Shari Redstone, or her father, might be preparing to wage a proxy battle to oust Dauman from his operational role at Viacom.
Dauman and George Abrams, another Viacom director, sued on Monday to block their removal from the trust and the board of National Amusements. They contend the elder Redstone was manipulated by his daughter. Attorneys for Sumner Redstone have denied the claim.
For now, Dauman retains the support of Viacom's board.
"I think he's is going to be discharged as CEO, because the chief executive serves at the pleasure of the board," Fields said. "And that's going to be his undoing."
Who might be tapped to replace Dauman as chief executive of Viacom, should he get the boot, is up for debate.
"Shari Redstone is not going to run it," Gabelli said.
Some analysts suggested that Shari Redstone might lay the groundwork for CBS and Viacom to be reunited, and then enlist CBS Chief Executive Leslie Moonves to run the merged entity.
Moonves, who has a good working relationship with Shari Redstone, has long wanted to operate a movie studio, and Viacom's Paramount Pictures has been on the ropes.
"An assumption … is that it would be someone aligned with Shari Redstone," said media analyst Brian Wieser of Pivotal Research. "I don't think anyone would want the job if they weren't aligned with Shari Redstone."
MORE
Sumner Redstone trust shakeup: New members are allies of mogul's daughter
Sumner Redstone says his former girlfriends received $150 million from him
It's Game of Thrones at Viacom: Dauman vs. his mentor Sumner Redstone
Sumner Redstone again opposes Paramount sale as Viacom battle heats up
---
From the Oscars to the Emmys.
Get the Envelope newsletter for exclusive awards season coverage, behind-the-scenes stories from the Envelope podcast and columnist Glenn Whipp's must-read analysis.
You may occasionally receive promotional content from the Los Angeles Times.