Soap opera 'All My Children' washed up?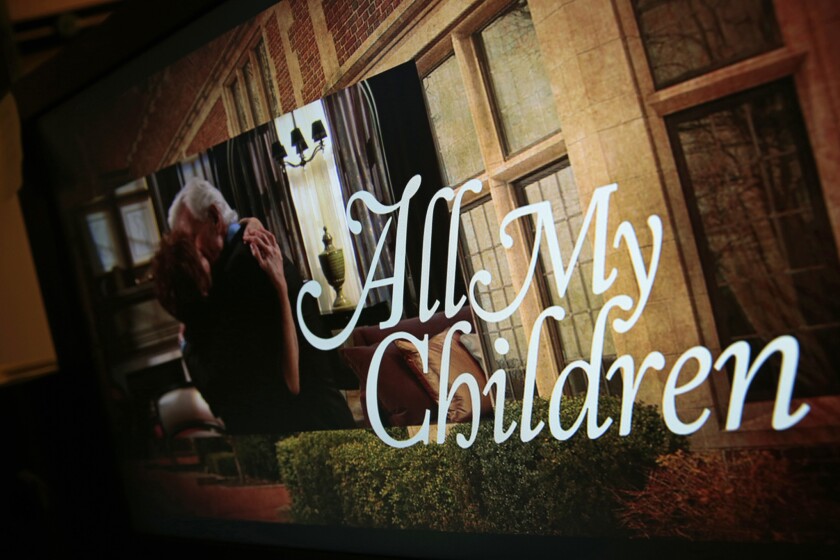 It appears to be curtains again for "All My Children," the soap opera that ran four decades on ABC before being canceled, then resurrected as an Internet series.
An actor on the series, Debbi Morgan, announced on Twitter that the show was "officially done" after one season on the Internet. "Thanks for the memories," Morgan tweeted late last week.
Prospect Park, the production company behind the effort to keep the show alive, this week refused to discuss the situation or confirm Morgan's comment.
On Wednesday, lawyers representing Prospect Park filed an amended lawsuit in Los Angeles Superior Court against ABC. The suit claims that the Walt Disney Co.-owned television company undermined its efforts to produce "All My Children" and a second ABC soap, "One Life to Live," for the Internet.
ON LOCATION: Where the cameras roll
Prospect Park spent $30 million in the last 18 months to re-create "All My Children" and "One Life to Live" after ABC ended long-running daytime dramas in 2011 and 2012, respectively.
Lack of money, the legal battle with ABC and collateral damage to the shows will make it nearly impossible to proceed, people close to the production said.
"At this point, the whole franchise is irreparably damaged," said Jim Maloney, a partner in the Houston, Texas, law firm Andrews Kurth, which is representing Prospect Park.
"Life has become very difficult for Prospect Park, and ABC has done everything that it could to see that Prospect Park failed," Maloney said.
Prospect Park's 33-page suit accuses ABC of promissory fraud and breach of contract. In addition to borrowing "One Life to Live" characters for use on "General Hospital" and then killing some of them in a car crash, ABC also refused to accept advertising from Prospect Park or let the production company use social media or websites to help market the shows, the suit contends.
FALL TV 2013: Watch the trailers
ABC went so far as to forbid soap stars from appearing on ABC talk shows, Maloney said.
ABC countered that it did nothing wrong, saying in a court filing it had "acted reasonably and in good faith at all times."
On Wednesday, ABC declined to comment further, saying it had not been served with the updated complaint.
Prospect Park had figured that half the TV audience would follow the shows to the Internet, but fewer than one-fifth of the viewership did.
The shows were intended to be used as part of Prospect Park's ambitious effort to create a next-generation online network.
In the summer of 2011, several months after ABC announced it would kill the shows, Prospect Park's chief Jeff Kwatinetz and business partner Rich Frank, a former Disney executive, stepped in and acquired the licensing rights for "All My Children" and "One Life to Live," as well as an option on a third ABC-owned soap, "General Hospital," should ABC cancel the show
ABC's surviving soap, "General Hospital," remains on the ABC schedule and is enjoying some of its best ratings in years. Maloney contends that ABC turned "General Hospital" into a "mega soap," signing popular actors and borrowing elements from the other shows to boost the show's appeal.
"ABC decided to literally strip-mine the shows for the benefit of 'General Hospital,'" Maloney said. "This happened after ABC came to the conclusion that its new daytime shows were not working."
Prospect Park's Web productions almost didn't get off the ground.
After struggling to get financing in 2012 and tussles with labor unions, Prospect Park received the green light from investors in December 2012, allowing it begin production on the two shows early this year.
Cast and crew members were hired, sets were quickly built and "All My Children" and "One Life to Live" lurched back in to production in February, just in time to meet an ABC-mandated deadline.
The two shows debuted online in April, but then writers struggled to adapt to the new format and speed the pace of the shows to engage online audiences. Late this summer, Prospect Park said it would suspend production on "One Life to Live" while the lawsuit against ABC moved through the courts.
Prospect Park had planned to keep "All My Children" in production in a Connecticut sound stage -- but money apparently ran out.
PHOTOS: Billion-dollar movie club
The news of the apparent demise of "All My Children" comes after ABC's parent company, the Walt Disney Co., alerted cable distributors that it was pulling the plug on SOAPnet, a cable channel it created in 2000 to rerun soap episodes at night when women were home from work.
Instead, Disney has turned its attention on building a replacement channel for preschoolers, Disney Junior, which launched in 2012 and has become a profitable vehicle for the Burbank giant to create new toy franchises.
ALSO:
Disney's SOAPnet channel headed for the drain
Reviving canceled ABC soaps becomes a real life drama
Black daytime TV hosts among the most bankable stars
Follow Meg James on Twitter: @MegJamesLAT
---
From the Emmys to the Oscars.
Get our revamped Envelope newsletter for exclusive awards season coverage, behind-the-scenes insights and columnist Glenn Whipp's commentary.
You may occasionally receive promotional content from the Los Angeles Times.