Inside the Hollywood past of Stephen K. Bannon, Donald Trump's campaign chief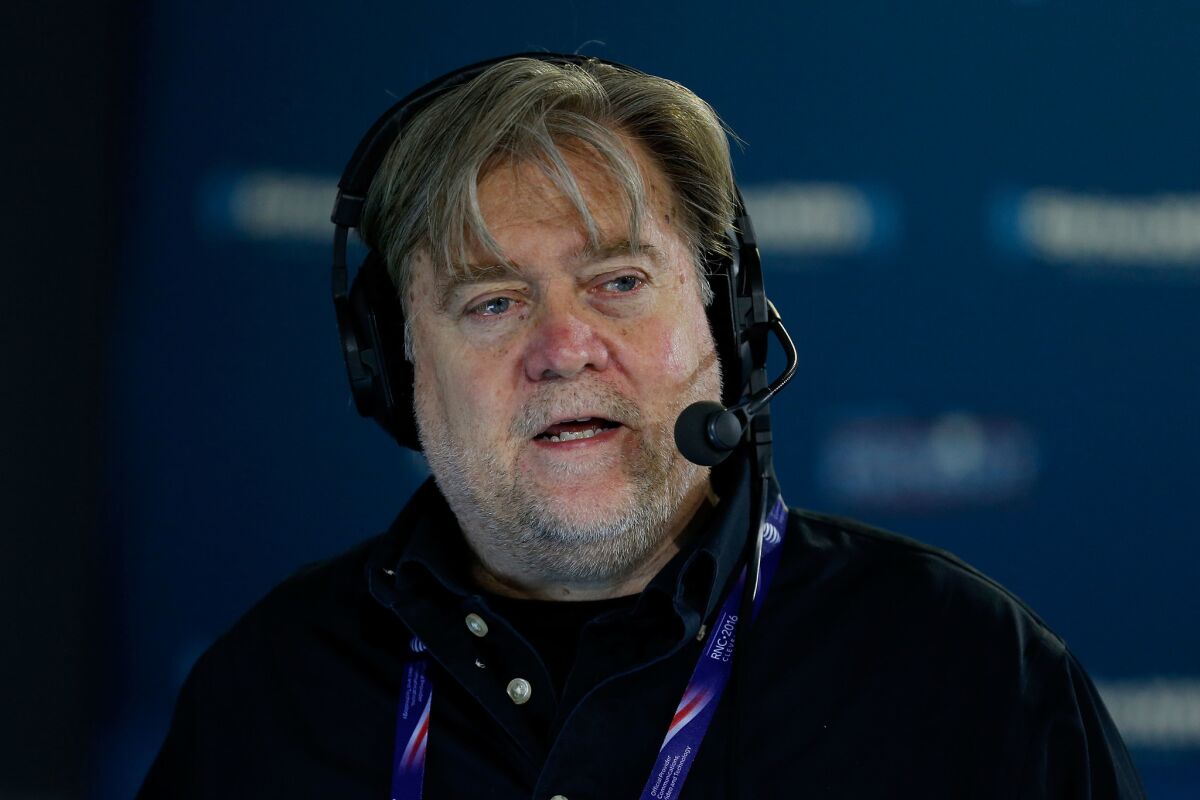 "The Indian Runner" was a Sean Penn-directed drama about the troubled relationship of two brothers, one a small-town sheriff, the other a Vietnam vet turned criminal.
Released in 1991, the film, which cost an estimated $7 million to produce, was a flop, grossing $191,125 in the U.S. and Canada.
That made for an unremarkable outcome in a business where failure is common. Now, however, the movie has become notable for one of the people listed in the credits: Stephen K. Bannon.
"The Indian Runner" was the first film executive produced by Bannon, 62, who is now chief of Donald Trump's presidential campaign. Bannon was involved in securing the movie's financing, which came from Japanese media company NHK Enterprises.
Over the course of more than two decades working in various roles in the media and entertainment industries, Bannon, an ex-Goldman Sachs banker, would go on to produce other films, though it was an undistinguished run that did not generate any box-office triumphs. As a media-focused investment banker, Bannon exhibited savviness, such as when he was able to attain a share of the royalties from "Seinfeld" during negotiations to sell Castle Rock Entertainment in 1993.
On Wednesday, Donald Trump announced that Breitbart News executive Stephen Bannon would run his campaign.
See the most-read stories in Entertainment this hour »
But for some of the people involved in making "The Indian Runner," including producer Don Phillips, the film made for an inauspicious start to Bannon's show business career.
Executive producers often work on the financial side of a movie — as was the case with Bannon on "The Indian Runner." Even so, Phillips said that Bannon "was hardly around" during the making of the picture.
"Maybe one day he visited [the set]," said Phillips, a veteran filmmaker who was the casting director for "Fast Times at Ridgemont High," among other films. "He had nothing to do with the actual making of the movie, or anything creative."
Through a spokeswoman, Bannon declined to comment.
After "The Indian Runner," Bannon had a roughly decade-long tenure in mainstream Hollywood. In 1999, he co-executive produced another film, "Titus," which starred Anthony Hopkins and counted Paul Allen, the billionaire co-founder of Microsoft, as an executive producer. It took in a paltry $2 million in the U.S. and Canada, according to data from ComScore. Bannon mostly worked as a deal maker, handling pacts involving Westinghouse, Metro-Goldwyn-Mayer and Polygram.
Former business associates of Bannon described him as smart and shrewd — but sometimes peripheral to the deals that he has been given credit for orchestrating. Nonetheless, Bannon's work in Hollywood sparked his media career and helped to pave the way for his eventual move into the political realm.
Lionel Chetwynd, who co-founded Friends of Abe, a group for Hollywood conservatives, said it was inaccurate to dismiss Bannon as a "peripheral" Hollywood figure, adding that "anyone who came here who had the guts to get in the pit ... and go try to make something happen" could not fairly be labeled as such.
"I think that Steve Bannon did get a great benefit from Hollywood," said Chetwynd, a filmmaker whose writing credits include "The Apprenticeship of Duddy Kravitz." "I've felt this guy has a good grasp of what is going on out there."
Bannon, who resides in Florida, has been at the center of Trump's presidential campaign since being named its CEO Aug. 17. In recent years, the sharp-elbowed executive has produced documentaries celebrating Sarah Palin and scrutinizing the Occupy Wall Street movement, and has served as executive chairman of Breitbart News, the politically conservative media organization that has championed Trump.
Controversy has swirled around Breitbart, which regularly attacks the Republican establishment and has become a haven for the so-called alt-right, an amorphous collection of anti-establishment activists who've largely supported Trump. Media attention has also enveloped Bannon in recent days as details have emerged from domestic violence charges he faced in 1996 in Santa Monica.
The case, involving Bannon's then-wife, was dismissed when she failed to appear in court.
Bannon's Hollywood career touched some of the industry's most famous liberals, including Penn. But many who intersected with Bannon refused to talk about him.
Among those who declined to comment were Jerry Seinfeld, "Seinfeld" co-creator Larry David, Walt Disney Studios Chairman Alan Horn, producer Rob Reiner, Creative Artists Agency co-founder Michael Ovitz and Penn.
A former naval officer who grew up in Norfolk, Va., Bannon graduated from Harvard Business School in 1983. Soon after, he began working at Goldman Sachs, where, in the late 1980s, he experienced the ups and downs of the financial business.
Bannon left Goldman in 1990 and headed to Los Angeles along with an ex-Goldman colleague, John Talbott. Together they launched investment banking firm Talbott, Bannon & Co. in 1990, opening offices in Beverly Hills, according to state records. They soon lined up $100 million in financing from NHK for a production company headed by Thom Mount, who was developing "The Indian Runner" with Phillips and would go on to executive produce it.
Mount, the former president of Universal Pictures, got to know Bannon well during this period.
"He was constantly telling stories about great warriors of the past, like Attila the Hun, people who had slain empires," Mount said. "It's one thing to be interested in the triumphs of military history, it's another thing to obsess over them. Victory at all costs is a dangerous way to look at the world."
The NHK deal was finalized in 1991, and funds from it were used to make "The Indian Runner." However, Mount's production company never received all of the financing promised by NHK. "The Indian Runner," which co-starred Viggo Mortensen and David Morse, was the only movie made under the arrangement.
After the NHK deal collapsed, Mount and Bannon parted ways.
Bannon's partnership with Talbott appears to have not lasted long: State records show that the corporate status of Talbott, Bannon & Co. was suspended in 1994.
Talbott did not respond to emails seeking comment.
Bannon & Co. went on to work on a handful of high-profile Hollywood deals. Among them was the purchase by Turner Broadcasting of Castle Rock, the film and TV production company whose co-founders included Horn and Reiner. In the negotiations, Bannon represented Westinghouse, which owned 15% of Castle Rock. As part of his payment, Bannon's firm received a stake in rights to five TV shows, including "Seinfeld," according to a 2015 article in Bloomberg Businessweek.
At the time, the comedy was just getting its sea legs, but it would, of course, go on to become one of the biggest hits of all time.
While it's not clear how much money Bannon has made from "Seinfeld" royalties, it was unquestionably a profitable bet for him.
"I told him, if you're in the mood to gamble, that would be the gamble to make," Mount said.
In 1998, French banking and financial services company Societe Generale acquired Bannon's firm, paving the way for his eventual reinvention as a conservative filmmaker.
People who knew Bannon during his 1990s Hollywood foray said that while he espoused conservative views, his political leanings did not shape his business pursuits until later.
Spurred on in part by 9/11, Bannon spent part of the 2000s transforming himself into a documentarian. In 2004, Bannon wrote, directed and co-produced "In the Face of Evil: Reagan's War in Word and Deed." The limited-release film grossed only $110,577 in the U.S. and Canada, according to research firm the Numbers. But the documentary reportedly drew the attention of Andrew Breitbart, the founder of his eponymous news venture, who would later become Bannon's friend and business associate.
Bannon made other documentaries in the 2010s, including "The Undefeated," about Palin, which took in $116,381 in limited domestic release, according to the Numbers.
Following the 2012 death of Breitbart, Bannon was named executive chairman of Breitbart News.
Now, Bannon is tasked with shepherding the campaign of one of the most controversial major party presidential candidates of all time. It's a job that could require Bannon to lean on some of the skills he picked up in show business.
daniel.miller@latimes.com
Follow @DanielNMiller on Twitter for film business news.
ALSO
Huma Abedin is Hillary Clinton's closest aide, and now she might be a liability
What does Trump mean when he says he will deport 'criminal' immigrants first?
From the Oscars to the Emmys.
Get the Envelope newsletter for exclusive awards season coverage, behind-the-scenes stories from the Envelope podcast and columnist Glenn Whipp's must-read analysis.
You may occasionally receive promotional content from the Los Angeles Times.