Steven Spielberg returns to Universal Pictures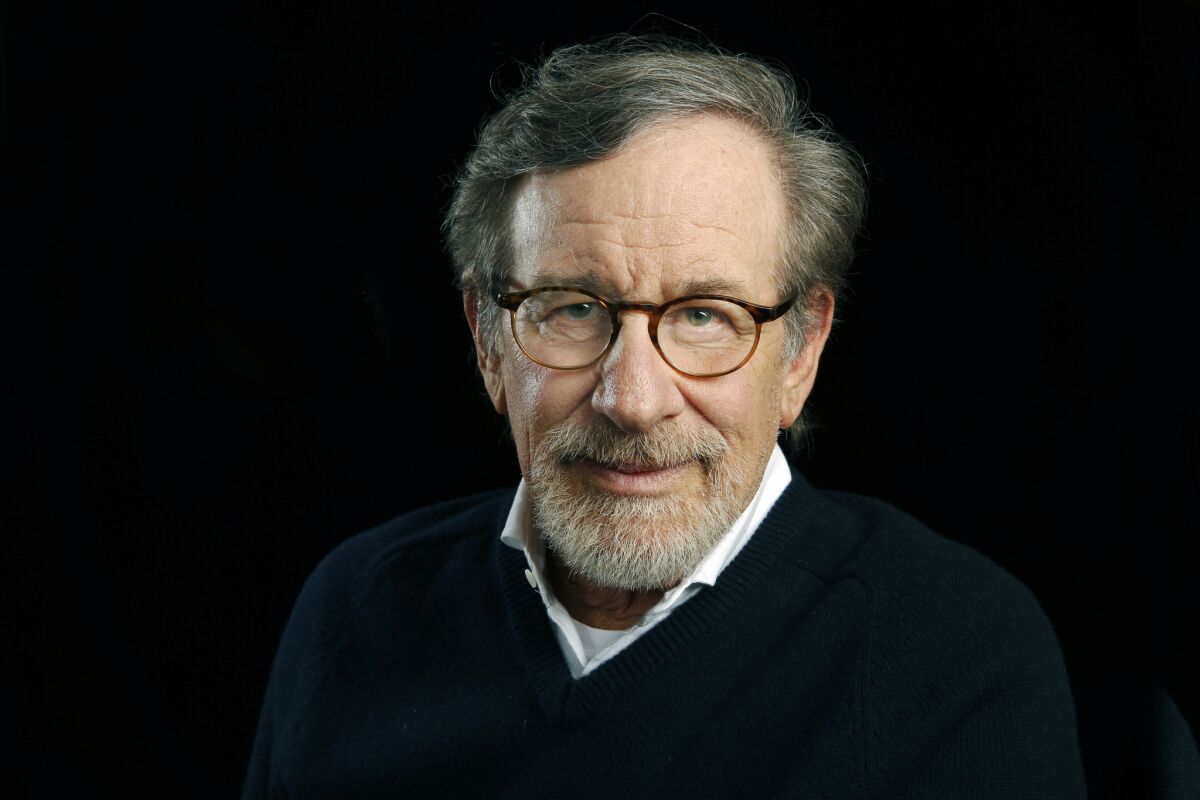 Steven Spielberg: Come home.
In true Hollywood fashion, the legendary filmmaker behind such movies as "Jaws," "E.T.," "Jurassic Park" and the Oscar-winning "Schindler's List" is returning to his longtime production home at Universal Pictures.
The Los Angeles-based studio on Wednesday announced a five-year deal with Spielberg's Amblin Partners, a new consortium of companies that includes DreamWorks Studios, Participant Media, Reliance Entertainment and Entertainment One.
Universal will market and distribute films produced by Amblin Partners domestically and in some international markets. The newly minted entity, Amblin Partners, which has more than $300 million in financing lined up, is expected to produce four to seven films a year. Those projects will help bulk up Universal's already robust film slate.
"We couldn't be more pleased to be back in business with Steven," Universal Filmed Entertainment Group Chairman Jeff Shell and Universal Pictures Chairman Donna Langley said in a statement. "His iconic films have stood the test of time and are embraced by audiences around the world."
Spielberg, for his part, celebrated his homecoming.
"The same magnet that pulled me to Universal when I first wanted to make movies is bringing me home again to this new exciting relationship," Spielberg said in the statement. "It is my hope that we can make some more beautiful music together."
Universal, for now, will receive a distribution fee for its involvement in Amblin films, but Universal, which is owned by cable colossus Comcast Corp., reserved the right to eventually make an investment in Amblin Partners, according to people familiar with the deal terms but not authorized to publicly discuss them. The new company plans to keep alive the well-known DreamWorks Pictures and Amblin Entertainment film labels.
The company's intention is to make movies under three banners: Amblin Entertainment, DreamWorks Pictures and Participant.
"We plan to make smart, commercial movies in all genres to appeal to a broad array of audiences," said Michael Wright, chief executive of Amblin Partners.
Spielberg's move to Universal was widely expected and had been the subject of much speculation in Hollywood. Spielberg was an executive producer on this year's biggest hit so far, "Jurassic World," which was released by Universal and has generated more than $1.6 billion at the worldwide box office. He also will be an executive producer on a sequel planned for 2018.
MORE: Get our best stories in your Facebook feed >>
Many in Hollywood also were aware that Spielberg was interested in resuming his relationship with Universal.
Spielberg's DreamWorks offices have long been located on the Universal lot, off the Hollywood Freeway.
DreamWorks was founded in 1994 and eventually spun off its animation unit into a separate publicly traded company. Spielberg's live action film unit experienced turbulence in the subsequent years. It was briefly owned by Paramount Pictures and later turned to Indian conglomerate Reliance for financing. Following a breakup with Paramount in 2008, DreamWorks reached a distribution deal with the Walt Disney Co., a pact that was due to expire next year.
Participant Media, founded by Jeff Skoll, a former eBay Inc. executive, is believed to be the largest financial backer of the new venture.
Spielberg cemented his status as an up-and-coming producer at Universal in the 1970s with "Jaws," and later "E.T."
The first title included in the new deal with Universal will be "The Girl on the Train," which is scheduled for release in October 2016, under the DreamWorks Pictures label. Another film, "A Dog's Purpose," based on a novel, is set for release in 2017 under the Amblin banner, which will used for family oriented fare and films with broader appeal.
For the last six years, DreamWorks Studios films have been distributed by the Walt Disney Co. but that pact was set to expire. What's more, Disney has been shifting away from the type of adult dramas, such as "Lincoln," that have long been a specialty of Spielberg's. His latest film "Bridge of Spies" was praised by critics and could be an Oscar contender.
Disney's film pipeline also is teeming with projects from companies acquired by the Burbank entertainment company: Pixar Animation, Marvel Entertainment and LucasFilm, which is behind this week's "Star Wars: The Force Awakens."
That left less room on the Disney roster for DreamWorks films.
The longtime head of Universal Studios, Ron Meyer, was involved in orchestrating the reunion with the celebrated director.
"Universal is, and always has been, Steven's home," Meyer said.
meg.james@latimes.com
ALSO
Carrie Fisher thinks slave Leia bikini haters are asinine
Media mogul Sumner Redstone is 'a living ghost,' ex-girlfriend's lawsuit says
Q&A: J.J. Abrams on going old school and how 'Star Wars' differs from 'Star Trek'
From the Oscars to the Emmys.
Get the Envelope newsletter for exclusive awards season coverage, behind-the-scenes stories from the Envelope podcast and columnist Glenn Whipp's must-read analysis.
You may occasionally receive promotional content from the Los Angeles Times.