The 'shut up and watch' standard: Super Bowl advertisers are judged as much as the players
Who was the least valuable player in last year's Super Bowl? Viewers might say it was the tousle-haired young boy in the Nationwide Insurance spot, talking about all the cool things he missed because he was killed in a household accident.
Headline writers dubbed it the "Dead Kid" commercial. Social media buzzed with outrage. The company was forced to issue a statement explaining it didn't mean to upset anyone. Nationwide's chief marketing officer soon left his job.

Such are the risks of running a commercial in the biggest annual television event. But the advertisers who are paying close to $5 million for a 30-second spot to be a part of Super Bowl 50 on CBS on Sunday know that their high-profile role in the event means they are going to be judged as much as the players and coaches on the field.
"It's absolutely nerve racking," said David Angelo, chairman of the Los Angeles ad agency David & Goliath, which produced a Kia Motors ad featuring Christopher Walken that will air Sunday. "You want to make sure you're representing your client's brand in the best way possible."
The pressure has heightened because the Super Bowl is becoming a rare species in television: people watch it live, on a TV set, instead of recording it for later or streaming it on a smartphone or other device.
When an average of 114.4 million viewers watched the New England Patriots heart-stopping victory over the Seattle Seahawks on NBC last year, it marked the fifth time in the last six years that the Super Bowl has set a record for the largest U.S. TV audience.
The game's surging popularity has advertisers paying more each year to be a part of the surest bet to reach the most TV viewers in one shot.
Kantar Media reports Super Bowl ad spending has gone from $205 million in 2010 to $345.4 million in 2015 — a period in which overall TV ad revenue growth flattened out. The average cost of a 30-second Super Bowl commercial in that time has risen to $4.4 million from $3.1 million. Ad Age Datacenter projects spending on Super Bowl 50 will hit $377 million, with the average spot selling for $4.8 million.
At that price, advertisers need to deliver not just a commercial, but a piece of entertainment content that will compete for a place in the national pop-culture conversation.
"When we're working on a Super Bowl ad, I tell our people to create something that will make you want to be able to stand in front of the TV set and tell everybody, 'Shut up. My spot is on.' It's your time to shine," Angelo said.
That need to stand out has also driven up the cost of making Super Bowl spots to $2 million and up — a boon to Los Angeles postproduction houses, producers, directors, animation companies and visual-effects shops that enhance commercials.
This year's batch includes a lineup of movie stars such as Seth Rogen and Amy Schumer for Bud Light, Ryan Reynolds for Hyundai and Alec Baldwin for Amazon.
It wasn't always this way. In the 1970s, networks that didn't have the game could still earn massive ratings by airing first-time telecasts of theatrical movies such as "Gone With the Wind" and "The Godfather." It was the era when ABC, CBS and NBC dominated, before the proliferation of cable, home video players and streaming services made almost every film readily available.
"The Super Bowl didn't have much significance then," said Joe Pytka, the Los Angeles director of dozens of Super Bowl ads. He recalls the Academy Awards telecast being the most prestigious advertising platform until the early 1980s.
Many of the messages of the Super Bowl spots in those early years reflected the sober economic environment of the time and did not require spectacular creativity.
As the Big Three auto companies saw imports eat into their market share, the high-profile ad campaign of Super Bowl IX in 1975 was from Chrysler, offering $400 rebates to customers to move vehicles out of its overstocked dealerships.
A shift began when Apple and its ad agency, Chiat Day, chose Super Bowl XVIII to introduce the Macintosh personal computer with a spot called "1984," directed by Ridley Scott, the English filmmaker known at the time for "Alien." The dystopian-themed ad showing a hammer-throwing woman destroying a giant screen that displayed a Big Brother-like figure was produced for a then eye-popping $400,000.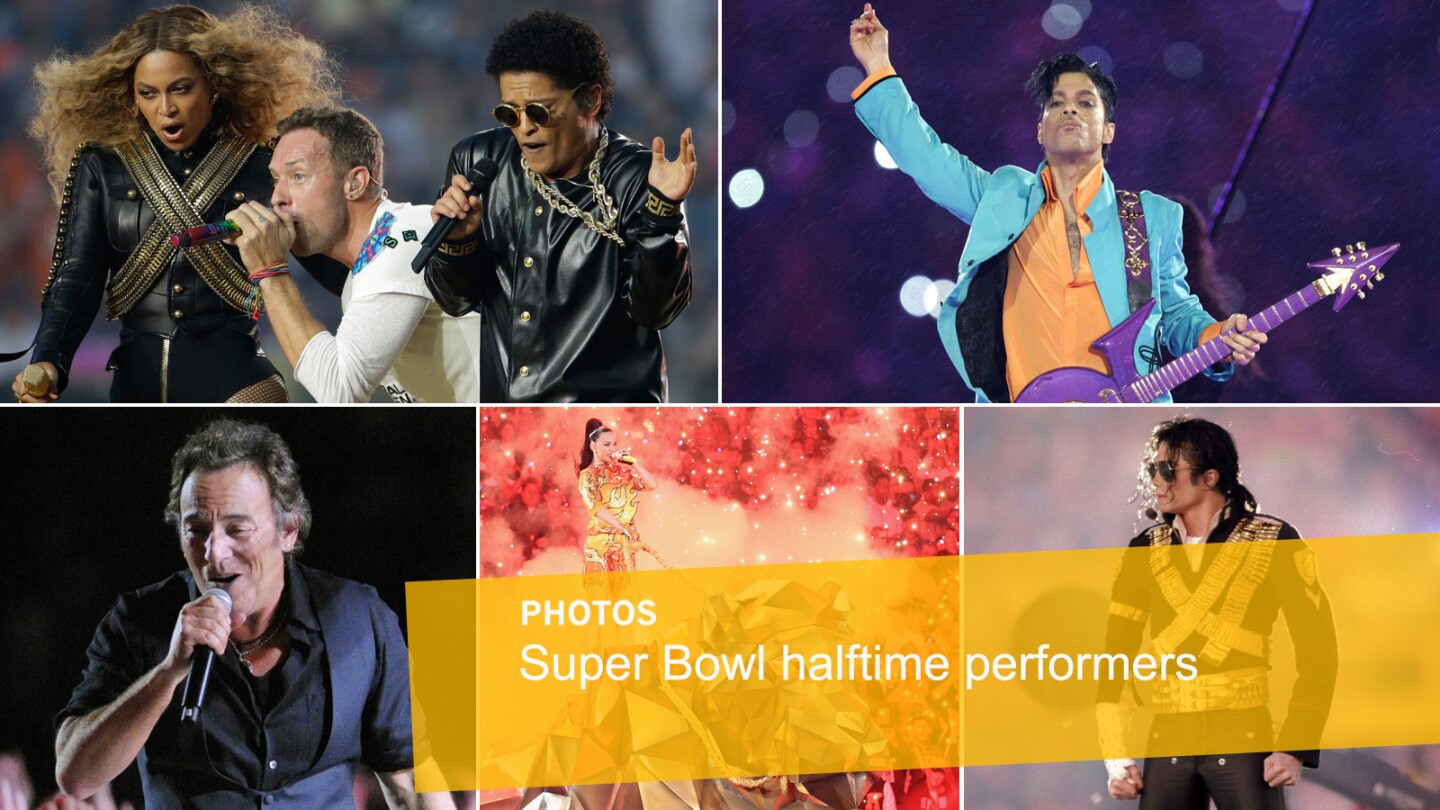 For people who aren't football fans but who watch the game anyway, the halftime spectacle is more than half the fun. The 2016 performance featured Coldplay, Bruno Mars and Beyonce. Here's a look at how some previous Super Bowl performances came off.
(Clockwise from top left: Julio Cortez / Associated Press, Chris O'Meara / Associated Press; Mike Powell / Allsport; Christopher Polk / Getty Images; Mark J. Terrill / Associated Press)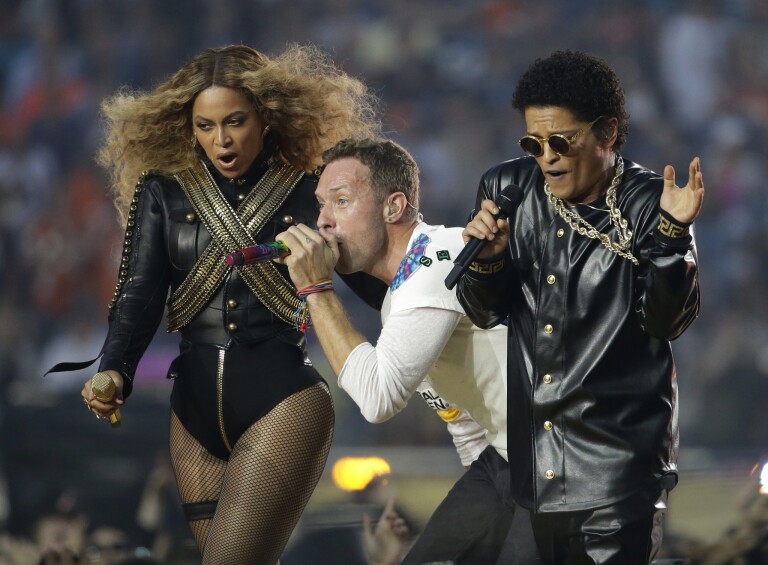 Beyonce, Coldplay singer Chris Martin, center, and Bruno Mars perform during halftime of Super Bowl 50.
(Julio Cortez / Associated Press)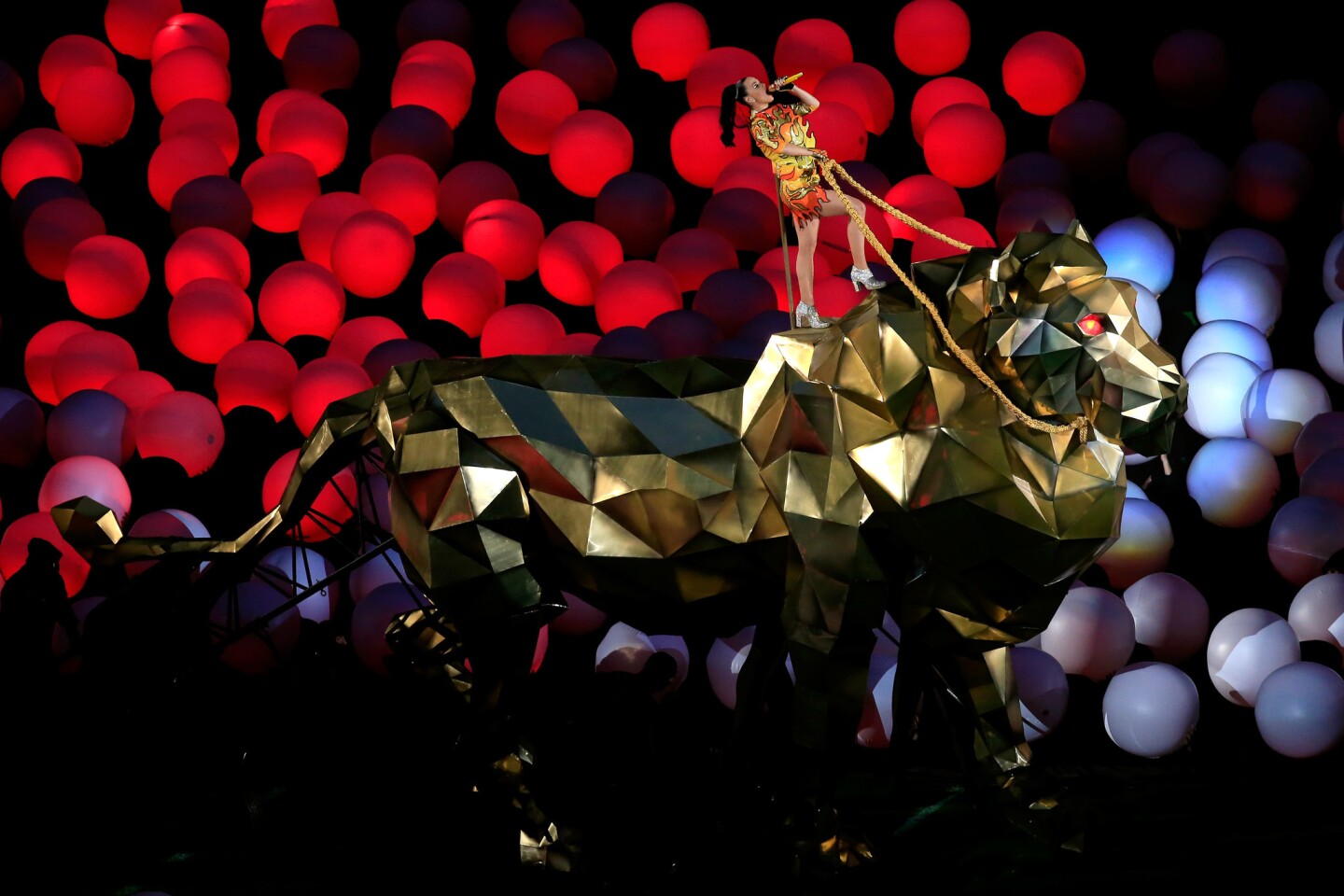 Katy Perry rode in on a golden tiger and performed fiercely throughout her Super Bowl turn with hits like "Roar," "Teenage Dream" and "Firework." Missy Elliott and Lenny Kravitz added even more star power.
(Jamie Squire / Getty Images)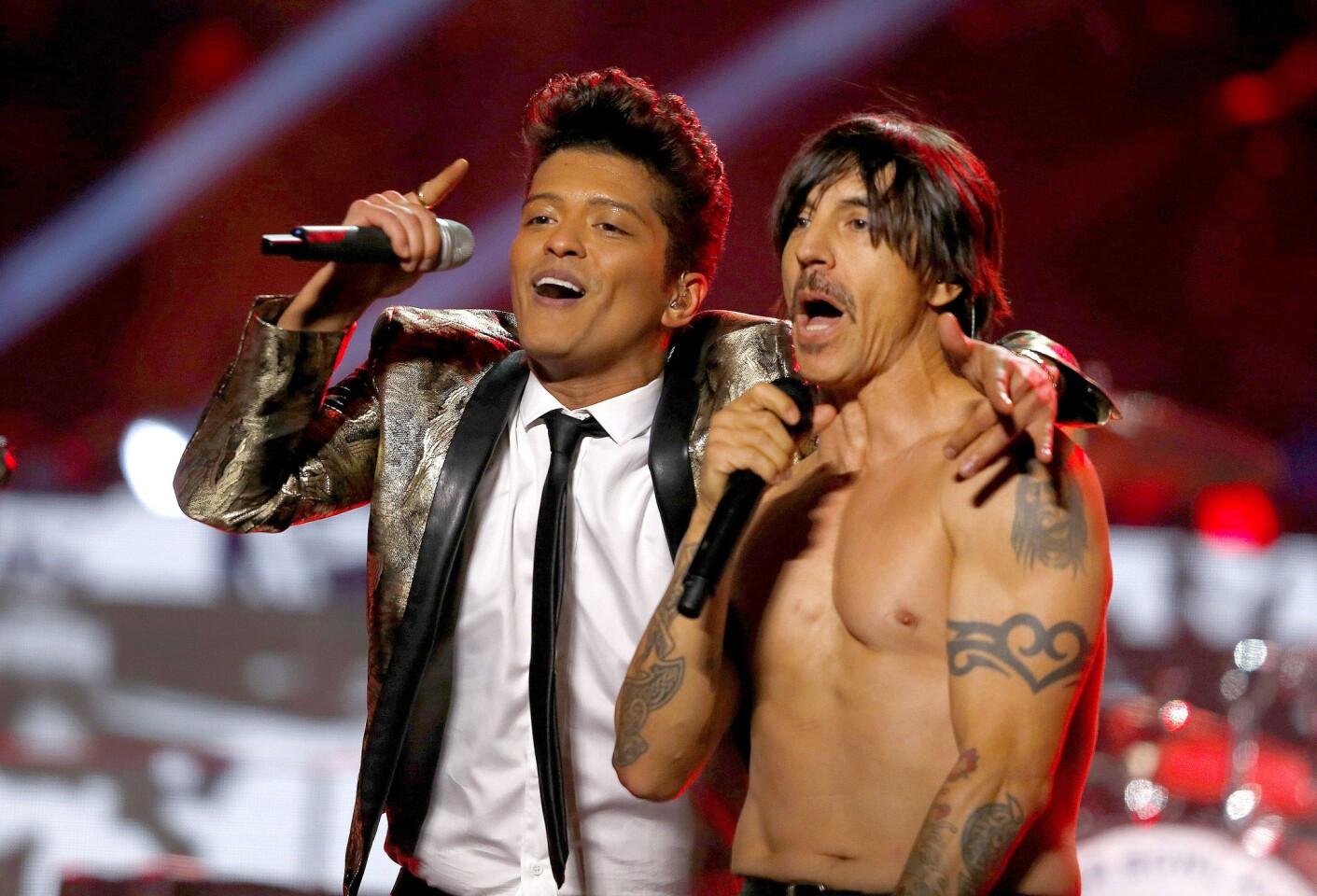 Mars began by hammering away solo behind a drum kit, as if to tell viewers that they were in the hands of a real musician. And so they were. Before long, Mars' touring band, a great funk-soul combo, had joined him. The Chili Peppers didn't add much to the proceedings, but they didn't need to.
(Paul Buck / EPA)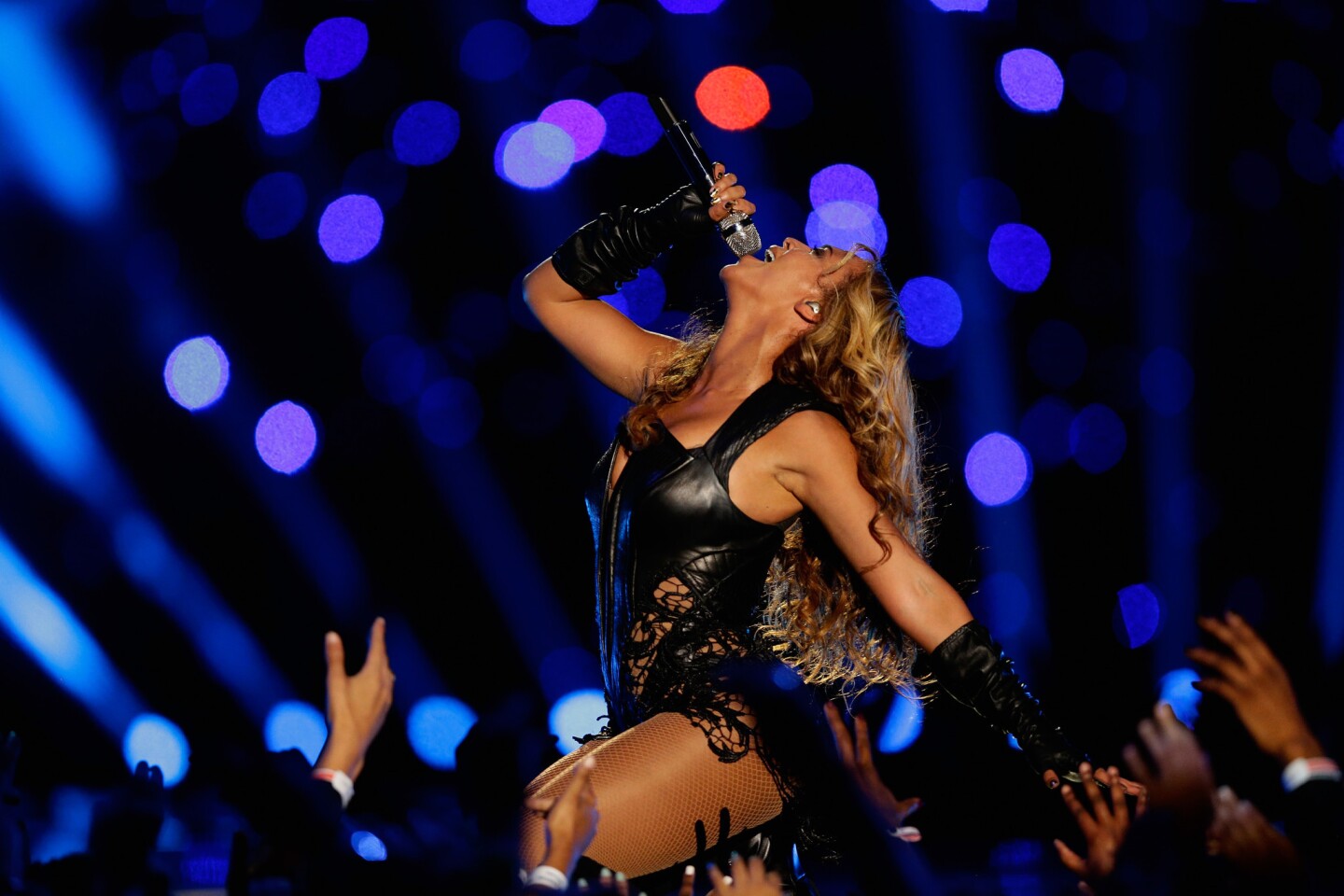 All eyes were on Beyonce as she powered through hits, using enormous video screens and fiery stage presence to take up the stage solo. Later, Kelly Rowland and Michelle Williams rose up from under the stage to join Queen B in a highly anticipated Destiny's Child reunion watched by 108 million.
(Ezra Shaw / Getty Images)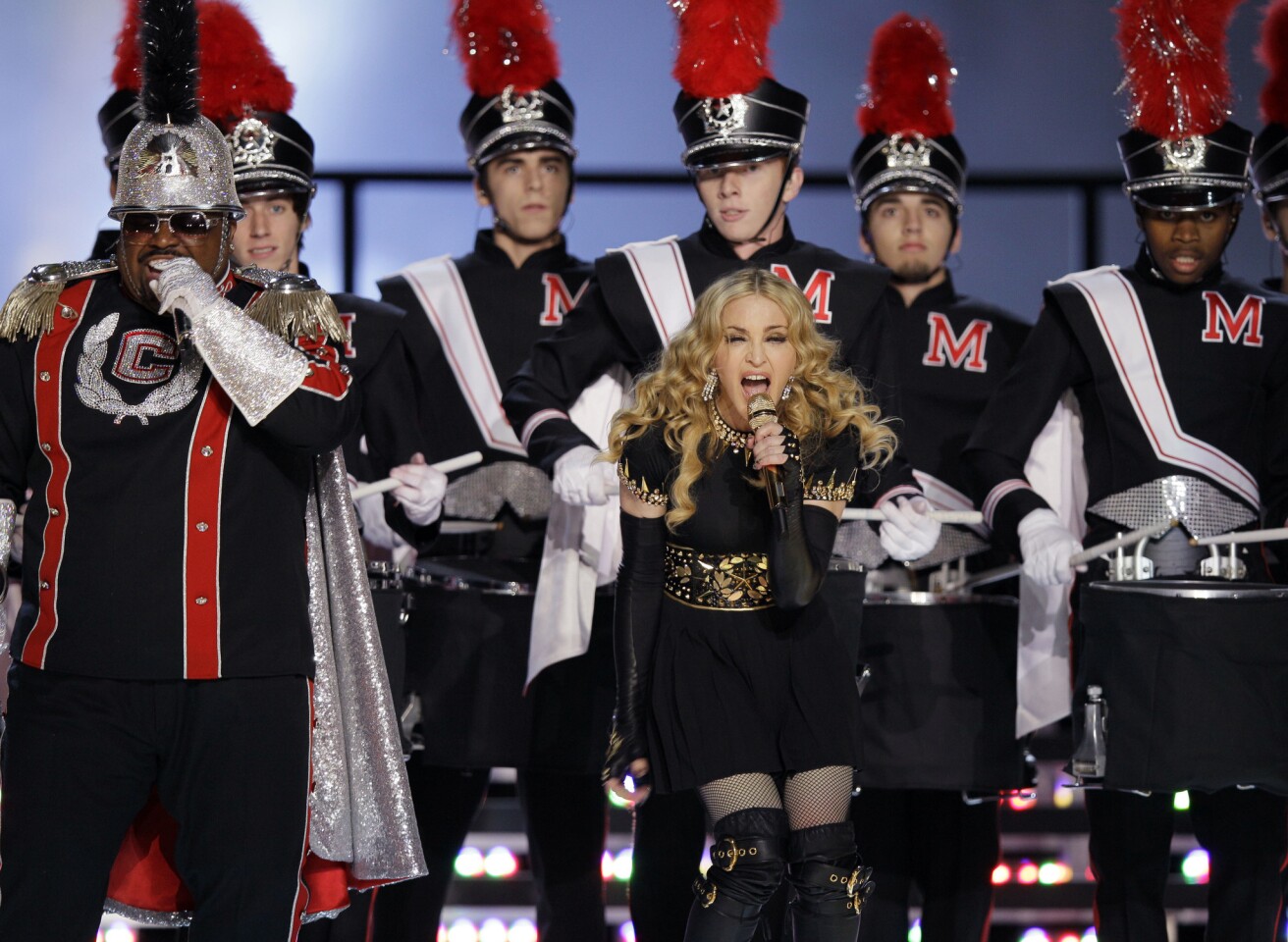 In less than 10 minutes, America watched marching warriors pulling a massive chariot; faux trumpeters announcing the arrival of Madonna; LMFAO, Nicki Minaj, M.I.A. and Cee Lo Green make cameos; several drum lines. Touchdown! Madonna kept 114 million viewers glued to their seats.
(Mark Humphrey / Associated Press)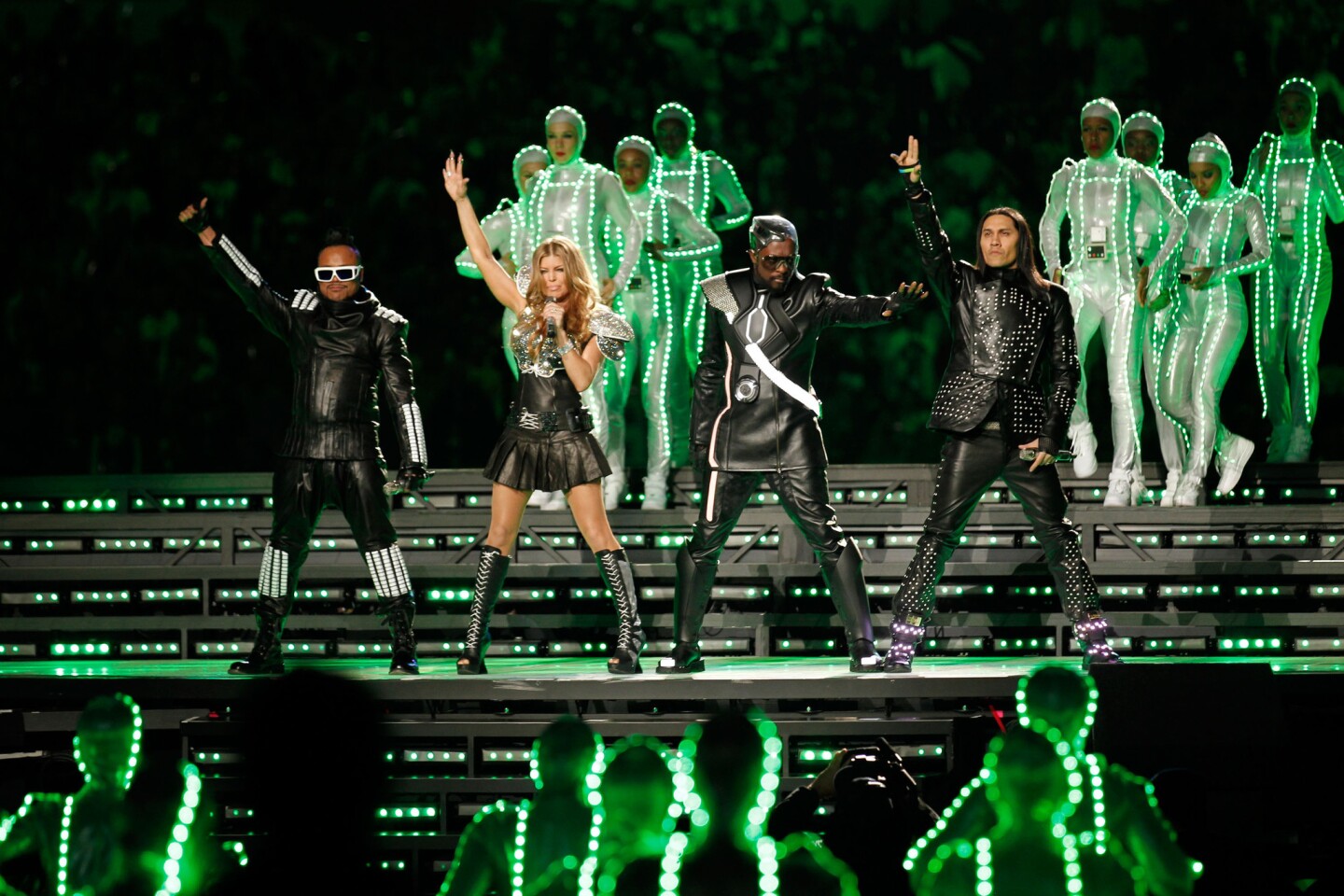 The Black Eyed Peas largely stayed still during the performance, letting the backup dancers in "Tron"-like get-ups provide the eye candy, yet they still infused their hits with energy. The result was a success -- their tuneful chants seemed built for the stadium.
(Christopher Polk / Getty Images)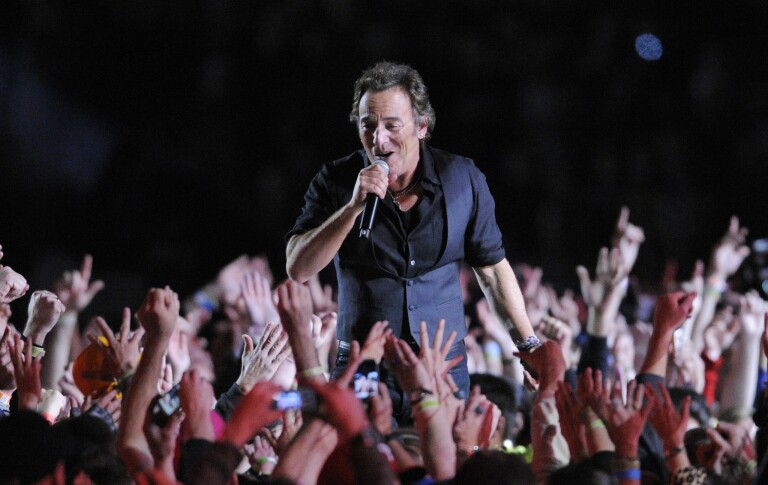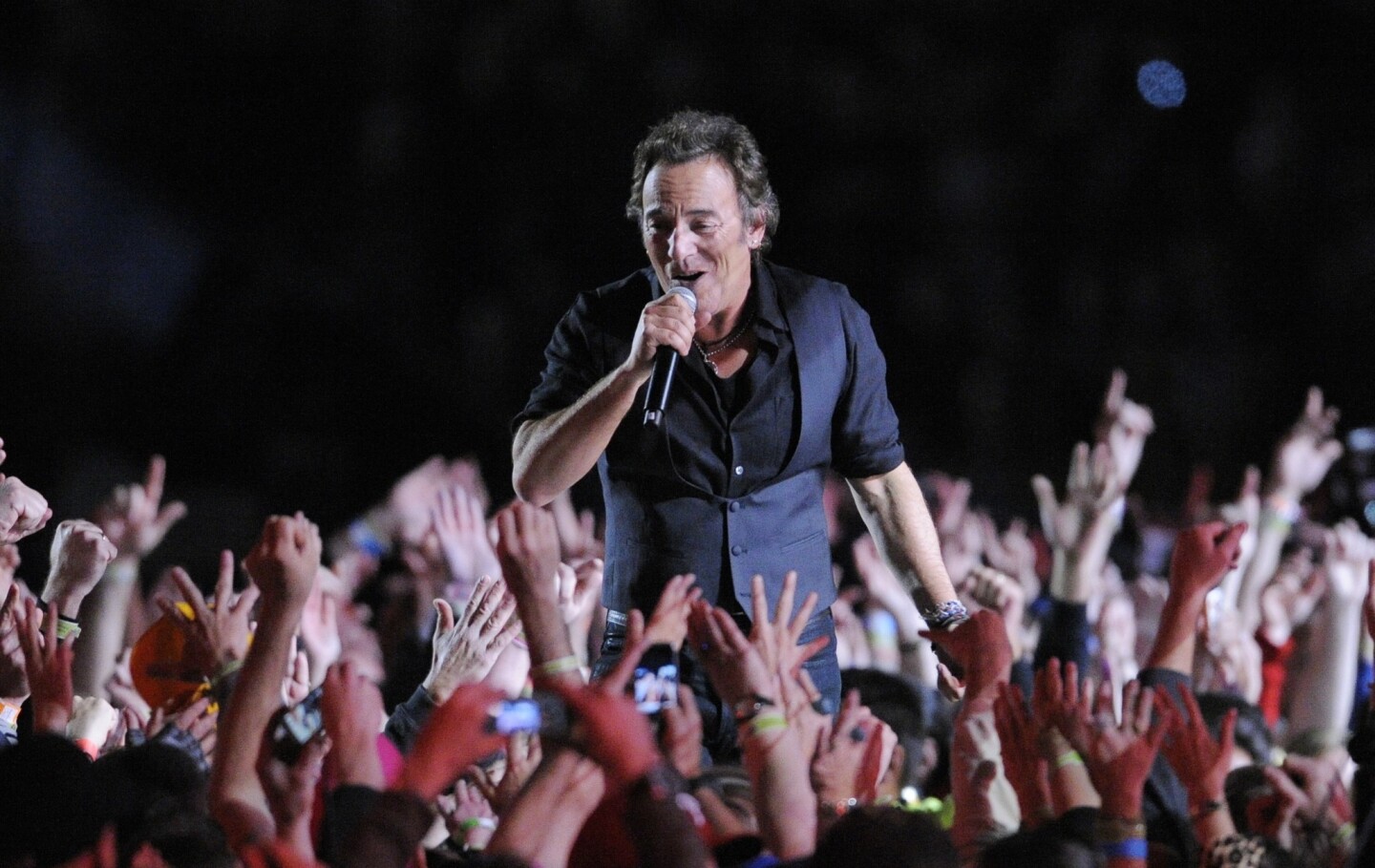 "Step back from the guacamole dip," Bruce Springsteen yelled through gritted teeth. "Put! The! Chicken! Fingers! Doooowwwwwwwn!" His show got the crowd riled up, but didn't quite score, as Springsteen hammed it up a bit too much for Super Bowl cameras.
(Mark J. Terrill / Associated Press)
Nearly 100 million witnessed a slick 12-minute halftime performance by one of America's most unheralded superstars. Tom Petty & the Heartbreakers showed up in suits, and powered through easy stadium singalongs that got the job done, even if it wasn't first on the highlight reels.
(Streeter Lecka / Getty Images)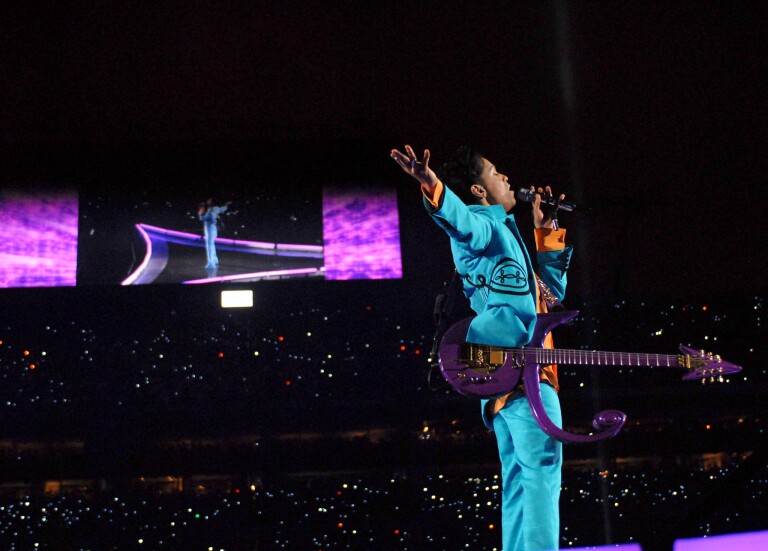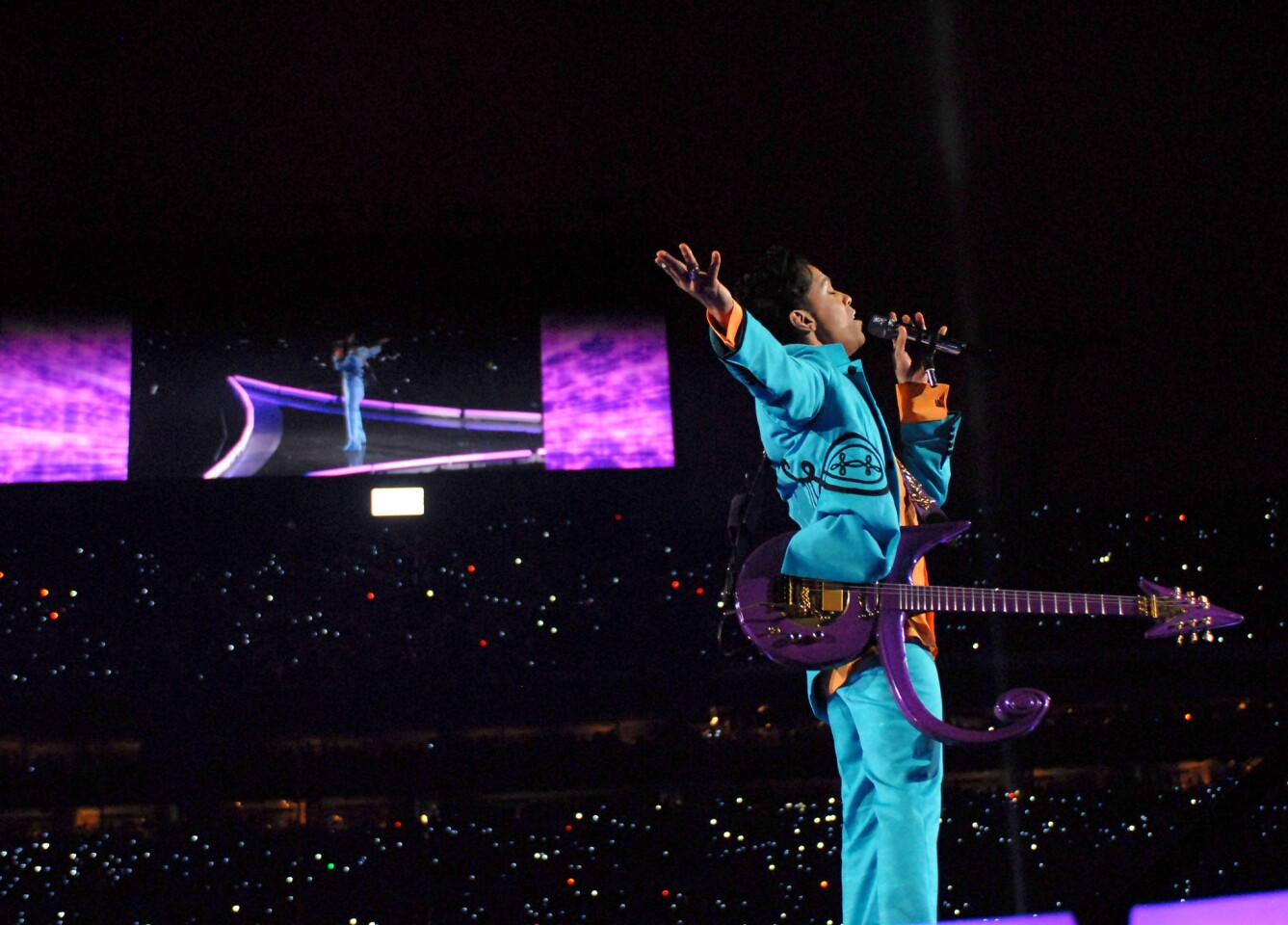 Prince went through a medley of songs despite heavy rain drenching the stage. High heels and water didn't seem like a good mix, but the show went off without incident. He seemed to stir the crowd, and those at home sang along, marveling at great guitar riffs in wet weather.
(Kevin Mazur / NFL)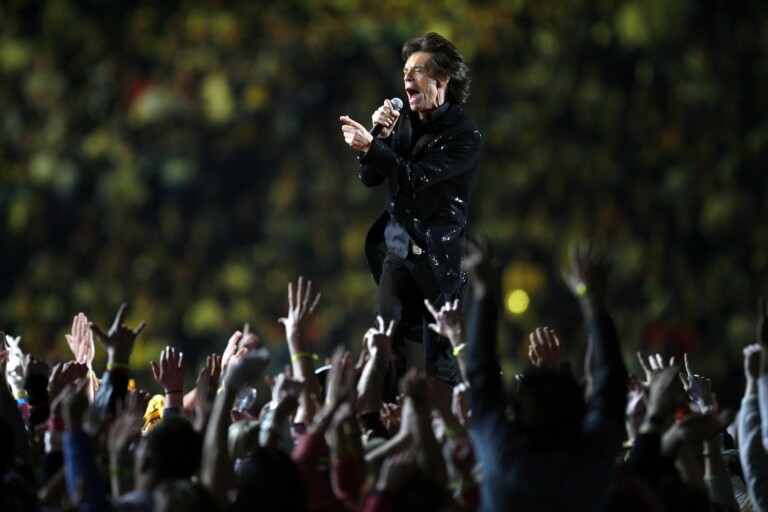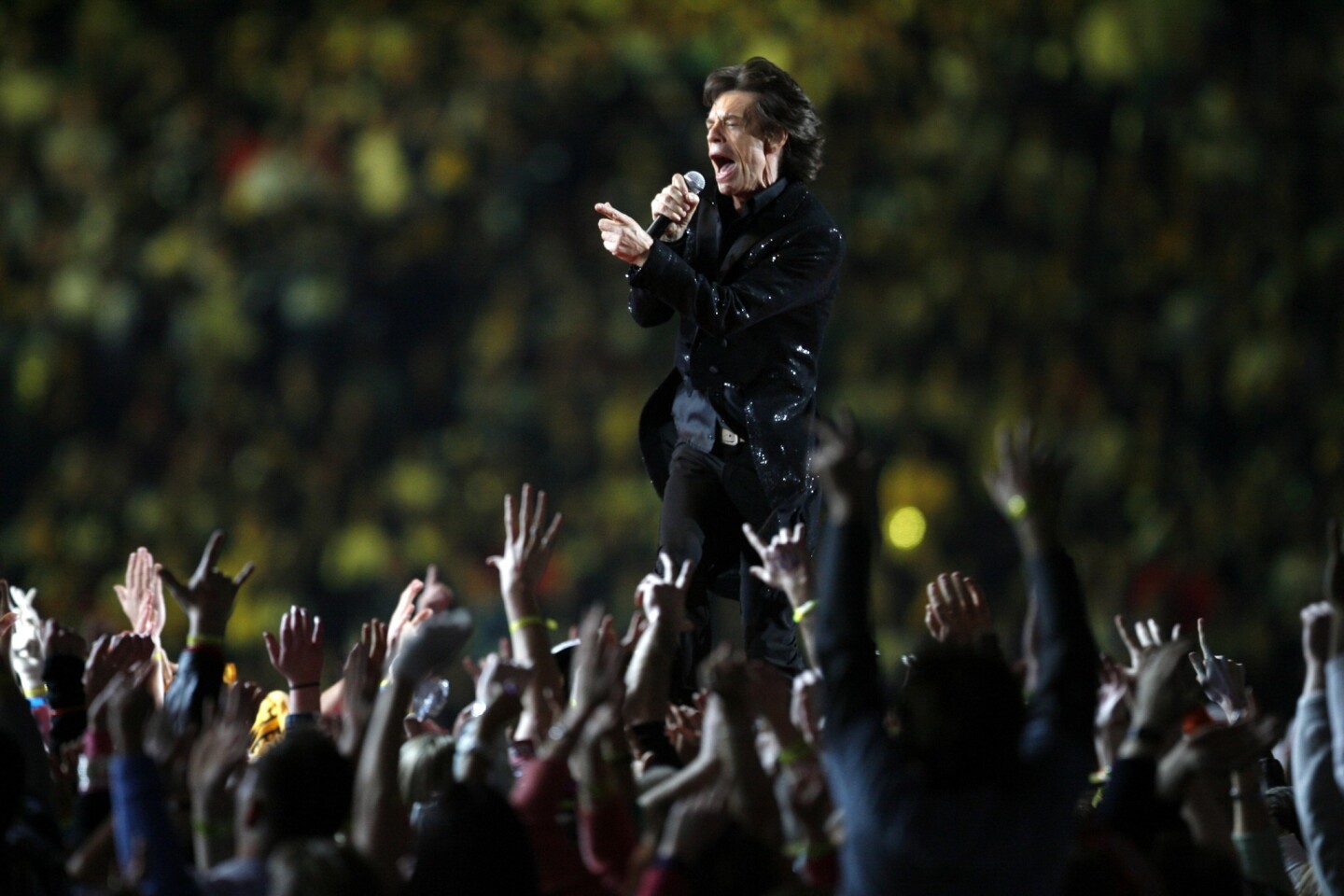 The Stones delivered a rousing rendition of three classics "Start Me Up," "Rough Justice," and "(I Can't Get No) Satisfaction." Yet, no matter how hard Mick Jagger twisted his hips to rally the crowd, the most inspired aspect of the show was the Stones' iconic "tongue and lip" stage design.
(Rob Tringali / Getty Images)
After the dreaded "wardrobe malfunction" of 2004 (see next slide), the NFL turned to McCartney to restore some common decency to the proceedings. Such songs as "Drive My Car" and "Hey Jude" were performed, but the whole thing lacked a little oomph -- and no, fireworks don't count as "oomph."
(Getty Images)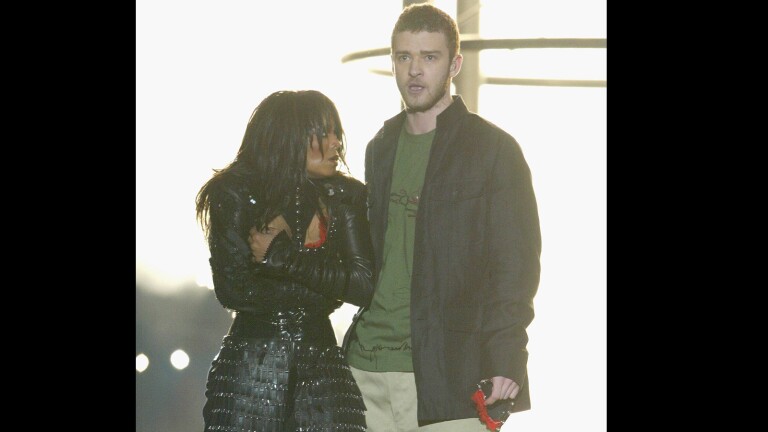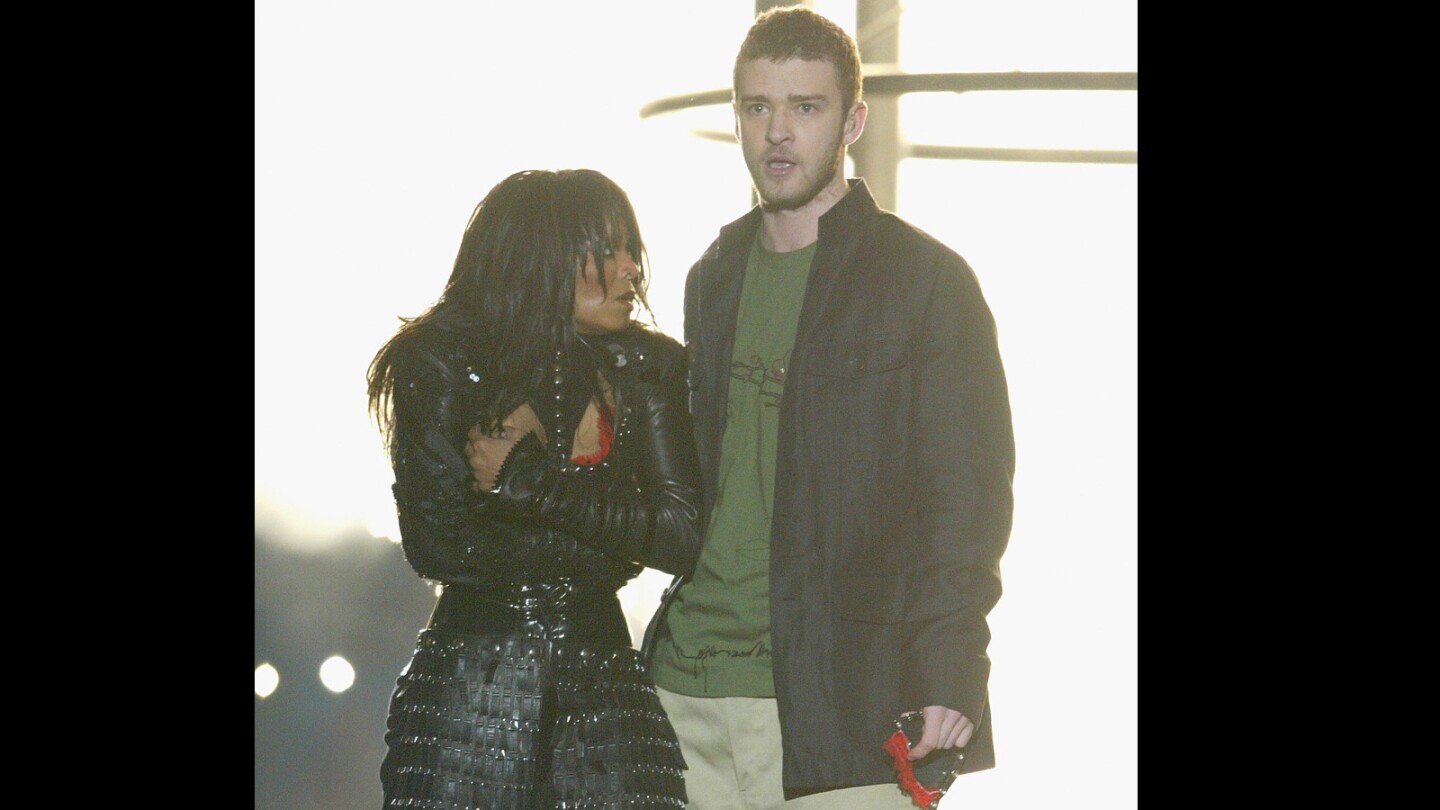 Two of the world's biggest pop stars brought some edge to the football party. But does anyone remember much else other than Timberlake ripping off part of Jackson's clothing? The phrases "wardrobe malfunction" and "nipplegate" were born, accompanied by a major FCC campaign and large fines.
(Andy Lyons / Getty Images)
Twain's performance proved hollow when she unconvincingly lip-synched her way through "Man! I Feel Like a Woman!" Gwen Stefani saved the show by doing what she does best, super-charging a SoCal crowd in a stadium setting through sheer force of ska-sonality, finishing with a duet with Sting.
(Doug Pensinger / Getty Images)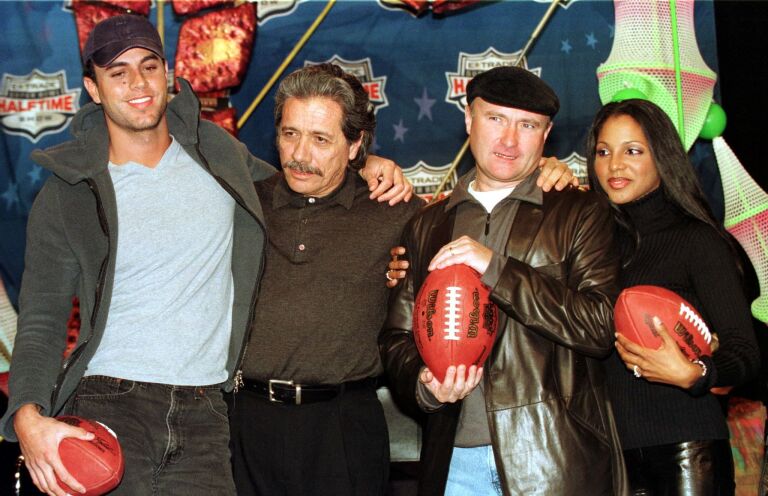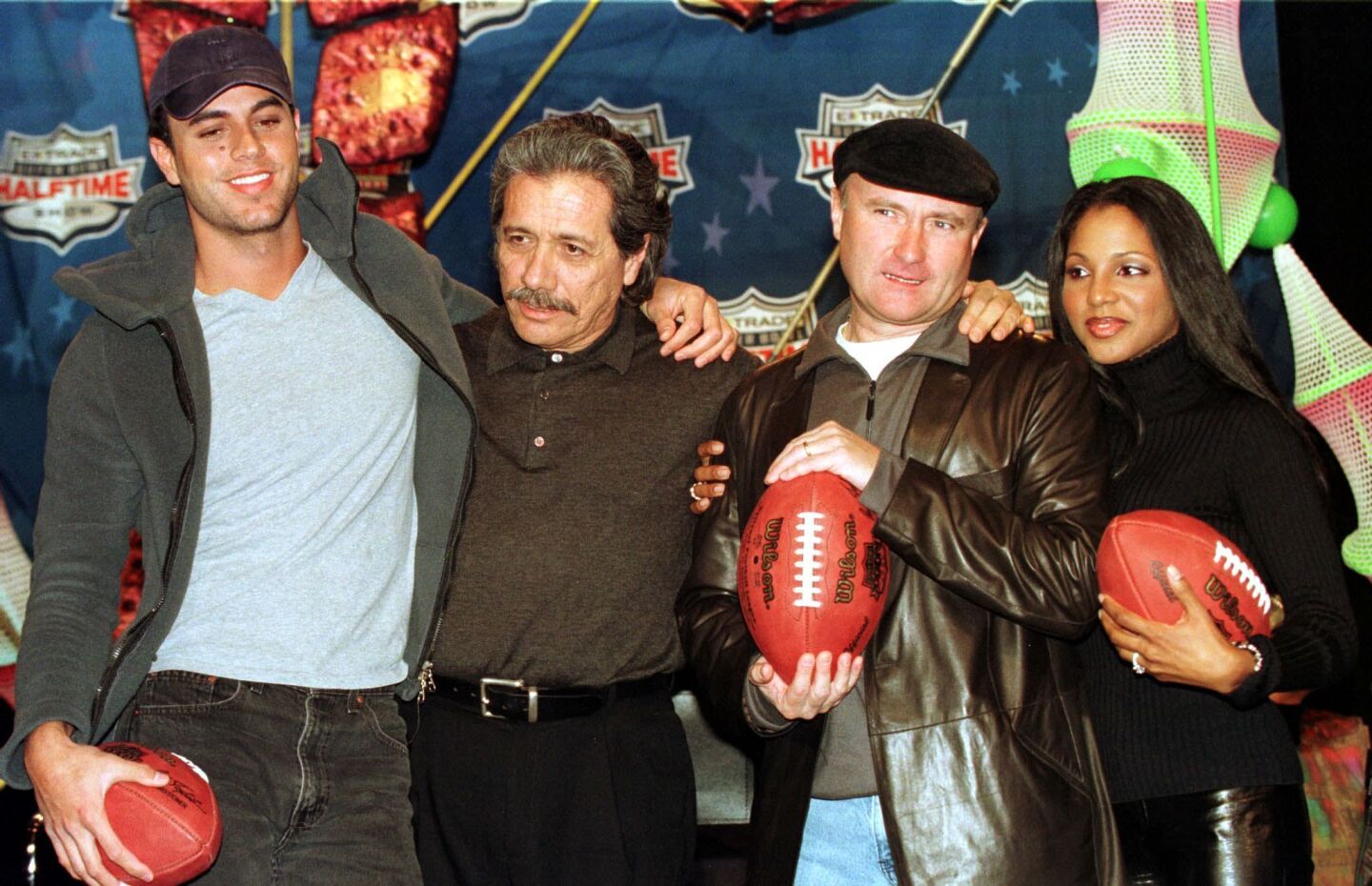 The show started with Christina Aguilera dueting with Enrique Iglesias. Edward James Olmos provided the narration between internationally flavored sets. Phil Collins and Gloria Estefan also took the stage. Though Aguilera did well, the show inspired more of a "what" than a "wow."
(AFP/Getty Images)
Michael Jackson redefined the halftime show, being the first big star to perform (previous artists included Up With People and Disney characters). The NFL took note after Jackson's ratings surged higher than the football action before it, lining their roster with other A-listers.
(Rusty Kennedy / Associated Press)
After being exposed to the 77.6 million viewers watching the game, Apple's "1984" received the kind of free publicity not seen since President Johnson's famous 1964 campaign ad "Daisy," which showed a little girl picking petals during a nuclear blast countdown. Like that spot, TV news programs replayed "1984" in its entirety, giving Apple exposure that went well beyond the $450,000 paid to run it during the game.
"That really set the bar for ads to do more than sell," Angelo said. "They had to have gravitas. They had to provoke."
The competition to break out on the Super Bowl became gladiatorial with the rise of USA Today's "Ad Meter." In 1989, the Gannett Co.'s newspaper began using a research firm to test audience's reaction to the ads and rank their popularity. Several dozen people were gathered in an undisclosed location and handed what looked like oven dials that were turned up or down in response to what they saw.
Within a few years, the published results became part of the postgame chatter Monday mornings and the Ad Meter annually struck fear in the hearts of advertisers and agency executives.
"Back in the day we couldn't tell people where it was going to be," said Dottie Enrico, a former USA Today reporter now with the American Assn. of Advertising Agencies. "We thought that trucks of Pepsi or fleets of Chevy trucks would show up."
Soon advertising executives had bonuses written into their contracts based on a high Ad Meter ranking for a Super Bowl spot. The publication's rankings are still anxiety-producing enough for some companies to avoid the game altogether.
"There are advertisers who run commercials in NFL games all season that do not go into the Super Bowl because they don't want their creative to be judged by the Ad Meter," said Jo Ann Ross, president of network sales for CBS.
Pytka, who has directed several first-place winners in the Ad Meter, believes the public competition improved the quality of the commercials in the game.
"The Ad Meter made people aware that viewers want to be entertained when they watch television, especially in the Super Bowl," said the director, whose spots for Budweiser, Pepsi and Nike have ranked among the most popular over the years. "When you're spending time with somebody, make their time valuable. Don't bore them."
In 2000, Super Bowl commercials reached an even higher level of consumer consciousness, thanks to an influx of advertisers that emerged during the Internet bubble of the time.
Fueled by their inflated stock prices, e-commerce start-ups looking to make an impact on consumers rushed to buy time on the game. On Madison Avenue, the game is remembered as "the Dot-com Bowl."
"It was the first time anyone sold a spot in the Super Bowl for $3 million, which was considered an extraordinary number in 2000," said Ed Erhardt, who heads global sales and marketing for ESPN. "And that was driven by that exuberance around how quickly you could make your brand name known on one day."
Most of the tech firms that ran commercials in that game (remember the Pets.com sock puppet?) either went out of business or were folded into other companies. But the digital revolution that left those firms as collateral damage altered the way marketers use the Super Bowl commercial and how viewers watch them as online streaming video reached critical mass.
It was long typical of advertisers to keep their Super Bowl spots under wraps until the game. Now such secrecy seems quaint. Combining Super Bowl ads with an online marketing push is now standard procedure.
In 2015, YouTube users spent 840 million minutes watching Super Bowl ads, an increase of 127% over 2014. YouTube says 37% of those views occurred before the kickoff of Super Bowl XLIX.
David Bushman, television curator for the Paley Center for Media said the tipping point for Super Bowl ad viewing online occurred in 2011, with the popular Volkwagen ad called "The Force," showing a kid in a Darth Vader costume using his powers to control his family's Passat. The German carmaker agreed with its ad agency Deutsch that the 60-second version for the spot was worth exposing earlier online, and it was viewed 17 million times before game time.
"It was transformative," Bushman said. "It became more than just a commercial. It became a marketing campaign strategy that the commercial was just one part of."
stephen.battaglio@latimes.com
---
From the Emmys to the Oscars.
Get our revamped Envelope newsletter for exclusive awards season coverage, behind-the-scenes insights and columnist Glenn Whipp's commentary.
You may occasionally receive promotional content from the Los Angeles Times.