Telemundo and SAG-AFTRA clash over pay for actors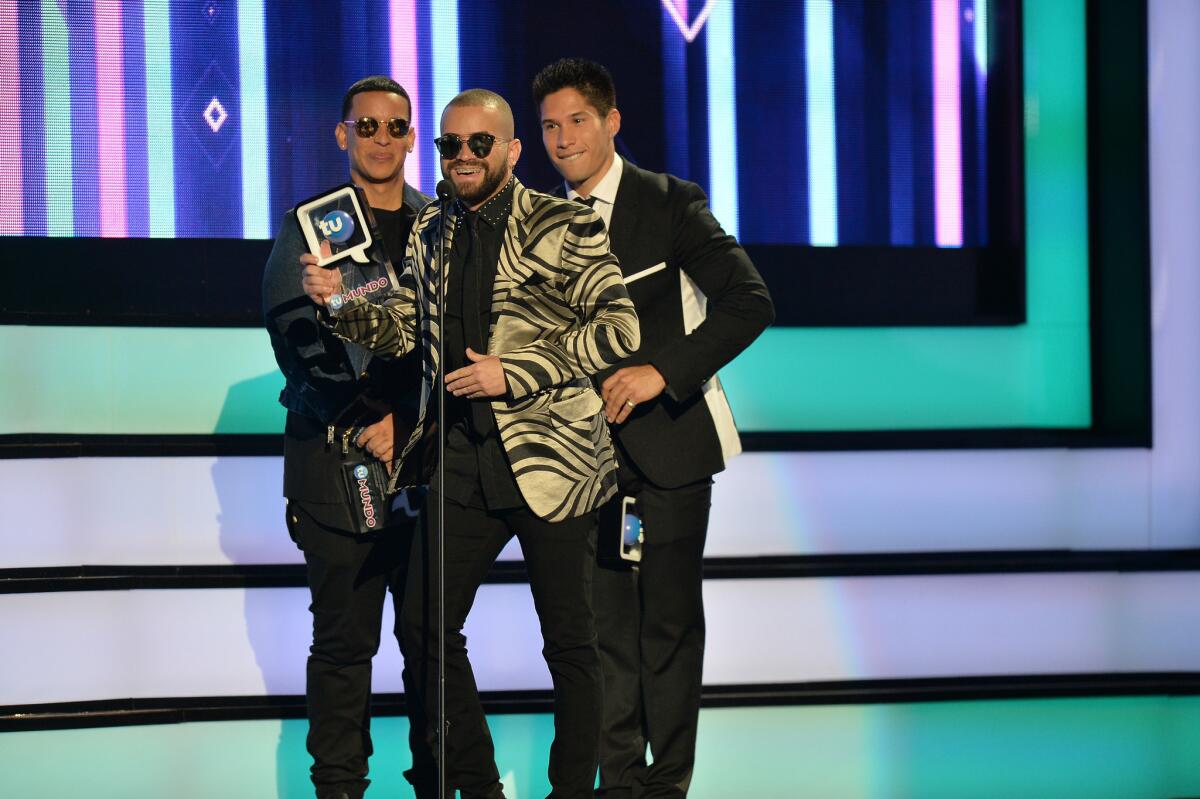 Telemundo is coming off of a big summer. The network has been steadily closing the ratings gap with Univision, long the Spanish-language heavyweight in broadcast television.
But just as Miami-based Telemundo is riding high, it is facing mounting questions from Hollywood's largest union over the treatment of its talent.
SAG-AFTRA has been locked in a protracted dispute with the network over its efforts to unionize Spanish-language performers on Telemundo productions, mainly telenovelas. The union has accused the network's corporate owner, NBCUniversal, of embracing a "double standard" when it comes to Spanish-language and English-language performers.
According to the union, Telemundo pays its performers half what their English-language counterparts earn on other NBCUniversal-owned networks. The union also contends the network doesn't provide its telenovela actors healthcare, contribute to their pensions, or pay standard overtime — benefits shared by their English-language counterparts at NBC.
"The disparity of wage earning for Spanish-speaking performers versus English-speaking is stunning," SAG-AFTRA President Gabrielle Carteris said in an interview. "The idea that they do the same work and just because they're doing it in Spanish it's half the wages, is unacceptable."
The labor dispute comes as Hollywood is facing scrutiny over its lack of diversity and questions about whether nonwhite actors and other members of the creative community are unfairly treated by the industry.
Although Telemundo is not under contract with SAG-AFTRA, its sister company, NBC, has long been a union signatory.
Telemundo spokesman Alfredo Richard disputed the union's claims that it mistreats its actors. He said the company supports "our employees' right to join a union or not," and that they should be able to conduct a secret ballot election to decide whether to join SAG-AFTRA.
"We remain committed to making Telemundo a great place to work for our employees and continue to invest in them to ensure their salaries and working conditions are competitive," Richard said. "We are dedicated to Telemundo's continued growth, which has created hundreds of high-value jobs in the U.S. and provided a valuable service to the Hispanic community."
Telemundo recently announced that it would offer healthcare and retirement benefits to performers next year.
Pay discrepancies reflect the vast differences in budgets between English-language broadcast networks and their Spanish-language counterparts. A show such as CBS' "The Big Bang Theory" can garner 14 million viewers, as it did last week. By contrast, a Telemundo program might average just under 2 million viewers.
For years, the Univision and Telemundo networks have worked to secure a larger percentage of advertisers' budgets — pressing their case that the more than 50 million Latino consumers wield significant spending power. But they continue to yield less per eyeballs than English-language networks can bring in.
SAG-AFTRA's organizing campaign dates back to 2001, when NBCUniversal acquired Telemundo. But the push to unionize has intensified in the last year as Telemundo has made gains in its programming and business. Telemundo stands as the largest employer of Spanish-language performers in the U.S.
In late August, SAG-AFTRA aired a 30-second commercial that called for parity in pay between English-language and Spanish-language talent at NBCUniversal. It aired on Spanish-language stations in Los Angeles, New York and Miami.
Tensions seemed to have eased last month when SAG-AFTRA announced it would represent performers and hosts for Telemundo's Latin American Music Awards, which will be televised from the Dolby Theatre in Hollywood on Thursday. But the contract was secured through the show's producer CMS Productions and Telemundo maintained that the agreement did not apply to their talent.
SAG-AFTRA's goal is to sit down with NBCUniversal and work out ground rules on how to proceed, said Steve Sidawi, the union's organizing director.
"We don't believe there could be a fair vote in the current environment," Sidawi said. "The ground rules we hope to establish would include determining who would be eligible to vote in an election and how to make sure performers are able to make choices without fear of retaliation or production flight."
A person close to Telemundo said SAG-AFTRA rejected the company's invitation to have a secret election. A SAG-AFTRA representative said there was no such invitation.
Alex Ruiz, a Mexico City native who appeared in Telemundo's telenovela "¿Quién es quién?" (Who is who?), said he was paid roughly $5,000 per month. Telemundo paid Ruiz, who had a supporting role, though his manager, who he says took 10%.
Ruiz, 35, said he made about the same amount in just five days of shooting "Touch," a short-lived Fox TV show that aired in 2012.
He said he often worked 12 hour days, without scheduled breaks. He also said that some stars were on set until 11 at night, and had to show up ready to work at 7:00am the next morning.
"They work you until you drop," said Ruiz. "You feel like you are being taken advantage of. If you are paying me less, at least the treatment should be better."
The most-read Entertainment stories this hour »
Twitter: @villarrealy
Times staff writer Natalie Kitroeff contributed to this report.
From the Oscars to the Emmys.
Get the Envelope newsletter for exclusive awards season coverage, behind-the-scenes stories from the Envelope podcast and columnist Glenn Whipp's must-read analysis.
You may occasionally receive promotional content from the Los Angeles Times.