Time Warner Cable says Dodgers channel won't prompt write-down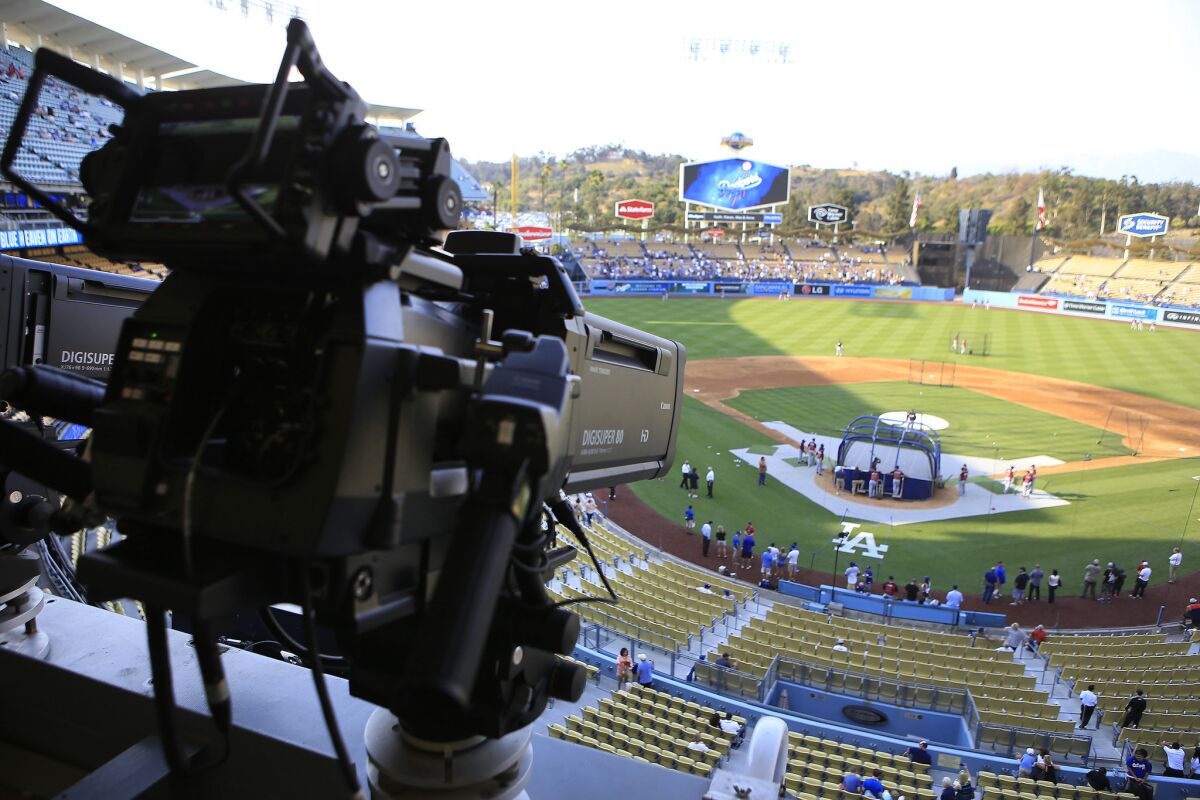 Time Warner Cable consistently has acknowledged that it is incurring financial losses from its deal to distribute the Los Angeles Dodgers television channel.
The New York cable giant two years ago entered into a 25-year contract with team owners Guggenheim Partners to carry the channel, SportsNet LA. The contract is valued at $8.35 billion over the life of the deal, according to the team and Major League Baseball.
Time Warner Cable had anticipated that other pay-TV companies would pony up and carry the channel, helping Time Warner Cable recoup its costs.
But that hasn't happened.
Time Warner Cable remains the only major distributor to carry the channel in Southern California. Other operators, including DirecTV, Dish Network, Charter Communications, AT&T U-Verse and Cox Communications have balked — saying the price of the channel was too high.
Time Warner Cable has not publicly put a number on the extent of its losses from the Dodgers contract.
Industry sources, however, have estimated that the company is losing more than $100 million a year on its deal — with losses expected to grow as long as Time Warner Cable remains the only major distributor carrying the channel.
The New York Post on Tuesday said financial losses were so substantial that Time Warner Cable would be forced to take a write-down of as much as $1 billion to account for the impaired value of the asset.
Not true, Time Warner Cable said.
"Time Warner Cable has no plans to take a write-down in connection with its Dodgers contract," the company said late Tuesday in a statement. "In fact, TWC does not carry an asset on its balance sheet related to the Dodgers and, therefore, there is no asset for it to write down now or in the future."
Last fall, company executives told Wall Street investors that the Dodgers channel was the main culprit in driving up its programming expenses by $107 million in 2014. Programming costs jumped nearly 9%.
In recent weeks, Time Warner Cable has tried unsuccessfully to initiate another round of talks with pay-TV distributors. But with no breakthrough on the horizon, 70% of television households in the L.A. region face the prospect of another season without Dodgers baseball on TV.
Los Angeles has experienced the greatest inflation in sports programming costs in the nation.
Time Warner Cable has been seeking more than $4.90 a month for each subscriber home for SportsNet LA, making it the third most expensive sports channel in the U.S., according to a survey by consulting firm SNL Kagan.
"In 2011, the LA market had two regional sports networks (RSNs) — Fox Sports West and Prime Ticket — with a combined cost per subscriber per month of $4.87," SNL Kagan said in a report this year.
Fast-forward to 2015, and several new regional channels have taken the field. Those include Time Warner Cable Sports, the Spanish-language Time Warner Cable Deportes, PAC-12 LA and the Dodgers channel, SportsNet LA.
The extra channels have increased the total cost of regional sports channels to $12.50 a month for each pay-TV subscriber home in Los Angeles, SNL Kagan said. And that figure doesn't include other nationally distributed sports channels such as ESPN and Fox Sports 1.
Dodgers fans who do not subscribe to Time Warner Cable are particularly disgusted because Hall of Fame broadcaster Vin Scully is in the final seasons of his legendary career. In addition, longtime fans want to see whether new players will pan out — and they might have to listen to games on the radio.
Meanwhile, Comcast Corp., is trying to win the federal government's blessing for its proposed take-over of Time Warner Cable. If it is allowed to acquire Time Warner Cable, then Comcast will be the one that has to figure out how to absorb some of the losses and achieve broader distribution for the channel.
"We continue to believe in the long term value of the network and remain eager to make it available to all Dodgers' fans," Time Warner Cable said.
Twitter: @MegJamesLAT
---
Get our L.A. Goes Out newsletter, with the week's best events, to help you explore and experience our city.
You may occasionally receive promotional content from the Los Angeles Times.