Time Warner Cable feeling ill effects of Dodgers channel dispute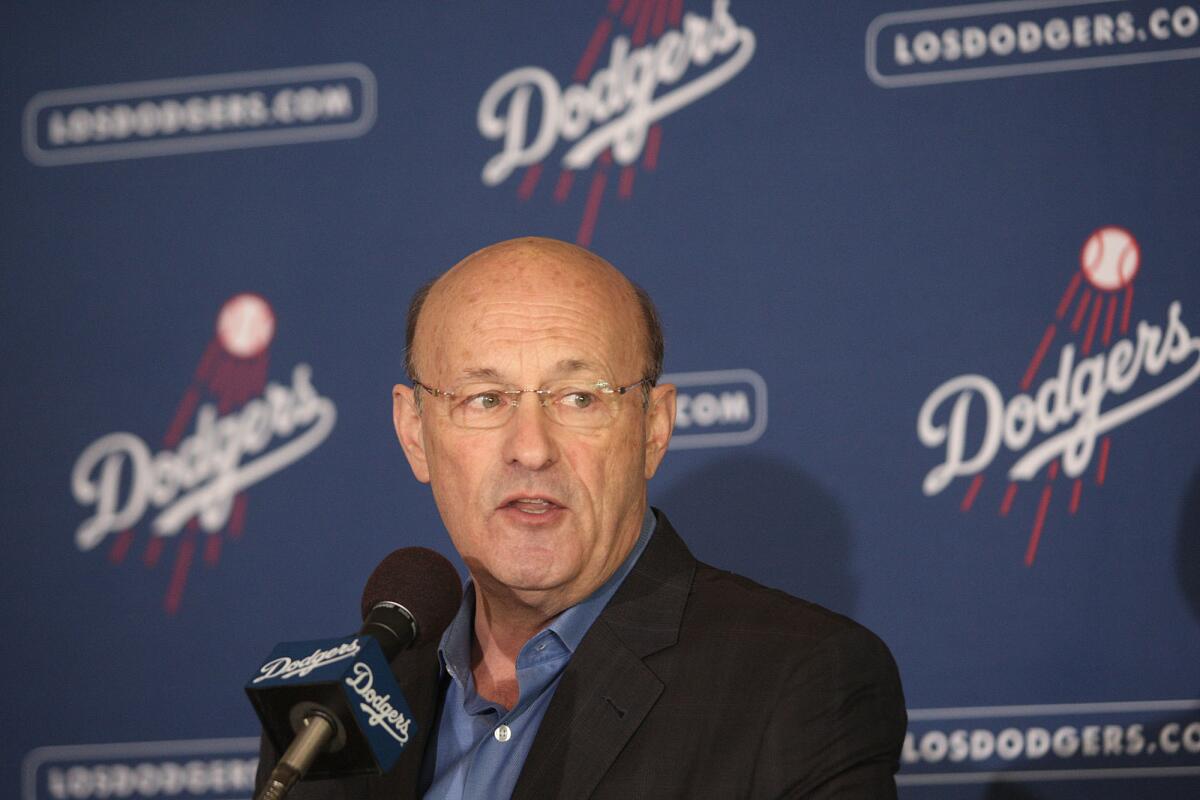 The SportsNet LA debacle is starting to affect Time Warner Cable's bottom line.
Time Warner Cable lowered its revenue projections for 2014 on Thursday because of its inability to distribute SportsNet LA, the new TV home of the Los Angeles Dodgers. The Dodgers-owned channel is managed by Time Warner Cable, which has been unable to sell it to other area distributors including DirecTV.
Lack of any deals will cut into Time Warner Cable's results for the year. The company said it was lowering its projected revenue growth to as low as 3.5% from 4.5%. Operating income projections were lowered to a range of 3.75% to 4.75% from 5% to 6%.
"Assume we do not sign affiliate agreements for the Dodger Network this year," said Time Warner Cable Chief Financial Officer Artie Minson on a conference call with analysts to discuss the cable company's second-quarter results.
The unit that houses SportsNet LA saw its operating costs jump 56%. Profit for the unit dropped 26% to $173 million.
For the quarter that ended March 31, Time Warner Cable posted profit of $499 million, or $1.76 a share, up from $481 million, or $1.64, a year earlier. Analysts had estimated $1.90 a share. Revenue grew 3.2% to $5.7 billion.
The company lost 152,000 video subscribers, which more than offset the almost 70,000 broadband subscribers it added.
In Los Angeles, the company added video subscribers but Time Warner Cable Chief Executive Rob Marcus was reluctant to attribute the growth to subscribers signing up to get SportsNet LA.
Earlier this week, in response to pressure from U.S. Rep. Brad Sherman (D-Sherman Oaks) and other members of Congress, Time Warner Cable said it would be willing to enter binding arbitration with DirecTV and other distributors to resolve the dispute over carriage of SportsNet LA. Other distributors have refused to carry the channel, citing the price Time Warner Cable is seeking.
The standoff has left about 70% of Los Angeles pay-TV homes without access to the team's games.
Federal Communications Commission Chairman Tom Wheeler also sent a stern letter to Time Warner Cable about its inability to close deals with other distributors.
DirecTV said Thursday that it would be open to some sort of mediation to resolve its dispute with Time Warner Cable over SportsNet LA.
Speaking to analysts and investors during its second-quarter earnings conference call, DirecTV Chief Executive Mike White said he was "frustrated" with the negotiations with Time Warner Cable, which has distribution rights for the Dodgers-owned channel.
While White's remarks may be seen as cause for optimism for Dodgers fans, he also suggested that the team should be part of any talks.
"Without active participation of the Dodgers I'm not sure how you get any resolution to this dispute," White said.
So far, the team has shown little interest in getting actively involved in the standoff. Time Warner Cable acquired distribution rights for SportsNet LA in a 25-year deal worth $8.35 billion, according to a valuation by the Dodgers and Major League Baseball.
On Monday, Dodgers President Stan Kasten declined to comment when asked whether the team would consider renegotiating that contract if it meant getting distribution for SportsNet LA. Besides DirecTV, other carriers that have passed on carrying SportsNet LA include Dish Network Corp., Cox Communications Inc., Verizon FiOS and Charter Communications Inc.
Time Warner Cable is in the process of being acquired by Comcast Corp and AT&T is buying DirecTV. Both deals are being reviewed by the FCC and the Justice Department and are expected to close early next year.
From the Oscars to the Emmys.
Get the Envelope newsletter for exclusive awards season coverage, behind-the-scenes stories from the Envelope podcast and columnist Glenn Whipp's must-read analysis.
You may occasionally receive promotional content from the Los Angeles Times.