Brian Williams will leave 'NBC Nightly News' and join MSNBC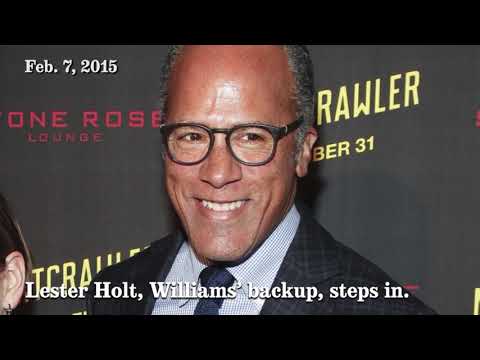 Brian Williams, the popular NBC News anchor who became embroiled in controversy over false statements he made about his reporting, no longer will be the anchor of the network's evening newscast and will be assigned to handling breaking news on cable
Brian Williams, the popular NBC News anchor who became embroiled in controversy over false statements he made about his reporting, will no longer be the anchor of the network's evening newscast and will be assigned to handling breaking news on cable network MSNBC.
Lester Holt, the veteran anchor who has fronted numerous programs on NBC and MSNBC since 2000, takes over the reins of "NBC Nightly News" after serving as Williams' fill-in since the anchor was suspended in early February. Holt, 56, makes history by becoming the first solo African American anchor of a nightly broadcast network evening newscast.
"This is an enormous honor," Holt said in a statement issued Thursday. "The respect and admiration I have for the 'Nightly News' team has only grown deeper over the last several months that we've been together. Day in and day out under an uncomfortable spotlight, they have produced world-class journalism."
NBC News chairman Andrew Lack said Holt, "has done outstanding work for NBC News over the last 10 years, and he's performed remarkably well over the last few months under very tough circumstances."
The announcement of Williams' new role will end the stunning saga that began Jan. 30 when he delivered a report on "NBC Nightly News" meant to be a tribute to a retired military veteran who provided security to the anchor when he covered the U.S. invasion of Iraq in 2003. In that report, Williams falsely stated he was aboard a Chinook helicopter that was forced down by grenade and small arms fire.
Williams' demotion follows an extensive review conducted by the network during his suspension. While the review did not turn up any other major instances of Williams giving false information on the air, it did find he made inaccurate statements about his own role covering events in the field.
"The review found that the statements in question did not for the most part occur on NBC News platforms or in the immediate aftermath of the news events, but rather on late-night programs and during public appearances, usually years after the news events in question," the network's statement said.
Williams issued his own statement, acknowledging his mistakes. "I'm sorry," he said. "I said things that weren't true. I let down my NBC colleagues and our viewers. I am determined to win back their trust. I will greatly miss working with the team on 'Nightly News' but I know the broadcast will be in excellent hands with Lester Holt as anchor. I will support him 100% as he has always supported me."
As for Williams' new role, Lack said "Brian now has the chance to earn back everybody's trust. His excellent work over 21 years at NBC News has earned him that opportunity."
Williams was the principal anchor for MSNBC when it launched in 1996.
Although the cable network assignment for Williams is a comedown and a compromise -- he has a new employement agreement that pays him substantially less than the $10 million a year contract he signed at the end of 2014 according to network executives with knowledge of the dea - it will probably be positioned as a way to boost what has been a flagging venture at NBC News.
MSNBC has experienced double-digit-percent ratings declines this year. Although tarnished, Williams will bring some star power and new attention to the channel, which has tried in recent months to broaden beyond the progressive-leaning, opinion-driven talk it features throughout most of the day.
Brian's original reporting on the 2003 incident correctly said it was another helicopter in the formation that was hit. But Williams misstated the facts of the incident on at least one other occasion, when he told the story during a 2013 appearance on "Late Show With David Letterman."
The furor over the false statements opened the door to examinations into the veracity of Williams' other reporting. When further questions were raised about Williams' description of incidents he witnessed during his 2005 coverage of Hurricane Katrina in New Orleans, the news division decided to launch a review of the anchor's work. On Feb. 7, he stepped away from the broadcast and by Feb. 11 was given a six-month suspension without pay.
There had been a glimmer of hope for Williams to return to his evening news job when NBC named Lack as chairman of NBC News in March. Lack was president of the news division during an expansive and successful period in the 1990s, and having groomed Williams to be the successor to Tom Brokaw on "NBC Nightly News" was among his achievements.
Lack also has strong personal ties to Williams, who took over as anchor of "Nightly News" in December 2004.
But according to two veteran producers inside NBC News who were not authorized to discuss the matter publicly, Lack heard concerns about how Williams's return would affect morale among members of the rank and file throughout the division. Some feel betrayed by the anchor's actions that risked severely undermining the journalistic credibility of the news division.
Even though the Williams story became a sideshow in the media fishbowl of Manhattan, the overall reputation of NBC News has not taken a hit by any public measure. Since Williams' suspension, both "ABC World News Tonight with David Muir" and "CBS Evening News with Scott Pelley" have gained viewers, while "NBC Nightly News" has declined. But the broadcast has remained competitive, winning five of the last seven weeks in total viewers.
NBC likely isn't feeling a financial hit from the audience shift. The network's morning show "Today," has become more competitive in the ratings lately. It has closed the gap with ABC's "Good Morning America" among viewers ages 25 to 54, the group news advertisers want to reach. "Today" is by far the most lucrative program at NBC News and any gain there would more than offset a revenue loss from a ratings slide at "Nightly News."
Giving the "NBC Nightly News" anchor chair to Holt, a popular figure inside NBC, will likely be well-received internally. As one longtime NBC News executive put it, "Lester is the greatest guy in the world."
The turn of events for Williams is stunning as just two months before his suspension, he signed a new five-year contract with the network.
While Williams had pondered hosting an entertainment program, he wanted his new deal to demonstrate his commitment to news.
"It's probably time I admit that I am a one-trick pony," he told the Los Angeles Times in December. "I am, I think, designed and put on this Earth to do what I'm doing now -- and that is to eat, sleep and breathe nonfiction and the news going on in the world."
ALSO:
A 'Jurassic World' fanboy project became part of the movie's universe
Rupert Murdoch's News Corp. to pay dividend to shareholders
Can NextRadio app help make radio relevant for a digital audience?
From the Oscars to the Emmys.
Get the Envelope newsletter for exclusive awards season coverage, behind-the-scenes stories from the Envelope podcast and columnist Glenn Whipp's must-read analysis.
You may occasionally receive promotional content from the Los Angeles Times.