Netflix bulks up with Marvel superheroes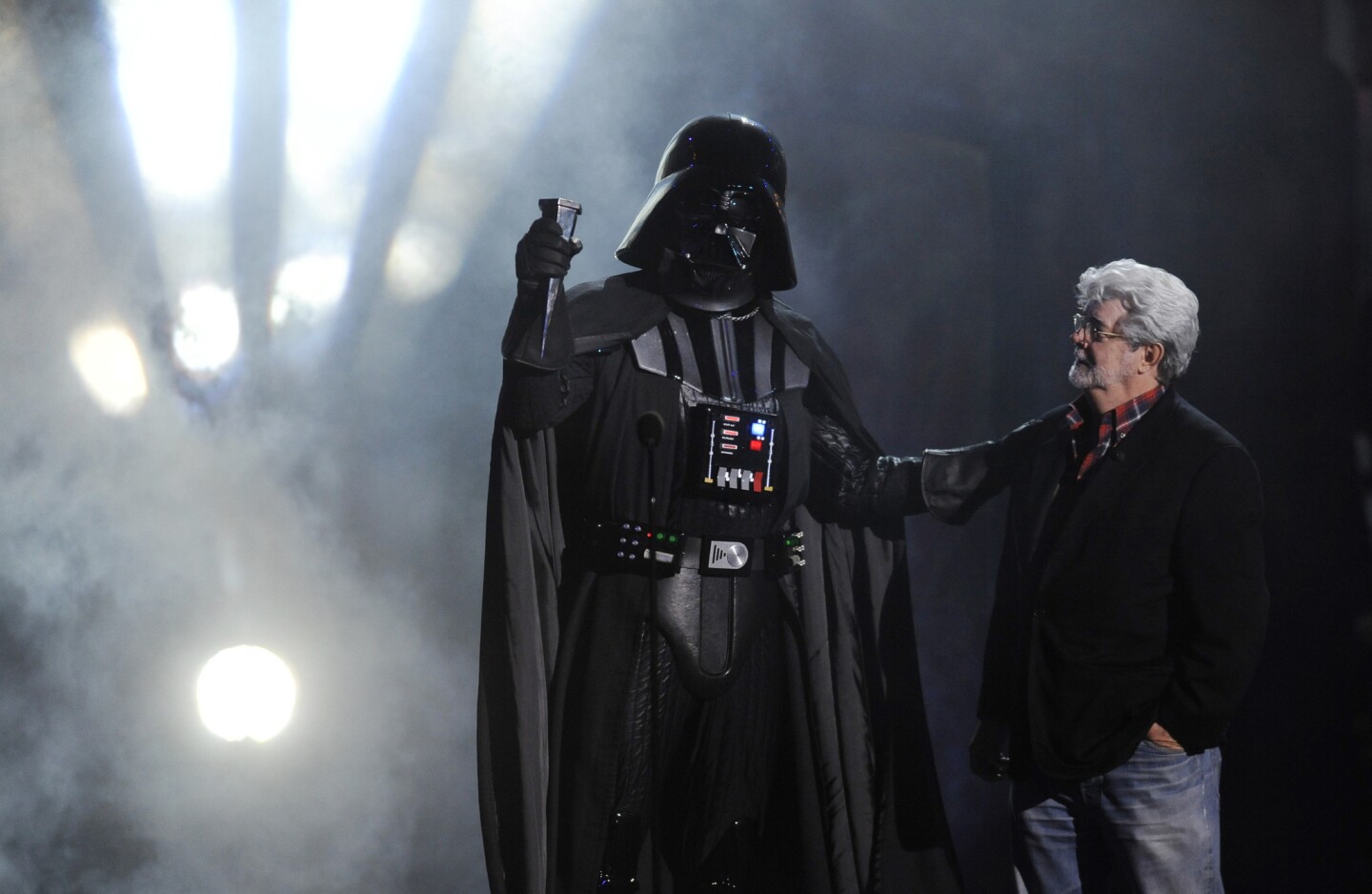 The saga continues in the seventh installment of the "Star Wars" series created by George Lucas. The latest film is being directed by J.J. Abrams.
(Chris Pizzello / Invision/Associated Press)
Netflix is bulking up its programming with a roster of new Marvel superheroes.
The online movie and television service struck a deal with Walt Disney Co. to develop original live-action TV series based on four of Marvel's lesser-known comic book characters: Daredevil, Jessica Jones, Iron Fist and Luke Cage.
The first of four serialized programs and a miniseries will appear on Netflix in 2015.
The deal announced Thursday affords Disney's Marvel Television unit the opportunity to develop stories and build audiences for these below-the-radar heroes, without the added scrutiny of daily Nielsen TV ratings or weekend ticket-sale tallies.
Netflix, meanwhile, hopes to capitalize on the cachet of a genre that has delivered muscular, billion-dollar box-office performances for such Disney films as "Iron Man 3" and "The Avengers."
"There are a number of ways for Marvel to create more value-generating opportunities — and this is one of them," Disney Chairman and Chief Executive Robert A. Iger said during a Disney earnings call. "And it also happens to be great for Netflix."
Disney has deployed Marvel's characters across a variety of media outlets, bringing such animated series as "Marvel's Avengers Assemble" and "Marvel Ultimate Spider-Man" to its boy-focused Disney XD cable channel, and the "Marvel Avengers Alliance" game to Facebook and mobile devices.
This fall, Disney's ABC network launched its first big program based on Marvel's characters: Marvel's "Agents of S.H.I.E.L.D." The show opened to huge numbers — more than 12 million viewers — before its ratings settled down to earth.
ON LOCATION: Where the cameras roll
By producing Marvel-themed shows for Netflix, Disney is bypassing its own channels, including ABC, Disney XD and even Hulu, its online video service joint venture with 21st Century Fox and Comcast Corp.
The Netflix deal, whose terms were not disclosed, provides a new platform for Marvel's superheroes to inhabit, and gives them a chance to develop over the span of the multiyear agreement. The stories will explore gritty worlds such as New York's Hell's Kitchen, where the fictional Matt Murdock grew up in relative poverty and experienced a violent accident as a boy that cost him his sight. As an adult, he seeks justice as a lawyer by day and as the avenging, acrobatic Daredevil at night.
Larry Tanz, chief executive of the Vuguru digital studio, said it makes sense for Disney to turn to Netflix to develop Marvel characters that lack the broad, marquee appeal of a Spider-Man or an Iron Man. Indeed, his own studio turned to YouTube to reach fan communities eager for new stories from the noted comic book figure Stan Lee and his company, POW! Entertainment.
"If you're trying to develop these characters without as much brand awareness, it would be hard to launch a Jessica Jones character off broadcast TV," Tanz said. "Netflix can launch full series without having to worry about what the overnight ratings for the first episode are. They can take advantage of characters that are not the movie star franchise characters and they can be a little bit more free with the story lines and explore these characters' story lines over multiple seasons — which is the cable TV model."
PHOTOS: Billion-dollar movie club
One expert in fan communities, Sam Ford, co-author of a book titled "Spreadable Media," said Marvel can tailor its storytelling to appeal to a dedicated audience that doesn't have to be as sizable as for the more visible properties.
"The Marvel story world has a great deal of loyalty, and there has proven to be a lot of excitement around the whole concept of a connected set of stories across Marvel's films and television series for the Marvel universe," Ford said. "It makes sense to use this property for some experimentation, particularly with some parts of the story that may be more niche. That Marvel would have "The Avengers" on the big screen and Iron Fist and Luke Cage on Netflix means that Marvel is creating different business models — and metrics for success — for different parts of its stories."
Netflix has demonstrated a deftness at building viewership for dramas with dark characters and complex story lines, as it did with such shows as AMC's "Breaking Bad" and "Mad Men."
The new original content deal builds upon a movie distribution agreement Netflix reached last year with Disney, which will bring first-run, live-action and animated films from Walt Disney Studios, Pixar Animation Studios, Marvel and Lucasfilm to the streaming service, beginning in 2016.
PHOTOS: Greatest box office flops
Netflix has been investing in exclusive content and original series, such as its Emmy-nominated political drama "House of Cards" and the prison series "Orange Is the New Black." The Los Gatos company credits this only-on-Netflix programming as enabling it to surpass HBO in domestic subscribers.
Netflix's new original TV deal also allows Disney to offset some of the risk of developing the programming.
"Netflix is defraying some of the production costs," said Wedbush Securities analyst Michael Pachter. "It's a good deal for Disney."
Times staff writers Meg James, Daniel Miller and Joe Flint contributed to this report.
---
From the Oscars to the Emmys.
Get the Envelope newsletter for exclusive awards season coverage, behind-the-scenes stories from the Envelope podcast and columnist Glenn Whipp's must-read analysis.
You may occasionally receive promotional content from the Los Angeles Times.