Gold Standard: 12 things we learned about Reese Witherspoon at her American Cinematheque tribute
"All Reese, all Reese, all Reese!"
Matthew McConaughey had it mostly (all) right Friday night in twisting his trademark catchphrase as he presented Reese Witherspoon with the American Cinematheque Award at the annual fundraiser for the nonprofit group.
The bulk of the ceremony, which also honored Dreamworks Animation chief Jeffrey Katzenberg, was devoted to the 39-year-old Witherspoon and the nearly 50 movies she has headlined or produced in a career dating back to her 1991 debut in Robert Mulligan's lovely coming-of-age story "The Man in the Moon."
SIGN UP for the free Indie Focus movies newsletter >>
Here are a dozen things we learned about Witherspoon from her many friends and colleagues:
1. Witherspoon will soon reunite with "Election" writer-director Alexander Payne for "Downsizing", co-starring Matt Damon. Payne says he receives more compliments about "Election," in which Witherspoon played a ferociously precocious high school student running for class president, than any other movie in his lauded career.
"Even Barack Obama told me it's his favorite political film," Payne said.
2. Sofia Vergara calls Witherspoon, her "Hot Pursuit" co-star, "my little pony." She did not explain why.
3. When country music singer Kenny Chesney thinks of Witherspoon, he thinks of the song "Wild Child," which he performed at the tribute. But he didn't explain whether it was because she starred in a movie called "Wild" or because Witherspoon reminds him of the song's lyrics, ("a spirit that can't be tamed, a calico pony on an open plain.") Wait ... there's that pony thing again!
4. Kate Hudson first met Witherspoon at the premiere of "Man in the Moon," where she watched the young actress work the after-party "like a seasoned politician." (Witherspoon did the same thing at the Hyatt Regency Century Plaza's ballroom Friday, graciously welcoming dozens of the 800 people in attendance.)
5. The words Hudson heard most early in her career: "It's between you and Reese" or "Well ... Reese has the offer. But if she passes, it might come to you."
6. Witherspoon will not let guests get away with singing just any old Christmas song like "Frosty the Snowman" at her annual holiday party. "No," Hudson says, "it's 'The Twelve Days of Christmas.' "
7. Apparently, Witherspoon's husband, CAA agent Jim Toth, can't sing. Or, at least not well. He's not allowed to participate in "The Twelve Days of Christmas."
8. Witherspoon yells at Laura Dern, who played her mom in "Wild," for not being on social media more. And for using brown lipstick.
9. Dern's mother, actress Diane Ladd, and Witherspoon's mom, Betty (who sat next to her daughter at the Cinematheque event), are tight. Dern believes Witherspoon has an innate desire to take care of other people because she "grew up in a home of healthcare providers."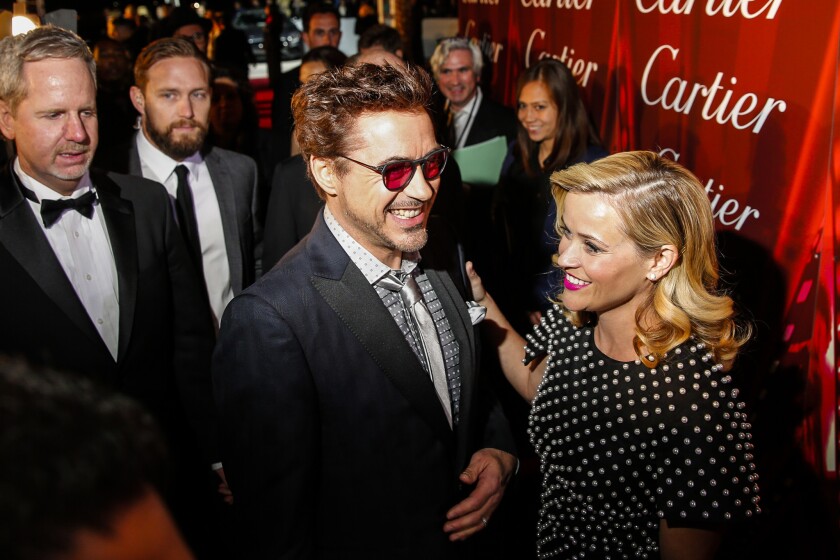 10. Legendary music man T Bone Burnett had a feeling Witherspoon would win the Best Actress Oscar for playing June Carter Cash in "Walk the Line" when he heard her let out an "actual blood-curdling scream" in frustration after wrestling with the classic Carter Family folk song "Wildwood Flower."
"All the birds flew away," Burnett remembered of Witherspoon's cry.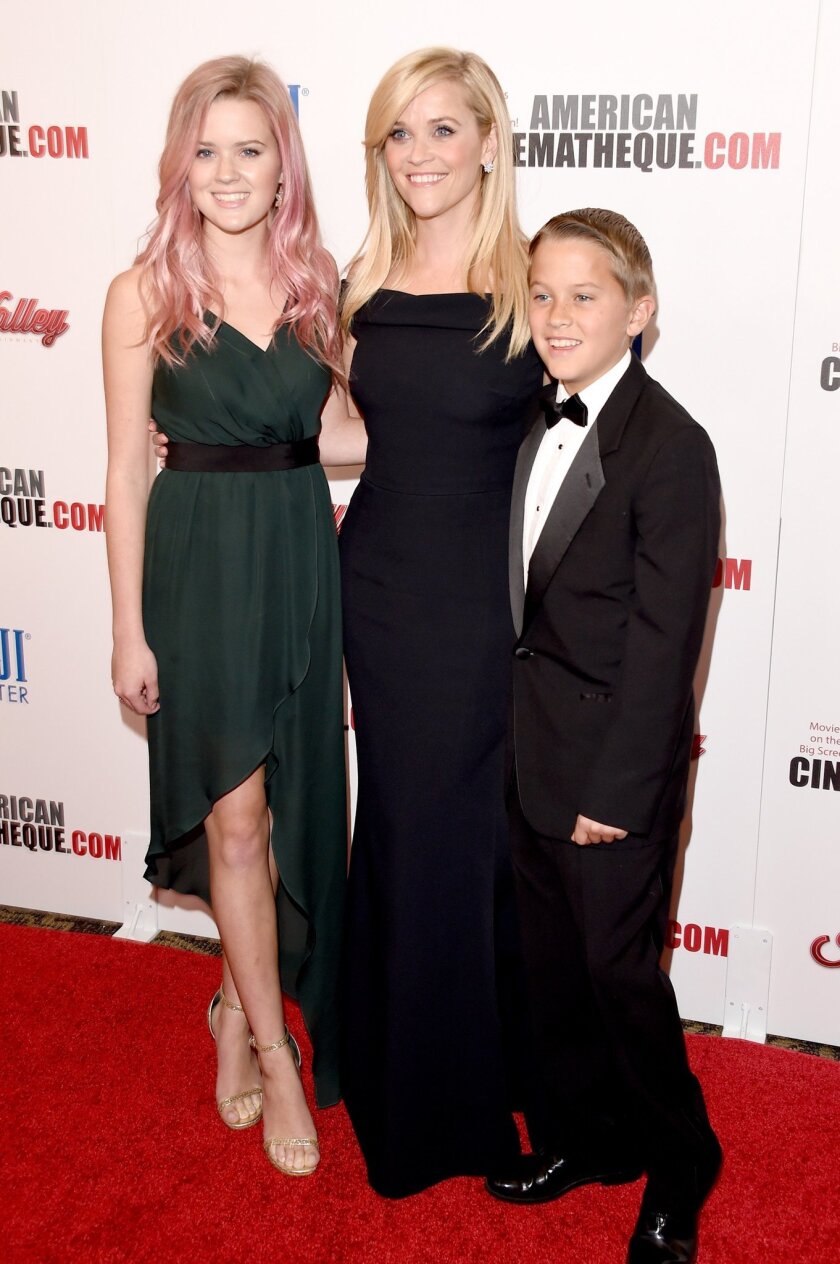 11. Robert Downey Jr. would very much like to order the Bessie Bow table runner from Witherspoon's clothing and home store Draper James, but he can't get his credit card to work.
12. Two of Witherspoon's three children — 16-year-old Ava and 12-year-old Deacon — can't get enough of this 1991 Entertainment Tonight video, in which a young Reese talks about how much fun it will be to go to the video store in 30 years and rent "The Man in the Moon" on laserdisc and watch it with her kids.
"I thought that was the best moment of my life," Witherspoon said from the stage. "I was wrong about that. Some days I still can't believe that I get to do this, that I get to be a storyteller in this world. It is the greatest privilege of my life."
Follow me on Twitter @glennwhipp
---
From the Emmys to the Oscars.
Get our revamped Envelope newsletter for exclusive awards season coverage, behind-the-scenes insights and columnist Glenn Whipp's commentary.
You may occasionally receive promotional content from the Los Angeles Times.