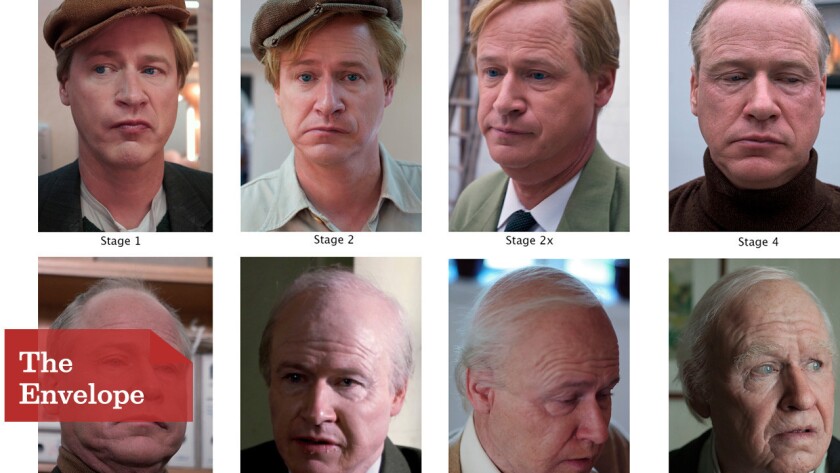 This year's Oscar nominees for makeup and hairstyling are the quite expected "Mad Max: Fury Road" and "The Revenant," along with a relatively obscure Swedish comedy. "The 100-Year-Old Man Who Climbed Out the Window and Disappeared" is about a man who celebrates his 100th birthday by, well, climbing out the window of a nursing home, going on the lam and tangling with a brutal biker gang. As it happens, he's more than equipped for the adventure, having lived a Forrest Gump-like life that includes fighting in the Spanish Civil War, helping develop the atom bomb and serving as a double agent in the Cold War.
The character challenged makeup designers Eva von Bahr and Love Larson not only to turn its lead actor (Robert Gustafsson) into a centenarian, but also to create a century's worth of historical figures.
Oscars 2016: Full Coverage | Complete list | Snubs, surprises and reactions | Top nominee photos | Oscars are so white, again
When did you start working together?
Von Bahr: That was about seven years ago. We were working on a movie and we met there. And then one thing led to another and now we're married and have a kid! We try to work together as much as we can. Not always, but as much as we can.
For the title character, how many ages did you create?
Larson: We did nine different stages. Robert, he was 47 when we shot the film. We put him back in time to be younger in three or four stages, and then we aged him. He wasn't really ever in his own age. We made him either older or younger.
How did you develop the different looks?
Larson: We used a lot of reference, and I tried to find old people that have a similar look as he has. And we found a really good book about real 100-year-old people. And they look so fresh! Most of them looked like they were a bit over 80 or something. So that was really good because it's easy to go a bit over the top with age makeup. But we didn't want to overdo it.
What was involved in the 100-year-old makeup?
Larson: The oldest makeup involved 10 different pieces. And they were all silicone except for the nose and ears, which were gelatin.
Von Bahr: Then we punched all the hair into his silicone bald cap. So that was shot in 30 days, and we had a new cap every day. Love fabricated the pieces with Oskar [Wallroth]. I punched the silicone bald caps. It took me like half a day to do it, sometimes more. And sometimes, we just didn't have time to do it, so I had to punch while going to set in the car.
How did you create makeup that was flexible enough for him to express himself?
Larson: We tend to do very, very soft pieces. We add something that's called deadener that controls the softness of the silicone. Most people use about 150% or something like that. And we used around 220% or 230% deadener. They're much harder to apply when the silicone is so soft, because it's like putting on a bag of sand, almost. It's hard to handle it. But when you've got it on, it moves so beautifully, it's totally worth it.
What about all those historical figures?
Von Bahr: We didn't want to use silicone appliances or anything on them, just because we thought that that was not necessary, because the audience would know who it was supposed to look like. So we tried to keep it simple. We used lots of wigs, lots of hair work to achieve their looks. And then naturally, we tried to cast people as good as we can. The only one that was really difficult was Reagan. It was impossible to find a lookalike Reagan, for some reason. And we just did not have the time to do appliances to make Reagan. So we had to outsource that on another company that did him for us. But otherwise, we really wanted to keep it simple.
Larson: For example, [Gorbachev] got his hairpiece. And we just gave him his birthmark forehead and tried to match the eyebrows — things that would make him recognizable as Gorbachev. [And] for example, Harry S. Truman, we made a toupee, a wig piece, and then found the Truman spectacles, glasses. It was small things. It would be very distracting to the audience if it was only a film with guys in prosthetics.
See the most-read stories in Entertainment this hour >>
So how did it feel to get the Oscar nomination?
Von Bahr: We were here in our workshop and we had the television on, and we looked when they were going to announce. And of course they read, "Mad Max." And then all of a sudden, he just said, "And 'The 100-Year-Old Man Who Climbed Out the Window and Disappeared.'" And we were shouting and screaming! And Oskar, he was jumping up and down! We were so happy, and we absolutely did not expect it. And we are really, really honored.
MORE:
Oscars 2016: How a wig helped Kate Winslet snag her nominated 'Steve Jobs' role
Beards, sheep and brotherly hate: All in a day's work for two 'Rams' actors
Costume designer Sandy Powell adds sparkle to 'Cinderella' with Swarovski's help
---