The film academy's directors branch is a close-knit group that famously regards interlopers (i.e., actors) with suspicion, though exceptions can and will be made if the movie is good enough ("Get Out," "Lady Bird," peak Clint Eastwood).
This year, Bradley Cooper is trying to crash the party with his remake of "A Star Is Born."
But an even more intriguing race involves a different branch of the academy — cinematographers — and whether they will recognize writer-director Alfonso Cuarón for his dazzling work on "Roma." Cinematographers have never nominated a filmmaker who doubled as director of photography.
That will likely change this year.
Here's an early look at the Oscar races for director and cinematography.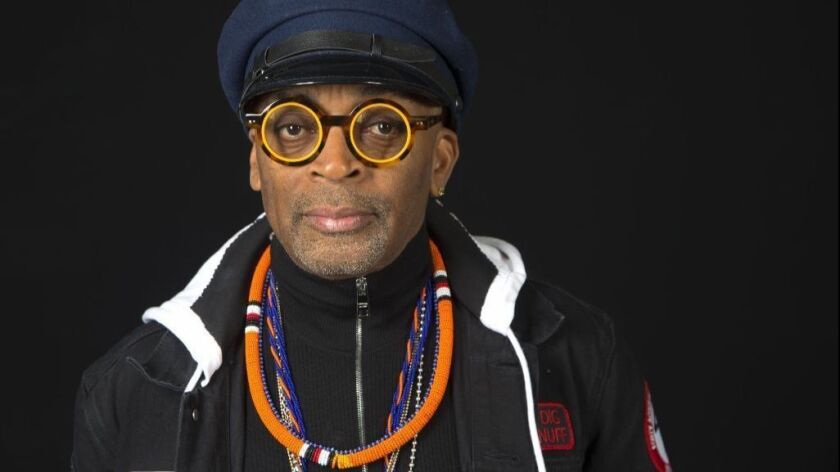 DIRECTOR
Alfonso Cuarón, "Roma"
Yorgos Lanthimos, "The Favourite"
Bradley Cooper, "A Star Is Born"
Spike Lee, "BlacKkKlansman"
Barry Jenkins, "If Beale Street Could Talk"
On the cusp: Damien Chazelle, "First Man"; Ryan Coogler, "Black Panther"; Adam McKay, "Vice"; Peter Farrelly, "Green Book"
In the mix: Steve McQueen, "Widows"; Paul Schrader, "First Reformed"; John Krasinski, "A Quiet Place"; Rob Marshall, "Mary Poppins Returns"; Debra Granik, "Leave No Trace"
Analysis: With eight or nine movies likely headed toward best picture nominations (as has been the case since 2011 when the academy adopted its voting system that allows for a variable roster of five to 10 best picture nominees), there will be a handful of disappointed directors on Oscar morning.
There would be bitter irony if Lee was left off the list for "BlacKkKlansman," his strongest feature film in years. Lee's "Do the Right Thing," now (and then) considered a masterpiece for its examination of race in America, was not nominated for best picture in 1990, the year "Driving Miss Daisy" won. This year, "BlacKkKlansman" is competing against Farrelly's "Green Book," a movie that many critics have called an inverted "Driving Miss Daisy," what with its gentle tale of racial understanding that happens inside an automobile. If the well-liked industry veteran Farrelly earned a nomination here over Lee, whom the academy has never recognized as a director, the internet might be broken forever.
Voters also must decide what to do with all the past Oscar winners in contention — Jenkins (for writing "Moonlight"), McQueen (as a producer of "12 Years a Slave"), Cuarón (for directing "Gravity"), McKay (for co-writing "The Big Short") and Chazelle (for directing "La La Land"). It's a bit early to make any definitive pronouncements on how their fortunes will shake out. Last year at this time, I had Steven Spielberg locked in for "The Post," but the movie failed to ignite much passion beyond Meryl Streep's lead turn. So I'm going to hold off a bit and talk to more voters.
But even with all the heavy artillery in contention, I think the academy will nominate Cooper for his directorial debut. We haven't seen someone (and by "someone," I mean a man, because this is Hollywood) earn nominations for acting and directing since Clint Eastwood pulled off the feat for "Million Dollar Baby" 14 years ago. (Eastwood's comedy routine at the Governors Awards only fueled anticipation to see his December thriller "The Mule.")
Cooper's "A Star Is Born" received great reviews, sold a lot of tickets and updated this piece of Hollywood myth-making in a way that wrecked a lot of people. Obviously, a great deal of thought and care went into the project, even if, by the end, it couldn't quite escape the formula of its source material. The Oscars should open with Cooper and Lady Gaga performing "Shallow." It could well end with him holding the statue for best picture.
CINEMATOGRAPHY
Alfonso Cuarón, "Roma"
James Laxton, "If Beale Street Could Talk"
Linus Sandgren, "First Man"
Rachel Morrison, "Black Panther"
Robbie Ryan, "The Favourite"
On the cusp: Matthew Libatique, "A Star Is Born"; Lukasz Zal, "Cold War"; Bruno Delbonnel, "The Ballad of Buster Scruggs"
In the mix: Charlotte Bruus Christensen, "A Quiet Place"; Sean Bobbitt, "Widows"; Chayse Irvin, "BlacKkKlansman"; Dion Beebe, "Mary Poppins Returns"; Greig Fraser, "Vice"
Analysis: Cuarón was set to reteam with his longtime collaborator Emmanuel Lubezki for "Roma." But when Cuarón kept pushing back the start date for filming, the three-time Oscar-winning cinematographer (including one for Cuarón's last movie, "Gravity") dropped out because of conflicts with previous commitments. Cuarón says Lubezki kidded him, telling him he kept delaying the movie because he wanted to shoot it himself.
If that thought was indeed floating in Cuarón's subconscious, it paid off spectacularly. Shot in black-and-white, 65 mm digital, "Roma" explores the subjective experience of memory and nostalgia through visual filmmaking that is rich and strikingly detailed. The images in "Roma" are everything, and they contain multitudes. This is a movie that creates spaces you want to return to and explore for the rest of your life.
So, yes, I think Cuarón is going to make some Oscar history with this undeniable nomination.
The year, of course, featured other remarkable work in a wide range of movies. Rachel Morrison made history earlier this year, becoming the first woman to earn an Oscar nomination as a cinematographer for her thoughtful visual motifs in "Mudbound." With her naturalistic work in "Black Panther," Morrison could put herself in singular company again. Marvel has never picked up an Oscar nomination outside of the visual effects, sound, and makeup and hair categories. "Black Panther" has a strong chance to change that.
Twitter: @glennwhipp
---