Now that DiCaprio has one, it's Amy Adams' turn to win an Oscar, right?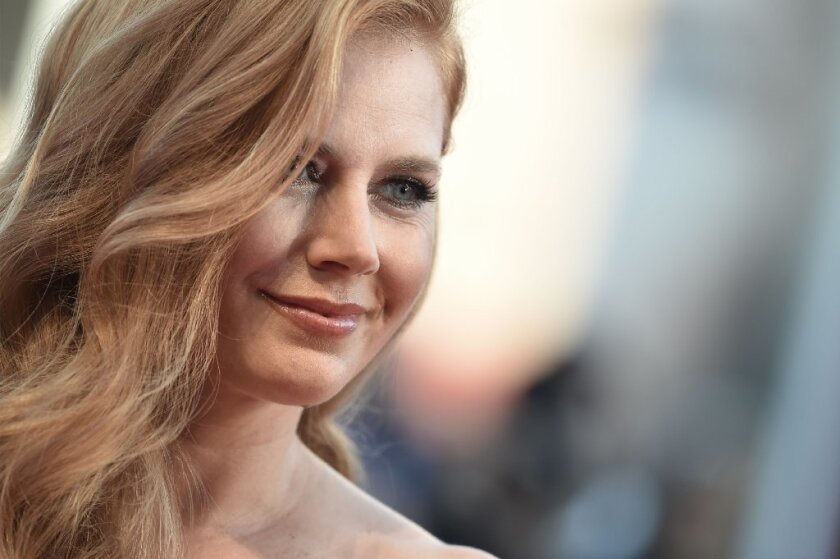 This time last year, we were still a couple of months away from watching Leonardo DiCaprio battle, bludgeon or, if you're Matt Drudge, mate with that angry mama bear in "The Revenant." And yet, most awards pundits already had DiCaprio winning the lead actor Oscar, by the sheer pedigree of the movie's Oscar-winning director, Alejandro G. Iñárritu, as well as the demanding nature of the frontiersman character he was playing.
Just as important, DiCaprio, a four-time nominee, was seen as being due his moment on the podium. And, with the Oscars, timing is often just as important as the work itself.
Which brings us to another accomplished actor, one who has earned five Oscar nominations over the course of her distinguished career: Amy Adams.
Adams has two major films playing at Toronto this week — Denis Villeneuve's sci-fi drama "Arrival" and Tom Ford's dark, nasty thriller "Nocturnal Animals." Both films open in theaters in November.
Is it Adams' turn to finally win an Oscar?
Maybe. But likely not — though she could very well be nominated again. Yes, the 42-year-old actress is overdue. Keep reading and you'll see she should have already taken home at least one Academy Award, maybe two.
And with two major movies arriving within a week of each other in the heart of awards season, she's certainly going to enjoy a high profile. Adams has already been feted at the Telluride Film Festival and has an upcoming tribute at November's Gotham Awards.
But neither "Arrival" nor "Nocturnal Animals" plays as the kind of movie traditionally embraced by Oscar voters. "Arrival" blends spectacle and intimacy with Adams at the center of the story, playing a linguist enlisted to find a way to communicate with alien visitors. It's an emotionally rich performance, effectively conveying the wonder of the situation. But it's also in the middle of a genre movie possessing a story that many academy members might find half-baked at best.
"Nocturnal Animals," set partially in the L.A. art scene, will likely play better with Oscar voters. In it, Adams portrays a deeply unhappy gallery curator who, one day, receives a manuscript written by her ex-husband (Jake Gyllenhaal), a man she hasn't spoken to for nearly 20 years. Reading it dredges up regrets and guilt about the past and highlights the isolation of her current life.
FULL COVERAGE: Toronto International Film Festival »
The movie, directed by Tom Ford ("A Single Man"), is superbly structured, provocative and laced with acidic humor. And, like "Arrival," Adams supplies the movie's crucial center, excelling whether the movie's flashing back or hurtling forward. But "Nocturnal Animals" is also two movies in one — and Adams isn't in one of those films. (The action shuttles between Adams' story and the plot in her ex-husband's manuscript that she spends the movie reading.) Absence, in this case, might make voters' hearts look elsewhere.
But who knows? As I previously noted, like DiCaprio last year, Adams is more than owed. Take a look at her Oscar history:
2006
Nominated for supporting actress: "Junebug" (2005)
Lost to: Rachel Weisz, "The Constant Gardener"
Should Adams have won? Yes.
See, we wouldn't even be having this conversation if the academy had honored Adams right out of the gate for her disarming, comic turn as the chatterbox pregnant wife in "Junebug." At this point, Adams was known mostly for playing DiCaprio's wide-eyed, would-be bride in "Catch Me If You Can." So her performance in "Junebug" — humorous and heartbreaking — made for the kind of "out-of-nowhere" splash that Oscar voters sometimes honor in the supporting actress category. (Think Marisa Tomei.)
Instead they went with Weisz for "The Constant Gardner," a deadly serious John le Carré adaptation that belonged to Ralph Fiennes. Playing Fiennes' young, tempestuous wife, Weisz spends most of the movie dead. Her few scenes contained plenty of emotional fireworks but lacked the depth of Adams' work in "Junebug."
2009
Nominated for supporting actress: "Doubt" (2008)
Lost to: Penélope Cruz, "Vicky Cristina Barcelona"
Should Adams have won? No.
"Vicky" ranks as one of Woody Allen's better recent films, a droll, mature look at love that's most memorable for Cruz's combustible work, which both roasts and revels in the stereotype of the hot-blooded Latin. Adams is quite good as the sweet, hopeful nun in "Doubt," but it's the fourth-best performance in the movie, behind Meryl Streep, Philip Seymour Hoffman and Viola Davis. And none of them won Oscars either.
2011
Nominated for supporting actress: "The Fighter" (2010)
Lost to: Melissa Leo, "The Fighter"
Should Adams have won? No.
Adams revealed another side in David O. Russell's rousing family drama, playing the strong, vulgar barmaid opposite Mark Wahlberg's blue-collar boxer. But the Oscar went to Leo, because impossibly high heels and leopard-print pantsuits are always going to trump blue jeans and sensible shoes. Also: Leo had never had a role like this, a spectacular, chain-smoking force of nature. When you remember "The Fighter," you probably picture Leo's matriarch in that bleach-blond beehive, screaming the truth for the sake of her sons. She earned that Oscar.
2013
Nominated for supporting actress: "The Master" (2012)
Lost to: Anne Hathaway, "Les Misérables"
Should Adams have won? Absolutely.
Adams pretty much played two characters in Paul Thomas Anderson's cult classic — the public and private Peggy Dodd, one motherly and genteel, the other pathologically controlling and suspicious. She was married to the leader of the Cause, and it didn't take long to realize who the Master of the title really was. She'd make a meal out of Lady Macbeth.
But Hathaway Dreamed a Dream and, in a single take (sung live on set!), stole the Oscar.
2014
Nominated for lead actress: "American Hustle" (2013)
Lost to: Cate Blanchett, "Blue Jasmine"
Should Adams have won? No.
Once again, Adams was bested by an actress giving an intense, unhinged performance in a Woody Allen movie. This was Adams' first nomination for lead actress, and she brought a steely determination to her complicated, self-invented dreamer in "Hustle." Russell pushed her to some dark places, and Adams responded with what is arguably her most fearless performance. But she shared the movie with an excellent ensemble — Jennifer Lawrence, Christian Bale and Bradley Cooper, all Oscar-nominated. "Blue Jasmine" belonged to Blanchett.
See the most-read stories this hour »
Twitter: @glennwhipp
---
From the Oscars to the Emmys.
Get the Envelope newsletter for exclusive awards season coverage, behind-the-scenes stories from the Envelope podcast and columnist Glenn Whipp's must-read analysis.
You may occasionally receive promotional content from the Los Angeles Times.