For Constance Wu, 'Crazy Rich Asians' is more than a pop culture hit, it's a movement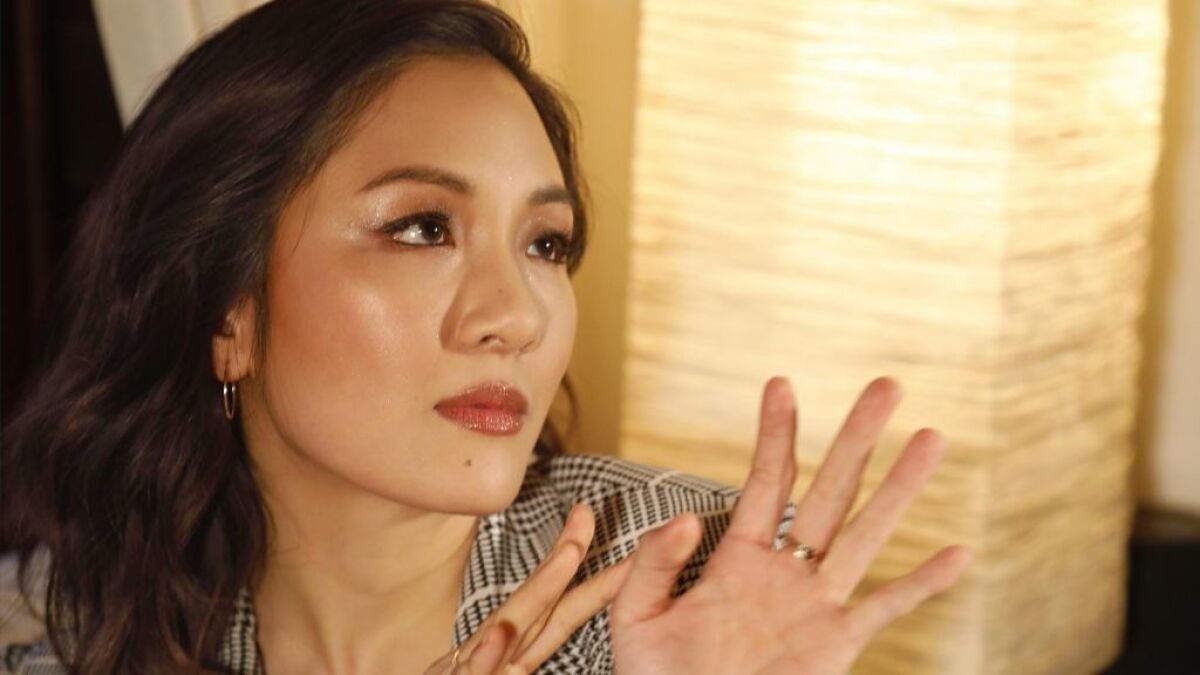 Constance Wu has found herself on the front lines of change in the entertainment industry. In 2015, she earned critical acclaim for her leading role in ABC's "Fresh Off the Boat," an adaptation of Eddie Huang's biography, which became the first television comedy centered on an Asian American family in more than 20 years.
"It's funny, we didn't talk about the drought of Asian American content for 25 years," Wu says. "It wasn't really a big news story, and the reason it wasn't is because we weren't talking, and there wasn't a voice of defiance the way Eddie Huang's voice was a voice of defiance that really kick-started 'Fresh Off the Boat.'"
If "Fresh Off the Boat" started a rallying cry for more Asian American diversity in Hollywood, then "Crazy Rich Asians," an adaptation of Kevin Kwan's popular novel, may have turned that cry into a roar. The Jon M. Chu directed romcom defied all box office expectations last summer, becoming a cultural phenomenon with more than $238.5 million worldwide. Wu says that what's cool isn't just that the movie has meant so much to Asian Americans but that they are surprised by how much it means to them.
"Because their normative standards were just the status quo of Hollywood, right? It's like what I thought when I saw 'Wonder Woman.' I started crying the second I saw that little girl running on screen," Wu recalls. "In theory, I was like, 'Oh, a woman's feature would be great, blah, blah, blah.' But then when it actually happened, it was amazing to me. I was so surprised that it moved me in the way it did."
Wu continues, "I guess there was a hunger for it inside me that I didn't even know I had, because it was something I'd never tasted, I guess. So, that's what I think is happening with 'Crazy Rich Asians' and with a lot of content that's happening right now. And there's still other stories that need to be told."
In the Warner Bros. release, Wu portrays Rachel Chu, a New York professor who travels to Singapore to meet the incredibly wealthy family of her boyfriend Nick, played by newcomer Henry Golding. Rachel is skeptically received by Nick's mother, Eleanor, portrayed by Michelle Yeoh, but their differences are more complex than the familiar storyline of a mother being overly protective of her son. And that was something Wu immediately recognized.
"When I read the script, I even teased Jon about the whole thing. I was like, 'This is more than just a romcom, and not just because it's Asian people,'" Wu says. "This is a statement about identity. It's called 'Crazy Rich Asians,' so, obviously there's the idea of wealth and socioeconomic status. And I thought that it really touched personally my own middle-class roots. I had been accustomed to people underestimating me or people not totally including me as American, but they're not totally including me as an Asian, either."
One of the most impressive scenes in the film finds the two women making their cases to each other as to why or why not Rachel should marry Nick. Chu set the scene in an open-air mah-jongg parlor, where each move in the game corresponds to a point one of the women is trying to make. There was little time to rehearse, but Wu says she did a ton of preparation to build up an emotional backstory as the game plays out.
"When I arrived to the set, I was like, 'Just shoot the scene.' My brain, my heart, everything was buzzing, because I knew that this was it, I knew that this was the voice of the movie, and also the voice of a lot of things that I cared about in my life," Wu says. "And I'm glad it turned out the way it did. I think a lot of that should be credited to Myron Kerstein, the editor. I mean, the way he edited it, the choices he made, I think that's a really big part of it. So, I'm grateful to him."
Her hard work has been rewarded with not only a Golden Globe nomination for lead actress in a comedy or musical, but also a SAG Awards nomination for ensemble — all part of a string of accolades the film has received at year's end.
"I've been saying that for a lot of this, this wasn't just a movie or a job or a tool in our career, it was a movement. It was a movement that's trying to open up a wider, more inclusive, more intersectional breadth of storytelling," Wu says. "We're all lucky to be in this work anyway, that's a gift in and of itself, and I think the best thing that curation of nominees for awards can do is bring light to things that matter to humans in the current climate."
ALSO:
'Crazy Rich Asians': Why the historic Hollywood rom-com matters
'Crazy Rich Asians': Constance Wu talks about what it's like being part of a 'movement'
FULL COVERAGE: Get the latest on awards season from The Envelope »
---
Get our L.A. Goes Out newsletter, with the week's best events, to help you explore and experience our city.
You may occasionally receive promotional content from the Los Angeles Times.