How Christian Bale became Dick Cheney with the help of 'Vice's' prosthetics designer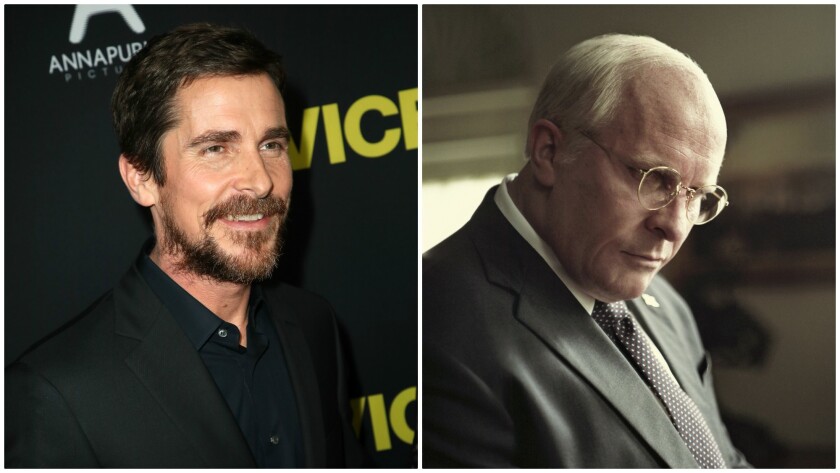 Not long ago, makeup designer Greg Cannom figured his Hollywood career was pretty much over. Even though he'd won Academy Awards for designing "The Curious Case of Benjamin Button," "Mrs. Doubtfire" and "Bram Stoker's Dracula," the 67-year-old prosthetics wizard says, "I hadn't worked in years and figured everybody thought I was dead or something."
One afternoon in early 2018, Cannom was puttering around his Palm Springs home when the phone rang. Two movie producers he'd never met were offering him a job. "They said, 'What do you think about turning Christian Bale into Dick Cheney?' " and I said, 'Ahhh … are you kidding me?!' "
"Vice" producers Jeff Waxman and Jennifer Madeloff were not kidding. But the filmmakers initially pictured a more modest makeover than the jaw-dropping transformation that ultimately earned Oscar nominations for Cannom and co-nominee Kate Biscoe for their makeup contributions to writer-director Adam McKay's satiric biopic.
FULL COVERAGE: Get the latest on awards season from The Envelope »
Cannom recalls, "At first they wanted to have some Cheney in there but have it where you can still see Christian. And I was like, 'That's no fun.' So I just proceeded with what I wanted to do, which turned into full makeup."
Cannom found an enthusiastic and opinionated subject in Bale. After casting a bust of the actor's head and enlisting wig maker Justin Stafford to create 10 hairpieces, he sculpted silicone enhancements during preproduction that would mimic Cheney's aging process through half a century of political life.
"We did a test that I really liked, but Christian went, 'No, it needs to be fatter.' We went back and forth. Of course, he won, so we re-did his makeup, and I remember on the Saturday before we started shooting, I still thought, 'Eh, it's too fat.' But then Christian got into the suit and glasses and teeth and everything, and walked back into the office at the studio, and we all just died!"
Once filming began, Cannom and his team huddled with Bale for three hours every morning in the makeup trailer to reshape his face into a startling facsimile of the former vice president. "We'd start by shaving Christian's head very closely," Cannom says. "Then we used MelPax paint to color his head so the dark bluish black [of his hair roots] doesn't show through."
Next, Cannom and company added silicone "appliances" that varied in thickness depending on Cheney's age for the day's filming. "We'd glue the neck on and then the cheeks, he says. "We'd do the nasolabial folds, which are those creases coming down from the nose. You need to get a kind of fatness on both sides of the mouth. I like to under-sculpt the silicone pieces, knowing that gravity's going to pull the appliance down a little bit.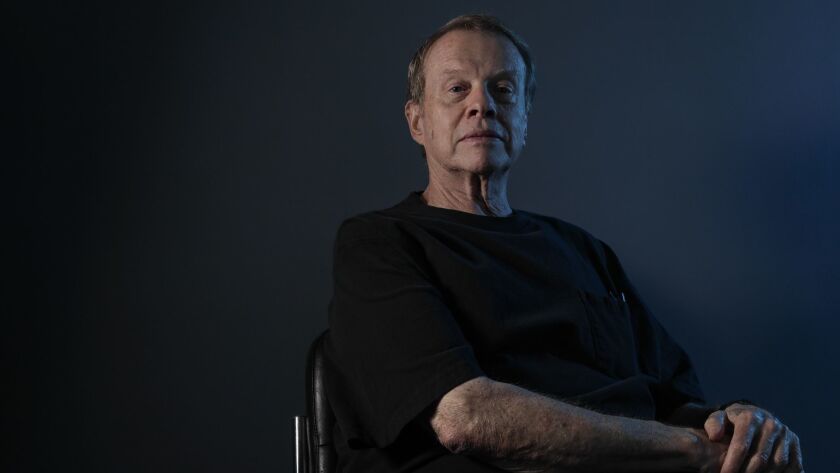 READ MORE: Christian Bale — Man of a thousand physiques »
"We also added small appliances to either side of Christian's nose to straighten it out and make it a tiny bit longer." And, as Cheney aged in the film, Cannom says, "We added the big neck wrap piece. The first time we put it on him, Christian worried if he'd be able to turn his head, but I told him it'll feel just like flesh. He was shocked at how well it moved."
With silicone pieces in place, Cannom and his team focused on color. "We airbrushed alcohol-based liquid color onto Christian's face, which covers really well, but it's flat-looking. So I'd go over that with my own rubber mask grease makeup, which is slightly translucent and gives you a nice skin shine."
The final touch: a simulation of blood in the veins. Cannom says, "I'd take a little stipple sponge and punch up the reds in Christian's cheeks, chin and forehead to bring up a little bit of the red that people have in them. You really have to have an eye for it."
Cannom's eye for color and appetite for the perfect detail have been sharpened over the decades by mentors including "The Wizard of Oz" designer William Tuttle and special effects legend Rick Baker, whose dire predictions about analog makeup proved unduly pessimistic.
Cannom recalls, "Rick used to tell me computers were going to take over, but luckily, makeup is still important. When you look at something like 'Vice' or you see Gary Oldman [as] Churchill, actors still don't want to look like themselves. They want to get lost in the role.
"And now I'm getting some incredible calls to do films again, so that's pretty cool."
---
From the Emmys to the Oscars.
Get our revamped Envelope newsletter, sent twice a week, for exclusive awards season coverage, behind-the-scenes insights and columnist Glenn Whipp's commentary.
You may occasionally receive promotional content from the Los Angeles Times.