In creating 'Black Panther's' Wakanda, production designer Hannah Beachler got to build a new world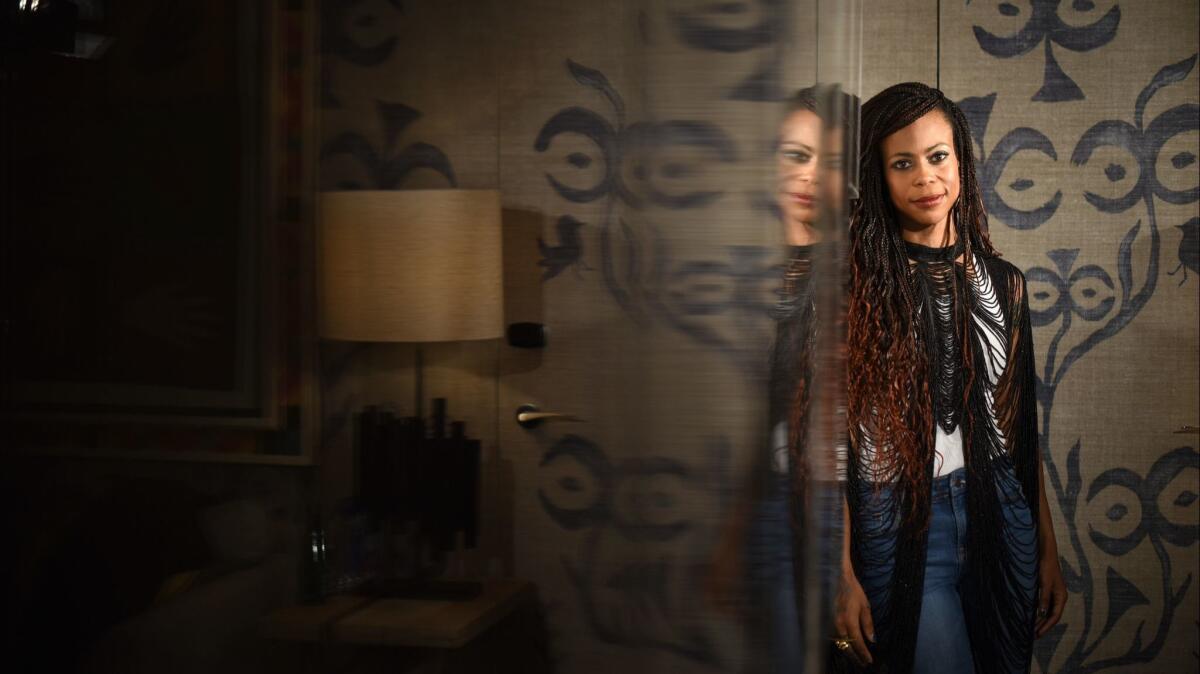 If there were a royal architect to the nation of Wakanda, the post would be held by production designer Hannah Beachler, who conceptualized the sprawling sets for Marvel's blockbuster "Black Panther." "Some of the builds took as much as six, seven months," Beachler says. "These were huge sets: Warrior Falls, Hall of Kings, the Great Mound, the casino in South Korea, Busan. We built the Rondavels that are out by the border tribe. We built the throne room that you see in the palace. We built all of that. It was a massive undertaking."
Beachler first worked with the film's director, Ryan Coogler, on his 2013 breakthrough, "Fruitvale Station," teaming with him again for his acclaimed 2016 follow-up, "Creed." Although their third project was, by far, the most challenging, Beachler, whose other recent credits include Oscar winner "Moonlight" and Beyoncé's video album "Lemonade," was more than up to the task.
READ MORE: The bold costumes of 'Black Panther' join tradition and technology »
Speaking to The Envelope by phone, the New Orleans-based Beachler, winner of the Los Angeles Film Critics Assn. production design award, discussed her influences — both in terms of African architecture and comic book history — and the larger themes of identity and ancestry that give the film's detailed designs so much resonance and weight.
What kinds of conversations did you have with Ryan Coogler coming into this project, where you're being asked to design an entire country and culture?
A big part of the conversation we had was [about determining] where Wakanda was located on the continent because everything would then be affected by that — what tribes would have migrated to Wakanda 10,000 years prior? Ryan wanted to know what the people did — where did they work? What are the street names? What are the parks called? What are the different provinces in Wakanda, and why are different people living in different climates and with different topography? We had to design all of that because we needed it to be a breathing, living, existing place. In a sense, we all had to become Wakandan.
We also talked a lot about what it means to be African. What does that mean to an African American girl from Ohio? What does that mean to an African American man from Oakland? What is our relationship with Africa having been cut off from that heritage hundreds of years ago? We were talking about a lot of those personal, emotional things to create Wakanda.
What inspiration did you draw from the original comic books by Stan Lee and artist Jack Kirby?
When I first started looking at Jack Kirby and Stan Lee's Wakanda, I was trying to understand where they were coming from... what they knew of Africa back in '68. For me, it was a lot about paying homage to the men who fought to bring this superhero into the world, so there's a lot of the shapes that they used, a lot of the colors they used, the idea of Wakanda being in a place that was hard to get to, sort of isolated. We took that as source [material] to use as our Golden City, which was our capital of Wakanda.
Ancient traditions and advanced technology exist together in Wakanda. How did that influence the choices you made?
[Architect] Zaha Hadid was a big influence. If you look at Nairobi and Lagos, they are hugely modern cities with Zaha Hadid buildings in them that are very voluptuous-looking and beautiful, but they live within this landscape without disrupting nature. When I was [doing research] in South Africa, I took a lot of pictures of … these huge 20-foot anthills; they're towering. I thought, those are our skyscrapers. Because there were holes for the ants to go in and out of everywhere, it felt like a building, but it blended in and it worked with the landscape. It was built for a reason. I felt like that was what our city had to be.
Wakanda is powered by the precious metal known as Vibranium, but wood came to the forefront for the Jabari mountain tribe sets.
In Japan, there's a treatment that they do to wood — they burn it — and it actually makes the wood stronger once it's burned. It's a beautiful application. On that set, we burned a lot of wood. And because wood was so important to them, we started hanging the Birch logs that you see in Jabari. At first I wanted those to be spears — I wanted it to be an intimidating place … You come about this design language through the story. That's often why I say I'm a story designer because with these little details, I can come up with a design.
From the Oscars to the Emmys.
Get the Envelope newsletter for exclusive awards season coverage, behind-the-scenes stories from the Envelope podcast and columnist Glenn Whipp's must-read analysis.
You may occasionally receive promotional content from the Los Angeles Times.