'Lady Bird' is the word this awards season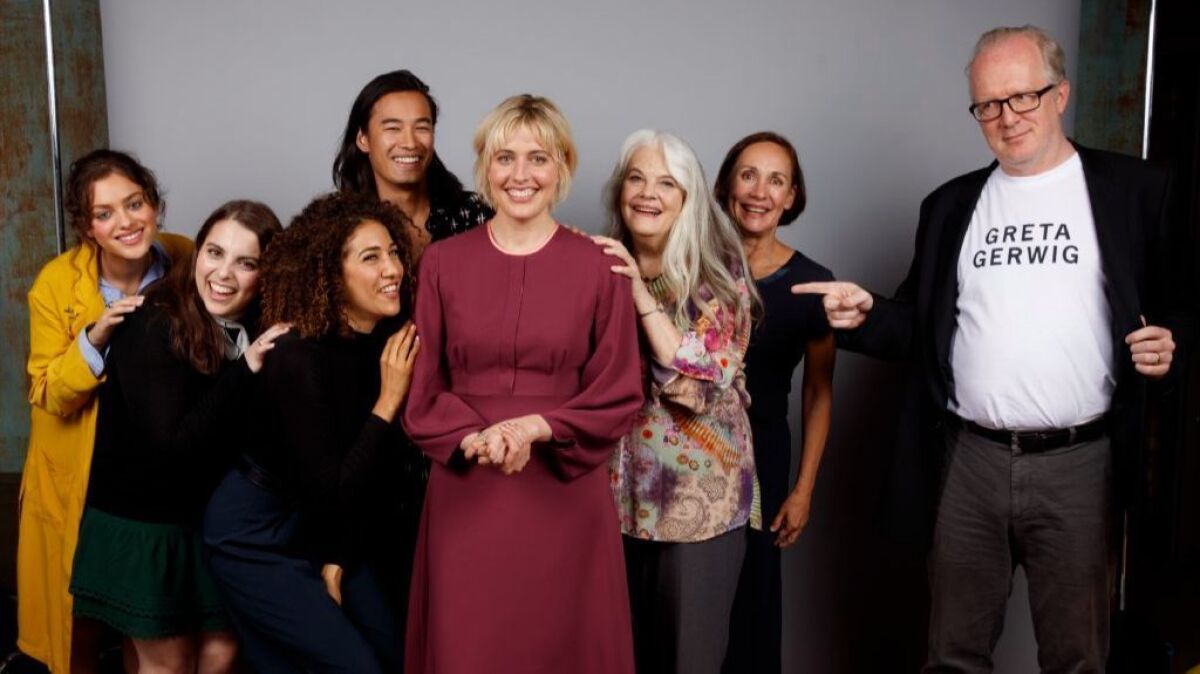 Get used to the name "Lady Bird" because you'll be hearing it repeatedly over the course of the next four months.
Welcome to the Gold Standard, the newsletter from the Los Angeles Times that helps guide you through the ins and outs of the awards season leading up to the Oscars.
I'm Glenn Whipp, The Times' awards columnist and your newsletter host.
Greta Gerwig's 'Lady Bird' lands after festival raves
Academy voters have swooned for coming-of-age stories recently, mostly because of their undeniable artistry. Two of the very best movies of the last three years — Barry Jenkins' "Moonlight" and Richard Linklater's "Boyhood" — took the genre to unexpected places both in form and emotional depth.
"Lady Bird," which opens today in Los Angeles and New York, also possesses that special something, courtesy of writer-director Greta Gerwig's keen ear and eye for the way mothers and daughters and adolescent girls relate to each other. Like all great movies, there's both an authentic specificity to the storytelling as well as a broader truth that makes it universal.
Gerwig's coming-of-age story follows a free-thinking high school senior, Lady Bird (Saoirse Ronan), looking to escape Sacramento (or, as she calls it, "the Midwest of California"). My colleague Kenneth Turan gives it a rave review here, lauding Gerwig, Ronan and the other members of the superb ensemble, including Laurie Metcalf, who plays Lady Bird's mom. And Times film critic Justin Chang was equally enthusiastic seeing "Lady Bird" at Toronto, writing about it here.
I spoke to Gerwig following the Toronto premiere on a chilly rooftop patio. You can read that conversation here. And I can promise you, that won't be my last word on this remarkable movie.
'Last Flag Flying': Lesser Linklater
I wish I could share my colleague Justin Chang's enthusiasm for Richard Linklater's latest, "Last Flag Flying," another film opening today in limited release.
The movie stars Bryan Cranston, Steve Carell and Laurence Fishburne as three Vietnam veterans reunited by unfortunate circumstances decades after serving together. Justin writes that the film is "a pointed consideration of the hard choices that Americans of all generations have made to serve their country, and of the betrayal they have felt when that country has not risen to the level of their sacrifice."
I will say Justin's review makes me want to watch the movie a second time. That's what thoughtful, reasoned criticism does.
But "Last Flag Flying" earned decidedly mixed notices at its New York Film Festival premiere, and it currently sports a 62 score at review aggregator Metacritic. (I found it self-conscious and unconvincing in its portrayal of the relationship among the men.) The tepid response has left its awards season prospects very much in doubt.
Keep an eye on Sam Rockwell
The Times' holiday film preview runs this weekend. It includes an interview with the great Sam Rockwell, consistently one of the most interesting actors working in film.
Rockwell plays a dim deputy looking for redemption in "Three Billboards Outside Ebbing, Missouri," which opens in theaters next weekend. It's an unforgettable performance because, like the movie, it consistently veers off into new, unexpected and emotionally affecting places. You can read about Rockwell's exceptional work in this movie here.
Feedback?
I'd love to hear from you. Email me at glenn.whipp@latimes.com.
Can't get enough about awards season? Follow me at @glennwhipp on Twitter.
Twitter: @glennwhipp
From the Oscars to the Emmys.
Get the Envelope newsletter for exclusive awards season coverage, behind-the-scenes stories from the Envelope podcast and columnist Glenn Whipp's must-read analysis.
You may occasionally receive promotional content from the Los Angeles Times.