Newsletter: Gold Standard: Political movies arriving just in time for midterms ... and awards season
The midterms are around the corner, and Hollywood has a host of feature films and documentaries — many of them Oscar hopefuls — lined up for audiences.
Welcome to the Gold Standard, the newsletter from the Los Angeles Times that helps guide you through the ins and outs of the awards season leading up to the Oscars.
I'm Glenn Whipp, The Times awards columnist and your newsletter host.
Filmmakers look to the past to comment on today's politics
There's no escaping politics these days, so why would you think you can find respite in movie theaters? Even a straightforward historical drama like Damien Chazelle's "First Man" becomes entangled in partisanship. (For those who haven't seen it, there are a lot of American flags in the movie, even if you don't see the iconic act of one being planted on the moon.)
Times film writer Josh Rottenberg looks at upcoming movies — the Ruth Bader Ginsburg biopic "On the Basis of Sex," the Gary Hart political sex scandal drama "The Front Runner" and "Vice," Adam McKay's look at the life of Vice President Dick Cheney — that tackle modern political currents by looking at recent history.
Meanwhile, Times staffer Amy Kaufman talks to documentary filmmakers such as Errol Morris who are examining the forces that led to Donald Trump's election.
And Times film critic Kenneth Turan examines the ways that documentarians are approaching politics, arguing that the most successful films are the ones that attempt to solve pressing problems and not point fingers.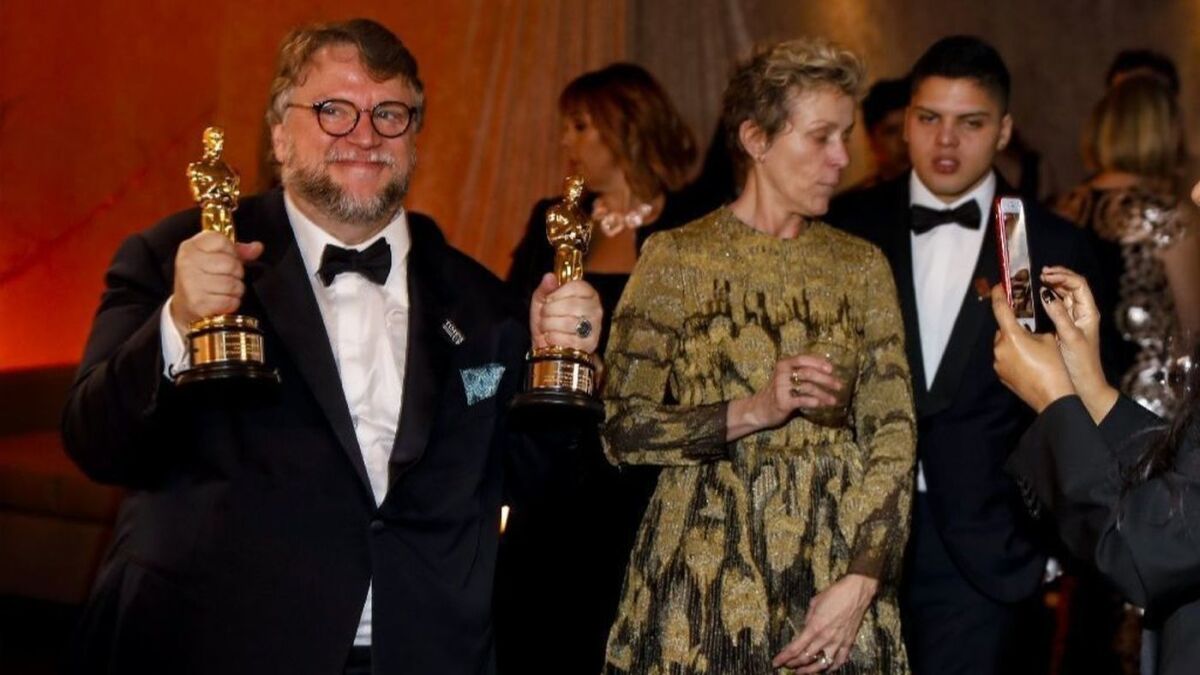 New Oscars producer tasked with shortening the show
The motion picture academy has tapped Oscar-winning producer Donna Gigliotti to produce next year's Academy Awards — a ceremony that will be scrutinized more than ever because of the group's recent mandate to limit the telecast to three hours.
Glenn Weiss will co-produce and direct the show. Weiss won an Emmy in September for producing this year's Oscars, providing the Emmys with one of its most memorable moments by proposing to girlfriend Jan Svendsen during his acceptance speech.
The academy recently announced that it would cap the show at three hours, moving the presentation of six to eight of the 24 awards categories to commercial breaks during the program. Gigliotti will be tasked with making that work, though as many readers tell me time and time again, it's not the length of the telecast that bothers them, it's the political content of the speeches and opening monologue.
I'm guessing these folks probably won't be first in line to see that Cheney biopic in December.
Melissa McCarthy's career-best turn
"Can You Ever Forgive Me?," the true-story character study about a lonely writer who turns to forgery to pay the bills, opened to fine business last weekend. I loved it. Melissa McCarthy has never been better, and even if you think she's not your thing, you should open your mind to her affecting and memorable work here. If you do, you'll find it a breakthrough performance, one that could earn McCarthy a second Oscar nomination.
And my colleague Turan shares my enthusiasm, writing that the movie "demands not our love for this supremely difficult person but, rather, our respect for her defiance of an unsympathetic world. With such an impeccable presentation of such an intransigent personality, it is hard to deny her that." You can read his review here.
"Can You Ever Forgive Me?" will be expanding into more theaters this weekend.
Feedback?
I'd love to hear from you. Email me at glenn.whipp@latimes.com.
Can't get enough about awards season? Follow me at @glennwhipp on Twitter.
Twitter: @glennwhipp
---
From the Oscars to the Emmys.
Get the Envelope newsletter for exclusive awards season coverage, behind-the-scenes stories from the Envelope podcast and columnist Glenn Whipp's must-read analysis.
You may occasionally receive promotional content from the Los Angeles Times.