'Tell the judge I love my wife': The team behind 'Loving' brings a quiet civil rights battle to life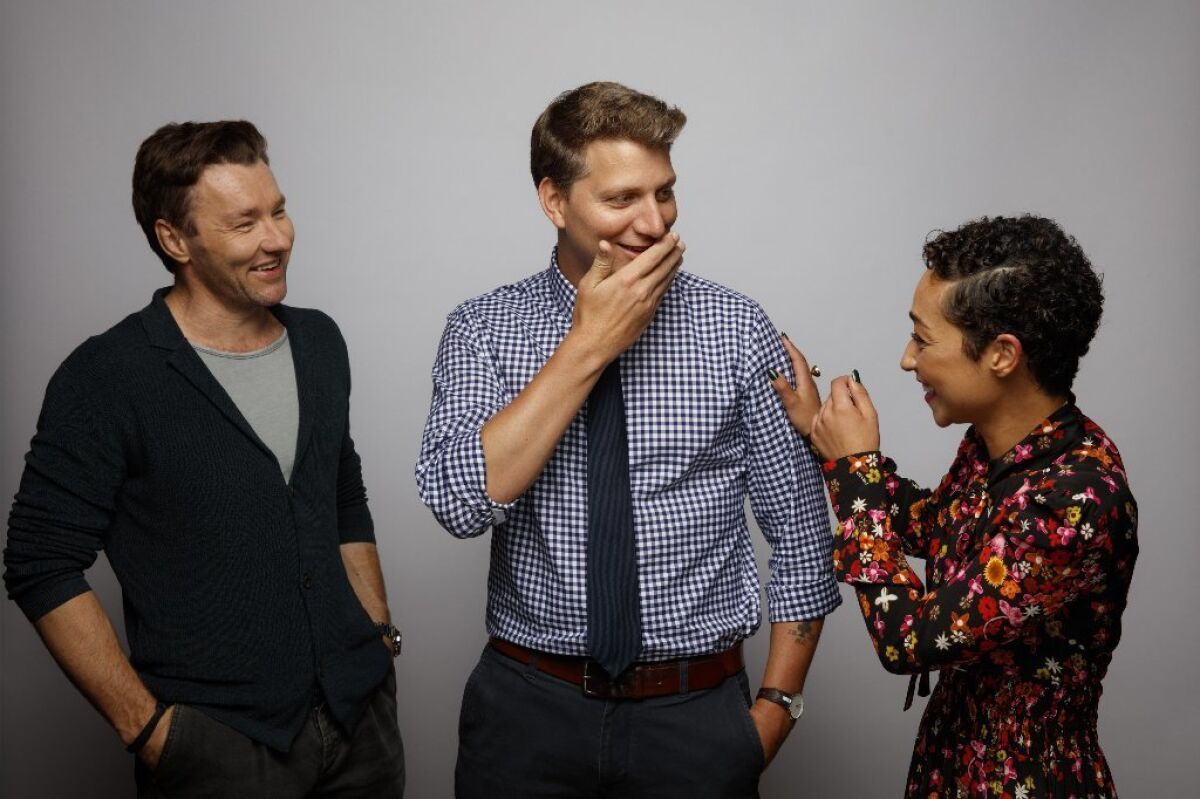 "Loving," the story of Richard and Mildred Loving's historic legal fight to have their interracial marriage recognized by the state of Virginia, is a civil rights story that most Americans don't know. Maybe the reason for its relative obscurity comes from the fact that the Lovings' defiance wasn't marked by violence, but by the couple's deep, abiding love.
The powerful, patient film, written and directed by Jeff Nichols, stands as one of the great movie love stories of recent times. Curiously — and purposely — there aren't many mentions of the word "love" in the film, save for a great line, spoken by Joel Edgerton, who plays Richard, near the end of the movie. Asked if he had a message for the Supreme Court justices hearing the Lovings' case, Richard says: "Yeah. Tell the judge I love my wife."
"Loving" director Jeff Nichols shares how he cast Ruth Negga as Mildred Loving.
The line is the favorite of actress Ruth Negga, who plays Mildred with a quiet, steely conviction. And it's cherished by Nichols' wife of eight years, Missy. ("I might have to get T-shirts made with that quote," the Arkansas-born director jokes.) Nichols' thoughts on his own marriage influenced what he wanted to convey about the Lovings' commitment to each other.
"It's really about the moments in between the anniversaries and the I-love-yous," he said. "It's about how you stay committed through hard times, harrowing times, like for the Lovings, but also mundane times and the daily parts of life. When I look at my own marriage, that's where the love is. That's where the real work is."
Richard and Mildred Loving married in Washington in 1958. A few weeks after returning home to Virginia, they were arrested for violating the state's Racial Integrity Act, which criminalized interracial marriage. The couple pleaded guilty to violating the law, their one-year jail sentence suspended on the condition that they leave Virginia — and their home and families — and not return for 25 years. Eventually, Mildred forced the issue, with the Supreme Court ruling in the Lovings' favor in 1967.
"Loving" actor Joel Edgerton explains why he believes Richard and Mildred's story is not as widely known as other civil rights stories.
The movie makes good on Nichols' promise to represent the Lovings in good times and bad, grounding the film early in the couple's playful, devoted relationship. It's all about the deeds — living, laughing, raising children, washing dishes — not declarations. Witnessing their courtship and day-to-day life makes its legally sanctioned disruption all the harder to bear.
To do this, Nichols relied on Edgerton, a 42-year-old Australian with a long resume in movies over the last decade, and Negga, an Ethiopian-Irish actress, best known as the gun-toting Tulip O'Hare on AMC's "Preacher." Nichols, a thoughtful man not given to pat answers, finds it difficult to neatly summarize the chemistry between the two. (He chuckles at his "underwhelming" description in an earlier quote in which he explained it simply as "Joel and Ruth liked each other.")
Nichols said he realized he had something special early on when the two actors shared an intimate scene, intertwined, face-to-face.
Actor Joel Edgerton talks about how even in the face of adversity, the one thing Richard Loving wasn't willing to do was divorce his wife.
Negga and Edgerton, over the course of a couple of conversations — a lunch during the Toronto International Film Festival and an interview in Los Angeles — explain that they bonded over their mutual love of the real Richard and Mildred and a shared fear, as they prepared to make the film, of not doing right by these ordinary heroes.
"My other fear," Edgerton said, "was thinking, 'When are you going to get another opportunity like this?' Which going into it, might make it too precious. But I think I already knew Jeff was going to make a great movie and our job was not to [mess] it up. Because an opportunity like this … when is that ever going to happen again?"
"I was bereft when it ended, bereft," Negga said. "Still am a bit."
Negga's Mildred drives the story, a dignified, smart woman — Edgerton calls her a "rural princess" — who knew there needed to be a societal shift and that she would have to reluctantly lead the way. Richard wanted it all to go away; Mildred wrote Bobby Kennedy, then attorney general, asking for help. (There's a telling moment in the 2012 HBO documentary about the couple, when Richard asks, "Who was that person you wrote to again?")
"These convoluted, corrosive laws didn't make sense to her — and they shouldn't have made sense," Negga said. "Ruth was a quiet woman, but she wasn't about to be cowed by others' reduction of her."
In person, Negga and Edgerton share a rapport anchored in respect and laughter, reminiscent of their real-life counterparts. Once, in the documentary, Richard and Mildred playfully defer to each other when a question is posed. "You answer." "No, you answer." Talking to the actors is a bit like that, sometimes feeling like eavesdropping on a private conversation shared between two fast friends.
Actress Ruth Negga talks about the feeling and energy of filming at the real locations where events depicted in the movie took place.
"I remember where it started, where I really connected with Ruth, was when we went to the grave site of Richard and Mildred and seeing Ruth standing in the field, having her own response to that," Edgerton said. "I was back near the car, and I could see that she was already connected to the story. That day, I realized, 'OK, we're in this together.'"
They continue to be united, months after the movie finished shooting, participating in festival Q&As and talking to audience members after screenings. You get the feeling that, if they could, they'd stand in the lobby of every theater showing "Loving," spreading the word about Richard and Mildred.
"Our film does something to people physically and emotionally," Negga said. "People who lived that time still can't believe it was only 50 years ago where two people who loved each other couldn't be married. It reminds us to step out of that complacency. That was a moment in time but it's not all wrapped up and done. It's continuing. That's what the film is reminding us of. It's like a siren."
Envelope Screening Series: 'Loving'
On Now
Video: 'Loving' full Q&A: Jeff Nichols, Joel Edgerton and Ruth Negga
On Now
Joel Edgerton on why more people aren't aware of the Lovings' story
On Now
Joel Edgerton on why 'Loving's' Richard and Mildred stayed together
On Now
'Loving' director Jeff Nichols shares what attracted him to the civil rights love story
On Now
Director Jeff Nichols on the 'Loving' cast: 'The first person I cast was Ruth'
On Now
Ruth Negga feels the energy while filming 'Loving' in places the real events occurred
Twitter: @glennwhipp
ALSO
Oscars 2016 preview: Waiting for the day when inclusion is no longer news
Hollywood has long shown discomfort with interracial couples, but change is happening
True stories are grabbing the Oscar spotlight from novels like never before
Ruth Negga on Mildred's quiet defiance and how 'the Lovings' story isn't over'
Review: 'Loving' tells the moving tale of a husband and wife who made history because their love was a crime
Get our L.A. Goes Out newsletter, with the week's best events, to help you explore and experience our city.
You may occasionally receive promotional content from the Los Angeles Times.