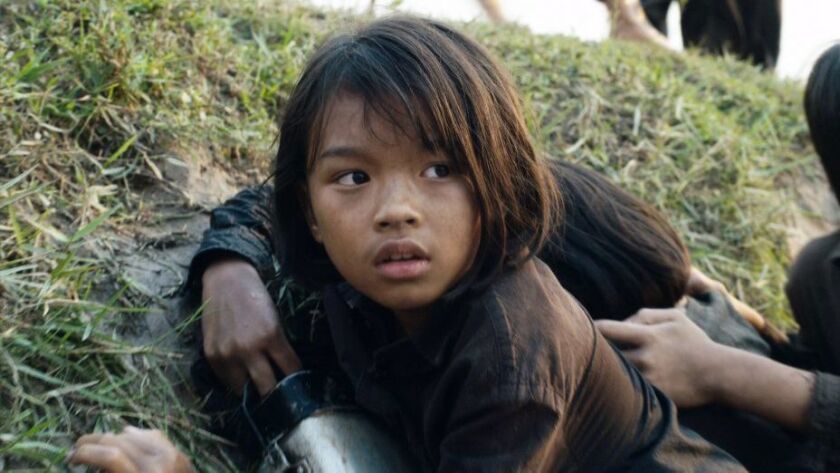 A record 92 countries submitted movies for consideration in the foreign-language film category for the 90th Academy Awards, the film academy announced Thursday, blowing past last year's milestone mark of 85.
Six countries — Haiti, Honduras, Lao People's Democratic Republic, Mozambique, Senegal and Syria — are first-time entrants.
Early front-runners include Ruben Ostlund's provocative Palme d'Or winner "The Square," as well as "Foxtrot," a daring look at loss and grief that won raves at the Venice Film Festival, "Loveless," a stark thriller from "Leviathan" director Andrei Zvyagintsev, "BPM (Beats Per Minute)," a portrait of Parisian AIDS activists, "A Fantastic Woman," featuring an acclaimed turn by transgender actress Daniela Vega, and "First They Killed My Father," Angelina Jolie's adaptation of Cambodian author Loung Ung's memoir of surviving the deadly Khmer Rouge regime.
Jolie has held dual U.S./Cambodian nationality since 2005 for her humanitarian work in the country.
"First They Killed My Father" is currently streaming on Netflix. Sporting a $24-million budget, it is the biggest movie ever shot in Cambodia.
Academy members who volunteer to serve on the nominating committee will begin watching the submitted movies next week. The academy will announce a shortlist of nine movies — six based on scores from volunteers and three chosen by an executive committee — in December.
Nominations for the 90th Academy Awards will be announced Jan. 23.
Here's the complete list of this year's submissions:
Afghanistan, "A Letter to the President," Roya Sadat, director
Albania, "Daybreak," Gentian Koçi, director
Algeria, "Road to Istanbul," Rachid Bouchareb, director
Argentina, "Zama," Lucrecia Martel, director
Armenia, "Yeva," Anahit Abad, director
Australia, "The Space Between," Ruth Borgobello, director
Austria, "Happy End," Michael Haneke, director
Azerbaijan, "Pomegranate Orchard," Ilgar Najaf, director
Bangladesh, "The Cage," Akram Khan, director
Belgium, "Racer and the Jailbird," Michaël R. Roskam, director
Bolivia, "Dark Skull," Kiro Russo, director
Bosnia and Herzegovina, "Men Don't Cry," Alen Drljević, director
Brazil, "Bingo - The King of the Mornings," Daniel Rezende, director
Bulgaria, "Glory," Petar Valchanov, Kristina Grozeva, directors
Cambodia, "First They Killed My Father," Angelina Jolie, director
Canada, "Hochelaga, Land of Souls," François Girard, director
Chile, "A Fantastic Woman," Sebastián Lelio, director
China, "Wolf Warrior 2," Wu Jing, director
Colombia, "Guilty Men," Iván D. Gaona, director
Costa Rica, "The Sound of Things," Ariel Escalante, director
Croatia, "Quit Staring at My Plate," Hana Jušić, director
Czech Republic, "Ice Mother," Bohdan Sláma, director
Denmark, "You Disappear," Peter Schønau Fog, director
Dominican Republic, "Woodpeckers," Jose Maria Cabral, director
Ecuador, "Alba," Ana Cristina Barragán, director
Egypt, "Sheikh Jackson," Amr Salama, director
Estonia, "November," Rainer Sarnet, director
Finland, "Tom of Finland," Dome Karukoski, director
France, "BPM (Beats Per Minute)," Robin Campillo, director
Georgia, "Scary Mother," Ana Urushadze, director
Germany, "In the Fade," Fatih Akin, director
Greece, "Amerika Square," Yannis Sakaridis, director
Haiti, "Ayiti Mon Amour," Guetty Felin, director
Honduras, "Morazán," Hispano Durón, director
Hong Kong, "Mad World," Wong Chun, director
Hungary, "On Body and Soul," Ildikó Enyedi, director
Iceland, "Under the Tree," Hafsteinn Gunnar Sigurðsson, director
India, "Newton," Amit V Masurkar, director
Indonesia, "Turah," Wicaksono Wisnu Legowo, director
Iran, "Breath," Narges Abyar, director
Iraq, "Reseba - The Dark Wind," Hussein Hassan, director
Ireland, "Song of Granite," Pat Collins, director
Israel, "Foxtrot," Samuel Maoz, director
Italy, "A Ciambra," Jonas Carpignano, director
Japan, "Her Love Boils Bathwater," Ryota Nakano, director
Kazakhstan, "The Road to Mother," Akhan Satayev, director
Kenya, "Kati Kati," Mbithi Masya, director
Kosovo, "Unwanted," Edon Rizvanolli, director
Kyrgyzstan, "Centaur," Aktan Arym Kubat, director
Lao People's Democratic Republic, "Dearest Sister," Mattie Do, director
Latvia, "The Chronicles of Melanie," Viestur Kairish, director
Lebanon, "The Insult," Ziad Doueiri, director
Lithuania, "Frost," Sharunas Bartas, director
Luxembourg, "Barrage," Laura Schroeder, director
Mexico, "Tempestad," Tatiana Huezo, director
Mongolia, "The Children of Genghis," Zolbayar Dorj, director
Morocco, "Razzia," Nabil Ayouch, director
Mozambique, "The Train of Salt and Sugar," Licinio Azevedo, director
Nepal, "White Sun," Deepak Rauniyar, director
Netherlands, "Layla M.," Mijke de Jong, director
New Zealand, "One Thousand Ropes," Tusi Tamasese, director
Norway, "Thelma," Joachim Trier, director
Pakistan, "Saawan," Farhan Alam, director
Palestine, "Wajib," Annemarie Jacir, director
Panama, "Beyond Brotherhood," Arianne Benedetti, director
Paraguay, "Los Buscadores," Juan Carlos Maneglia, Tana Schembori, directors
Peru, "Rosa Chumbe," Jonatan Relayze, director
Philippines, "Birdshot," Mikhail Red, director
Poland, "Spoor," Agnieszka Holland, Kasia Adamik, directors
Portugal, "Saint George," Marco Martins, director
Romania, "Fixeur," Adrian Sitaru, director
Russia, "Loveless," Andrey Zvyagintsev, director
Senegal, "Félicité," Alain Gomis, director
Serbia, "Requiem for Mrs. J.," Bojan Vuletic, director
Singapore, "Pop Aye," Kirsten Tan, director
Slovakia, "The Line," Peter Bebjak, director
Slovenia, "The Miner," Hanna A. W. Slak, director
South Africa, "The Wound," John Trengove, director
South Korea, "A Taxi Driver," Jang Hoon, director
Spain, "Summer 1993," Carla Simón, director
Sweden, "The Square," Ruben Östlund, director
Switzerland, "The Divine Order," Petra Volpe, director
Syria, "Little Gandhi," Sam Kadi, director
Taiwan, "Small Talk," Hui-Chen Huang, director
Thailand, "By the Time It Gets Dark," Anocha Suwichakornpong, director
Tunisia, "The Last of Us," Ala Eddine Slim, director
Turkey, "Ayla: The Daughter of War," Can Ulkay, director
Ukraine, "Black Level," Valentyn Vasyanovych, director
United Kingdom, "My Pure Land," Sarmad Masud, director
Uruguay, "Another Story of the World," Guillermo Casanova, director
Venezuela, "El Inca," Ignacio Castillo Cottin, director
Vietnam, "Father and Son," Luong Dinh Dung, director
Twitter: @glennwhipp
---