From 'First Man' to 'Mary Queen of Scots,' some of this season's top film scores tap into the humanity of the story at play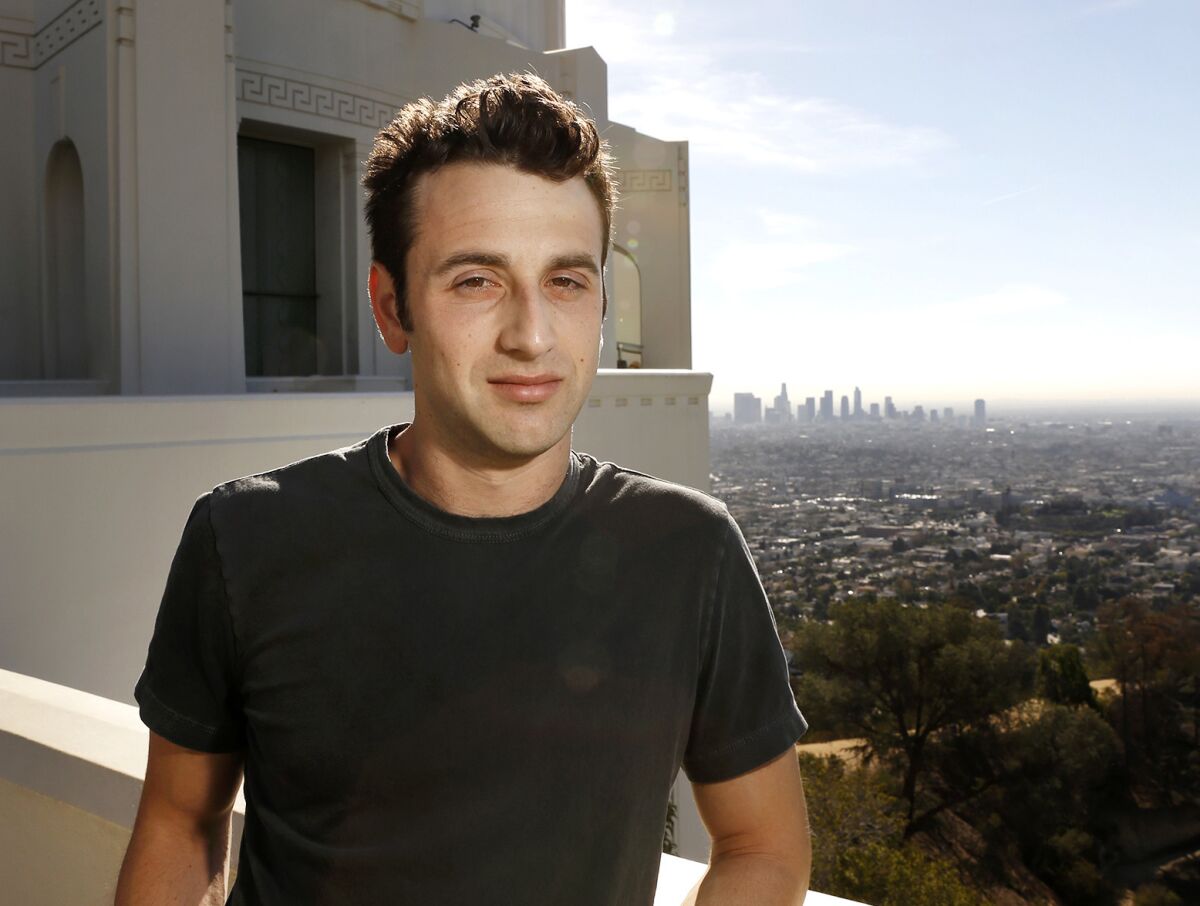 The heart of an enigmatic American icon, explored with fragile harp and wailing theremin. The gutsy adventures of a black cop who goes undercover in the KKK, paralleled with two different musical languages. A woman who spent her whole life in the shadow of her famous husband, given voice by minimalist melancholy. A journey to the tender interior of two brothers in the Old West, traveled to the off-kilter beat of French-hued jazz. And a bridge built between the Elizabethan musical world and our own for the blood-soaked bond between two headstrong queens.
If some of this year's best film scores have anything in common, it's that they take surprising routes into humans who are unknown — or unseen.
Justin Hurwitz
"First Man"
Who was Neil Armstrong? Other than his seminal achievement — the first human to step foot on the moon — most people know little about the astronaut from Ohio. "First Man," directed by Damien Chazelle, attempts to penetrate his stoic silence and find the heartbeat within.
Composer Justin Hurwitz, whose score for Chazelle's monster musical "La La Land" won an Oscar, found it using two underused instruments: solo harp and theremin.
"Even though he's steely on the outside, he has a real vulnerability on the inside that we wanted to get at with the harp," said Hurwitz, who wrote a delicate theme for Armstrong's young daughter, Karen. In the film, her death becomes the Rosebud in his incredible life.
"The theremin is inherently electronic and technological," the composer said, "but it has a really human quality to it, in the sense that it is picking up every little movement you make. It almost sounded, depending on how you play it, like wailing or crying. It evoked this sort of cosmic pain."
Hurwitz wrote his major themes, and even scored critical scenes, before Chazelle ever shot the film — approaching sequences like they did the musical numbers in "Whiplash" and "La La Land." Star Ryan Gosling then listened to the music on set to get into Armstrong's emotional space.
Hurwitz matched the film's handmade, shaky look by running recordings of his string orchestra through a Leslie rotor cabinet — a speaker case where the speaker spins around inside — giving parts of the score a stuttering, quivering sound.
His theme for Armstrong's skybound ambitions, first performed with dance-like castanets during a Houston training montage, finally joins with Karen's theme in the heart-pounding moon landing sequence — the climactic fusion of the heartbroken astronaut's career and family lives.
It's a statement-making score, in both the nakedness of solo harp and the audacity of that thrilling, action waltz, received a Globe nomination.
"The scores that we bonded over at first in college were like French New Wave scores," said Chazelle, who met Hurwitz at Harvard, "where the music often feels like it's almost going on its own sort of thing that's not entirely wedded to picture. And yet, together, they create something that neither on their own could create."
Terence Blanchard
"BlacKkKlansman"
"BlacKkKlansman" is the 23rd project Terence Blanchard has scored for director Spike Lee — and, in many ways, the culmination of their prolific collaboration.
"We just have a great thing," Lee said. "You know, sympatico."
The film is based on the true story of Ron Stallworth (John David Washington), the first black police officer in Colorado Springs who, in the late 1970s, went undercover inside the Ku Klux Klan by pretending to be a white man over the phone. It's a rollicking caper with many laughs and some delicious comeuppance — but always with a sizzling undercurrent of all-too-real racism.
Blanchard, 56, wrote a score that weds nostalgic, symphonic Americana with the groove of his R&B/jazz band, the E-Collective.
"Boy, I relate to the moment where [Stallworth's] telling his captain, 'Well, I speak the Queen's English, but I also speak jive,'" said Blanchard, a jazz trumpeter from New Orleans. "So you have the sophistication of the orchestra, right, that swells and becomes very voluminous at some points and then just kind of hovers and gives you tonal color for some of the brighter moments. But then in the midst of all of that is guitar, and there's a groove underneath."
The electric guitar, which wails Ron's theme over the orchestra, was inspired by another patriot like Stallworth.
"I started to think about Jimi Hendrix playing the national anthem," Blanchard said , "and I thought, that's probably one of the most patriotic musical things that I've heard. It represented to me the notion that women and people of color have been screaming for decades: 'We're Americans too, who should be afforded the same rights as anybody else.'"
The score is almost like a narrator in the film, said Lee, who always shares a new script with Blanchard before almost anyone else. It's also, he said, the film's soul.
The composer, whose other scores include "Malcolm X" and "25th Hour," has never been nominated for an Oscar. Lee first met Blanchard when the jazzman played trumpet on the director's earliest scores, composed by his father, Bill Lee.
"A lot of times people hear the word 'jazz' and they think that that's something else, and not as worthy as the other stuff," Lee said, sighing. "But that's not the world I was brought up in. I hope that this film really gets him the recognition that he deserves."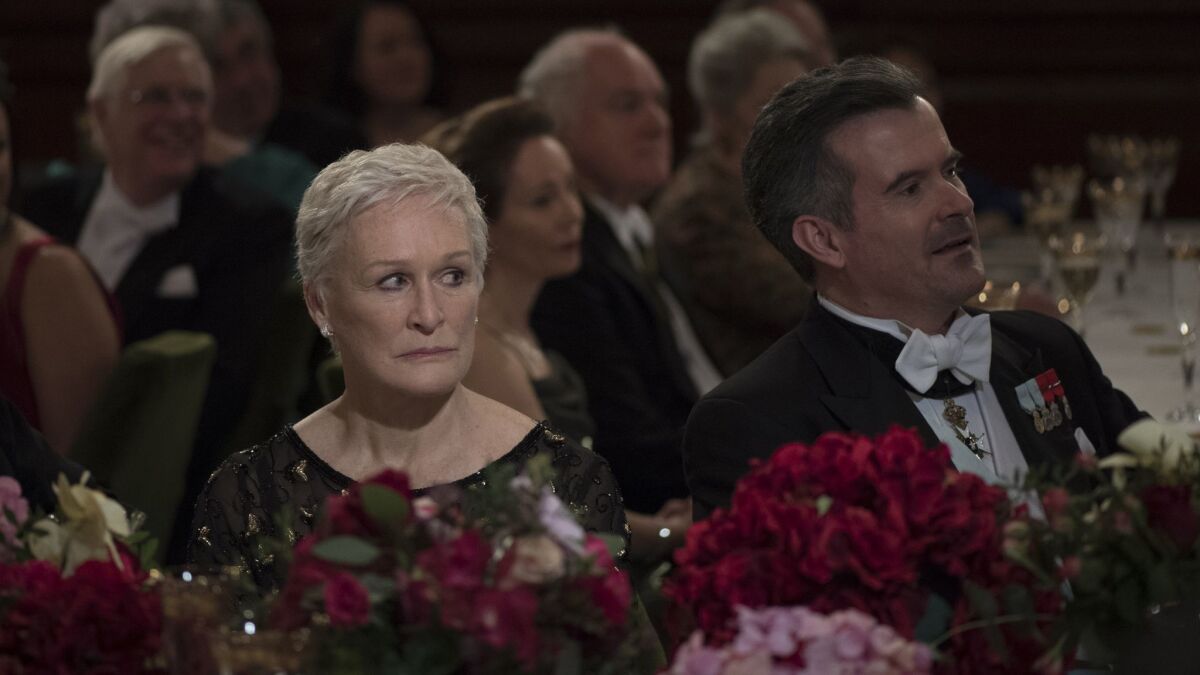 Jocelyn Pook
"The Wife"
Jocelyn Pook likes to use the word "undercurrents" when she talks about scoring films. Her score for "The Wife" brings the undercurrents of Glenn Close's long-suffering, long-silent genius hidden in her novelist husband's shadow, up to the surface.
Director Björn Runge has wanted to work with the English composer ever since he heard her music in Stanley Kubrick's "Eyes Wide Shut," and this was finally his chance.
"It's complex music," he said, "and I like complexity."
Glenn Close's character, Joan, presents herself to the world as the doting, supportive "woman at his side," but as the story progresses we learn she is harboring a deep well of secret ambition. Pook's minimalist score for strings, piano and harp undulates with an elegant sorrow.
"Joan's soul comes to an expression through the music," said Runge. "Something in the music connected to the melancholy experience that Joan has gone through in her marriage."
"It's very much the undercurrents in the wife's character," explained Pook, "and the seething rage that's gradually building throughout the piece, that's been there — very dormant, but there."
The composer noted a "very sad scene" near the end of the film, where her score is "about grief and loss. It was nice, because [Runge] is very careful with how he uses music. It's there for a reason when it's there."
One of the few women to have scored a major motion picture this year, Pook can relate to the hiddenness of a talented woman. She loved writing music when she was young, but "I just thought people like me didn't become composers," she said. "You just felt you weren't worthy."
Fortunately, many filmmakers — as well as orchestras and opera companies — have sought out her unique sound.
"I tend to be approached by directors who know my music," she said. "It's good, because I'm not a pastiche composer. I have a particular voice, I suppose, that wouldn't be right for everyone. So people usually ask me for the right reasons. I've had a really nice variety of projects.
"But not the Hollywood kind of movies, in general," she said. "Yeah. The weirder ones."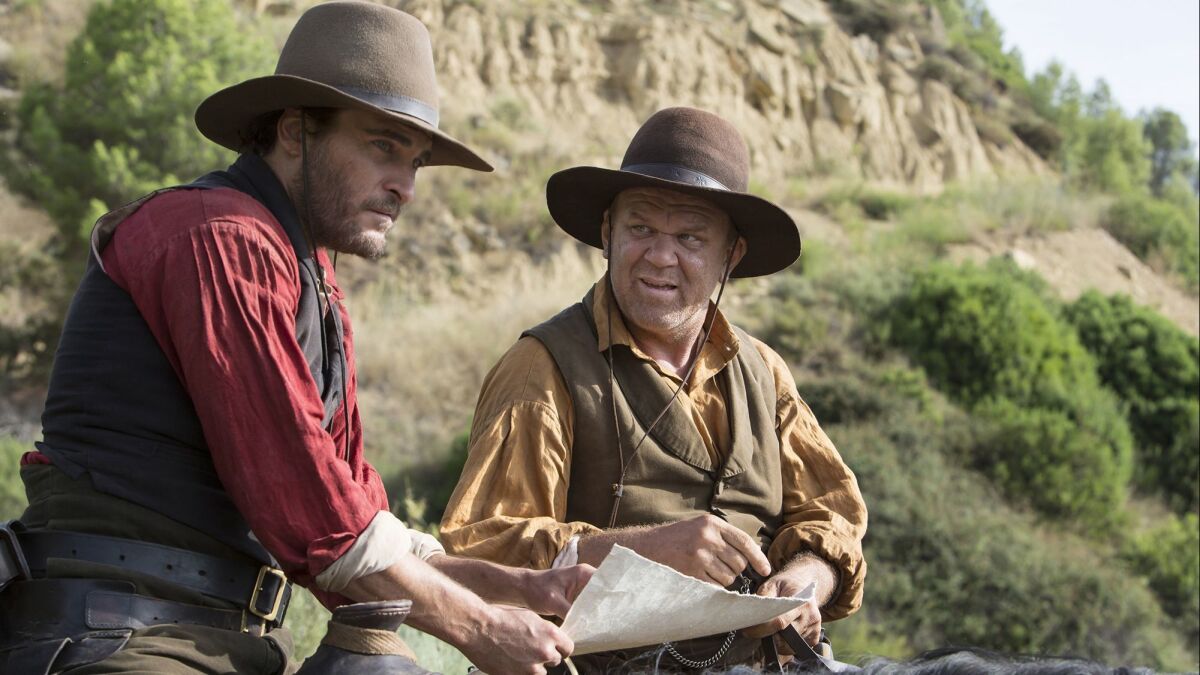 Alexandre Desplat
"The Sisters Brothers"
Alexandre Desplat had never scored a western before "The Sisters Brothers," and he was desperate to avoid clichés.
"No epic horns or brass. No depressing guitars. No banjos, like John Williams' [western] score. And no weird, kind of ironic, operatic music like Morricone," he said.
Fortunately, the film avoided — or at least subverted — cliché at every turn. Directed by the eminent Frenchman Jacques Audiard, who has collaborated with Desplat since 1994's "See How They Fall," the story is about a pair of hired-killer brothers (John C. Reilly and Joaquin Phoenix) in 1850s Oregon, tracking a gold prospector with a revolutionary new formula.
The film was shot in Europe and seen through non-American eyes, which helped Desplat chart a new course with the music. He ditched the Americana signatures of the genre and avoided commenting on the majesty of the vistas and instead focused on the story's central relationship.
"When you see the wide landscape of the West, you feel like you need to fill the frame with a big orchestra," he said. "But as soon as I did that, it would kill the intimacy of the two brothers."
So he wrote the score mostly for a quirky jazz combo — guitars, pianos, drums and bass, which he recorded in Paris — and a small string ensemble, "so it keeps it very near to your ear."
The score trots along on a bluesy piano loop, punctuated by tack piano and electric violin. The latter instrument shimmers and snakes throughout the score, giving it an almost alien quality.
"As they go, their reptilian brains start to become a bit more educated, or to evolve," Desplat said. "When the film starts, they live like animals — they sleep with the horses, in the forest, and they have nothing else to think than 'kill.' As they start talking and riding their horses together and seeing other people, and modernity coming towards them, suddenly their brain starts to click to another dimension.
"The music does play that, too. It takes them towards a place that they had not planned to go to."
Desplat's other major score this year, for "Isle of Dogs," is completely different but equally unconventional.
"There's always a surprise when Wes calls me," said the composer, who won an Oscar for Wes Anderson's "The Grand Budapest Hotel," and has been nominated for a Golden Globe for "Isle." "This one was: How do we use Japanese drums but try to mix them with other instruments and sounds? I came up with this jazz walking bass, a bunch of saxophones [instead of any other woodwinds or brass], male voices, some recorders. It created a very, very strange sound that belongs to only Wes Anderson's world."
Max Richter
"Mary Queen of Scots"
War drums beat throughout the score for "Mary Queen of Scots." First-time filmmaker Josie Rourke's spin on the well-trodden tale, starring Saoirse Ronan as Mary Stuart and Margot Robbie as Elizabeth I, finds a raw, poetic urgency in all of the relational roller coasters and throne-gaming. The film trusts we know how Mary's story ends, and Max Richter's score rumbles with the constant reminder of the executioner's drum — the pulse of fate.
The British concert and opera composer, who has increasingly exported his neoclassical minimalism into TV ("The Leftovers") and film ("Hostiles"), began his expedition with the cousin queens by writing a grand, circular theme that united them.
"Even though these two women are adversaries, they are actually the only people alive who could possibly understand one another's position," he said. "They're both these young women with extraordinary obligations placed upon them by a male world. While they're nominally in charge, their agency is very much circumscribed. I wanted them to have a shared music which reflected that."
His melody for Mary was assigned to the cor anglais, a melancholy instrument that also, being a French name for an English horn, mirrored the Scotswoman raised in France. Contrasting the opulence of Elizabeth against Mary's more humble court, Richter used a golden concert harp for the former and the more folk-like Celtic harp, the cláirseach, for the latter.
The score opens and closes with the sound of female voice. Richter recorded an eight-singer choir that specializes in Renaissance music because he wanted their pure tone, and he created an ambient cloud that hovers over the film with elegant dissonance. For the film's warmongering men, the composer wrote "doomy, heavy music" for his beefy, 110-piece orchestra in London.
The drums were a combination of Renaissance-era animal-skin drum and field drum replicas and modern percussion. During pre-production, Richter helped select the authentic pieces played by lutist Rizzio in the film and even wrote a Gaelic victory chant. The queen theme is grounded in ground bass, a staple of Elizabethan composition. But the score is gorgeously modern in its minimalism and ambient coloring.
"Josie's film doesn't feel remote from us," Richter says. "I wanted to plant these period musical processes in the musical language, just as a way to connect the Elizabethan musical universe with our own modern-day musical world."
FULL COVERAGE: Get the latest on awards season from The Envelope »
---
Get our L.A. Goes Out newsletter, with the week's best events, to help you explore and experience our city.
You may occasionally receive promotional content from the Los Angeles Times.