Oscar nominee Yalitza Aparicio breaks down her three most emotional scenes from 'Roma'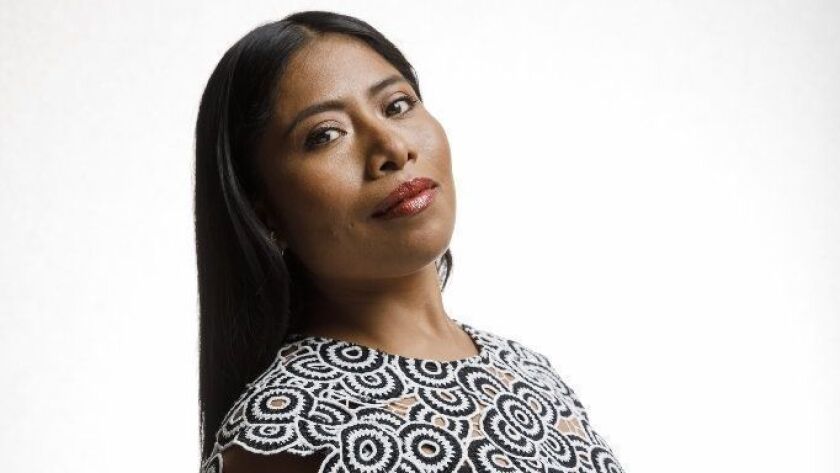 When Yalitza Aparicio earned a lead actress Oscar nomination for her turn as Cleo, the nanny who tirelessly cares for a middle-class Mexico City family in "Roma," much was made of her becoming the first indigenous woman to earn such recognition.
Somewhat lost in this historic first was the work itself. Alfonso Cuarón, who wrote and directed "Roma," basing the film on his memories of growing up with his own nanny, Liboria Rodriguez, says that Aparicio "crafted the character from beginning to end."
"And on top of that, she was faced with a new universe," Cuarón says of the newcomer, who had no acting experience prior to "Roma." "By the second day of the shoot, she had an amazing understanding of what she needed to do and how to access her emotions."
FULL COVERAGE: Get the latest on awards season from The Envelope »
Cuarón never showed the actors his script, preferring to tell them about the day's work each morning in order to avoid studied performances. Aparicio says that process helped, enabling her to concentrate freshly on each new day, each new challenge.
"Not being a trained actor, had Alfonso given me the script, I would not have known how to study it and build a character," says Aparicio, who arrives at this interview from the Oscar nominees luncheon, where she sat next to Bradley Cooper. ("I told him I did not expect that ending," she says, referring to her experience watching "A Star Is Born.")
Instead she relied partly on Cuarón's direction, also drawing on a conversation she had with Rodriguez before the movie and her own memories of her mother's experiences as a domestic worker in her hometown of Tlaxiaco, Mexico. The result is a work of astonishing empathy.
Speaking in Spanish, Aparicio, 25, shared her memories of three key "Roma" scenes. Obviously, if you haven't seen the film, you might want to put this aside for later reading.
READ MORE: 'Roma's' Alfonso Cuarón shows us the Mexico City streets that shaped his Oscar-nominated film »
Señora Teresa (Verónica García) and Cleo, pregnant and nearly due to give birth, pass student demonstrators and riot policemen on the way to a furniture store to buy a crib. A paramilitary group attacks the demonstrators, one of whom runs into the store to take refuge. He is followed inside and murdered. As Cleo witnesses this, a gun is pointed at her. It is revealed that Fermín (Jorge Antonio Guerrero), the man who impregnated her and a member of the paramilitary force, is holding it.
The scene is based on the 1971 Corpus Christi massacre, in which nearly 120 student protesters were killed.
What Cuarón told Aparicio before the cameras rolled: You are going to this furniture store to buy a crib, and you feel a little bit embarrassed.
What Aparicio remembers: "Once we got to the set and I saw the people holding signs, I could tell they were students by the way they were dressed, and I started to wonder what they were there for. I expected a demonstration, but I didn't expect it to devolve like it did and become violent.
"We rehearsed this scene inside the furniture store just to know where we'd be standing. But we didn't know the student was going to be shot. I imagine Jorge Antonio must have rehearsed separately, because I didn't even know he was on set that day.
"Once the cameras started rolling and the action was happening in the back of the room, I looked in that direction to see what was happening. Then in the far back, I heard Alfonso say, 'Turn around,' and I suddenly saw Jorge Antonio there, and I was very surprised, because he already had his gun up. And I could not do anything but stare at that gun, because I was afraid of what was going to happen.
"I should add that I was wearing a prosthetic containing some kind of strange liquid. So I knew there was going to be some kind of effect happening, but I didn't know what it was going to be. Was the liquid water? Or was it blood? All I heard was Alfonso asking somebody, 'Did you guys check to see it was the right color?' So I was very scared that he had the gun. To me, there was the possibility that Fermín might shoot Cleo.
"Once that first take was over and I realized he wasn't going to shoot me, Alfonso came over and said, 'OK. I need to redo that scene and have you look around and react to some of the other things that are happening and not just stare at the gun.' I had been so single-focused, which he understood. And of course, I also learned that the effect was going to involve Cleo's water breaking.
"Some of the shock was of Cleo again seeing Fermín. The last time they had been together, he had denigrated and hurt her so. I remember when it was over, I went and sat down someplace just to recover. And one of the crew members walked past me, and I overheard him say, 'I can't believe that's what he said to our Cleo.' And he repeated it: 'Can you guys believe this is what he just said to her?' The crew was just as shocked as I was."
Leaving the furniture store, Cleo is rushed to the hospital, where she gives birth to a stillborn baby.
What Cuarón told Aparicio before the cameras rolled: This is the moment that the baby is going to be born.
What Aparicio remembers: "Because the sets were so realistic and the people who were there were actual doctors and nurses, it was pretty easy, as it so often was, to forget about me and just become Cleo. And when this scene was over, I just sort of came to myself and looked almost quizzically at Alfonso. The whole thing almost felt like it had been a horrible dream.
"When that first take ended, I was just sobbing and sobbing, and I told Alfonso that I thought there was going to be a live baby. I expected to go into another room and, like a lot of other films, there would be an ellipsis and I would be holding the baby. He asked me later if I thought he should have told me. No. I understood why he did it. But that didn't make it easier.
"During that scene, when they asked me if I wanted to hold the baby, I didn't think about it. I just reacted: Yes. Part of that 'yes' was because, even then, some part of me was still hoping there was going to be this moment where they were going to say, 'Oh, my God, the baby's now breathing! The baby's coming back!' There was still some small part of me that was holding onto that hope that it wasn't true, that the baby wasn't dead. So me holding that baby was because I wanted to make sure that what they were telling me was actually true."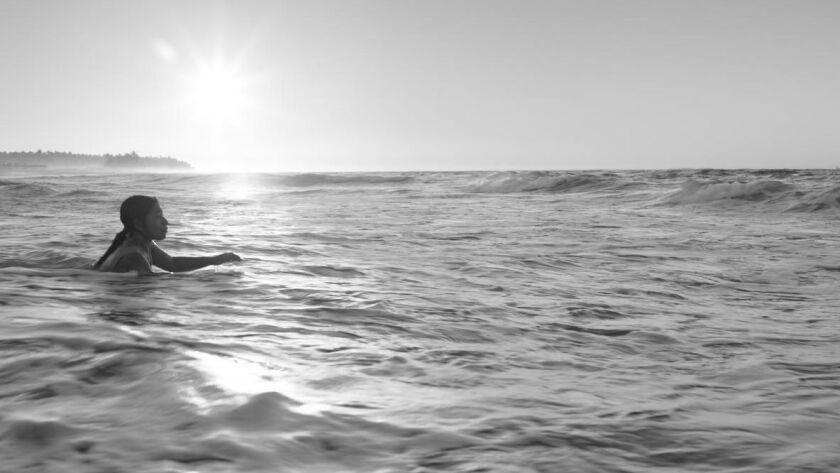 READ MORE: 'Roma's' Aparicio is so much more than her Oscar fairy tale »
Cleo watches the children at the beach as they swim. When a riptide begins to sweep them away, she strides out into the ocean to rescue them.
What Cuarón told Aparicio before the cameras rolled: He explained how far she'd have to go into the ocean, noting that there were lifeguards. She would grab the kids and then return to the shore. And he told her that the two children Cleo was saving were like her own, something Aparicio had heard from Rodriguez when she spoke with her before "Roma" began.
What Aparicio remembers: "Alfonso kept telling me it wasn't that deep. But of course he was saying that because he is much taller than me. The kids were deep — for my taste, a little too deep. But there were scuba divers in the water, and Alfonso had also gotten lifeguards who were following the camera. And the children were telling me, 'We know how to swim! We'll save you!'
"Once I was in the water, I forgot all these safety precautions were there. My focus was on the kids. And there was that one moment where their little heads go underwater, and my heart was racing. At that moment, I felt panic. At that point, something like a maternal instinct kicked in, and all I could think of was the fact that I need to go to where the kids were and save them, despite the fact that I was really scared being in the water and not knowing how to swim.
"We couldn't really hear Alfonso's direction because of loudness of the waves. After we finished, he came over to congratulate us, telling us we had done it well.
"I remember the first time I saw it in the movie, I was mostly affected by the sound. Because it really was the sound that magnified the emotion. When I saw it a second time, I was really sort of shocked at myself and thought, 'How did I do that? What was I thinking that I could go into that water and pull this off?'
"Even now when I watch that scene and I hear that sound of the waves as she goes into the water — as I go into the water — and you hear the roaring of the waves, my heart just beats faster and faster and faster."
Twitter: @glennwhipp
---
From the Emmys to the Oscars.
Get our revamped Envelope newsletter, sent twice a week, for exclusive awards season coverage, behind-the-scenes insights and columnist Glenn Whipp's commentary.
You may occasionally receive promotional content from the Los Angeles Times.