Three new series that could win Emmy voters' hearts and minds
With each passing month, a fresh new series hits the airwaves, especially on fresh new(er) networks. Three of the latest entries to attract critical attention are all costume dramas of a sort: a royal period production; a fortunate adaptation of a children's book series and a creation of darkest humor whose lead wears a comedic mask to hide her pain. Here's the breakdown of new series that just might catch Emmy's eye this season.
'A Series of Unfortunate Events,' Netflix
The beloved children's book series by Lemony Snicket (Daniel Handler) follows the travails of young Violet, Klaus and Sunny Baudelaire (played by Malina Weissman, Louis Hynes and Presley Smith, respectively). After the loss of their parents and home in a suspicious fire, the children are entrusted to the thoroughly untrustworthy Count Olaf (Neil Patrick Harris), who will sink to any depths to steal their fortune. Handler takes the reins in adapting his grim and gory – or is that Grimm and Gorey – series for Netflix, and director Barry Sonnenfeld (director of the "Men in Black" movies) adds his style as showrunner.
See the most read stories this hour »
The reviews: The San Francisco Chronicle's David Wiegand finds the show "not only binge-worthy, it's binge-demanding." But Newsday's Verne Gay begs to differ, finding that "a little bit of 'Lemony' goes a long way. This is so richly seasoned — so unrelentingly seasoned — that bingeing is ill advised." Meanwhile, Entertainment Weekly's Jeff Jensen finds its stories eerily topical: "Pop culture for dangerous, uncertain times, and a cathartic fantasy to inaugurate the age of Trump."
The scoop: Sonnenfeld and Handler were both fired from the 2004 "Snicket" feature film, a most unfortunate event at the time, but "lucky in retrospect, because I think it works better as a television show," says Sonnenfeld, who also directed four of the first season's eight episodes. So far, each book of the "Series" series unfolds over two episodes, unmarred by commercial breaks.
Stylistically, Sonnenfeld and production designer Bo Welch created the Snicket world entirely on stages, "so that it should have an artifice to it, but still be emotionally engaging," Sonnenfeld says. The intimate series, now in production on Season 2, has already scored a third season renewal.
'Victoria,' PBS Masterpiece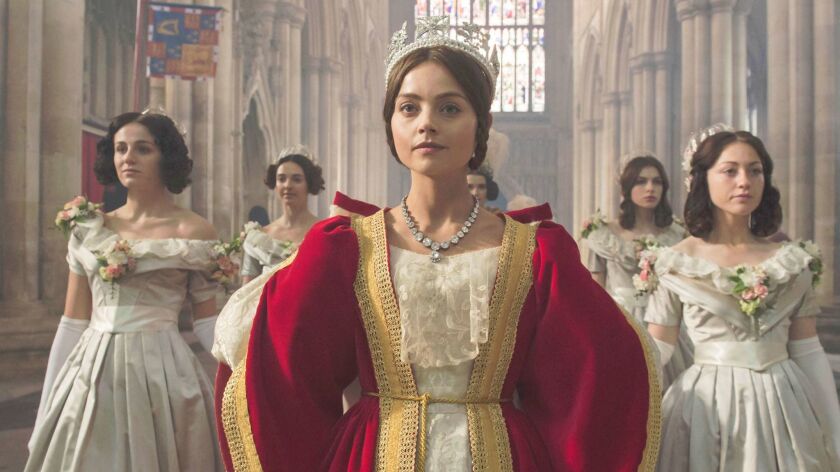 This addition to PBS' "Masterpiece" canon, created by Daisy Goodwin, stars Jenna Coleman as the tiny yet mighty queen. Sheltered almost to the point of dysfunction, the 18-year-old goes from having her hand held when walking down stairs to ruling the British empire. Despite missteps, she finds the steel to take up the role, surprising all around her. And in finding love with the man everyone tries to foist on her, she surprises herself as well.
The reviews: British critics have taken the show to task for various historical inaccuracies, but happily, Americans are more forgiving. As the Hollywood Reporter's Tim Goodman notes, "If no license is given, you might as well read a history book," and calls the show "thoroughly enjoyable and addictive," lauding Coleman and Rufus Sewell (as Lord Melbourne) for their magnetism. Mike Hale of the New York Times gives and takes away, noting that Coleman "plays the queen in much the same way she played the Doctor's companion on several seasons of "Doctor Who" — spunky, sharp-edged, thoroughly modern. She's immensely likable, and not in the least believable as a historical monarch."
The scoop: In order to play the little queen, Coleman dove into research. She found Queen Victoria's sketchbooks as informative as any of the biographies, because "they're the only things that we have of hers that haven't been edited."
Considering Victoria's upbringing, Coleman marvels at her "veins of iron," noting that the queen's own father called his baby girl a "Pocket Hercules." "The role of being queen never made her lose her own identity in any way," she says. "She always remained very firm throughout her life." That was, in many ways, the most challenging aspect of the role: "being totally unafraid to be completely unlikable, to embrace her flaws."
'Fleabag,' Amazon
"Fleabag" may be the most heartbreaking comedy on TV. Phoebe Waller-Bridge, the show's creator, stars as the eponymous Fleabag, a single woman bolloxing up her life in London on a daily basis, introducing us to men like Bus Rodent and Arsehole Guy as she goes. Her actions catch up with her, and with us: Fleabag addresses the audience directly, even in the most intimate moments.
The reviews: Dustin Rowles of Uproxx calls it "one of the most distinctive, original comedies of the last several years — think Tig Notaro crossed with 'Broad City' — and if we're lucky, Waller-Bridge will become one of the leading creative voices of her generation." IndieWire's Ben Travers says the show "slowly assimilates serious subject matter into a viciously funny comedic format," adding that "the deep emotions at play in the latter will make you feel like Fleabag is speaking directly to you - even when she's not."
The scoop: British playwright-actress Waller-Bridge developed the show from a 10-minute storytelling piece to a one-woman show to the series. Throughout the process she has given herself, and her audience, an emotional workout. "I knew I wanted this to go as dark as a drama might do with a character who poses as a comic character," she says. "I haven't seen that before, and that was something I was really excited about trying to nail." For all of Fleabag's outrageous sexual antics, it's the funny, wrenching relationship between Fleabag and her sister Claire (Sian Clifford) that forms the heart of the show, Waller-Bridge says. "It's the classic rom-com story, but with sisters."
---
From the Emmys to the Oscars.
Get our revamped Envelope newsletter for exclusive awards season coverage, behind-the-scenes insights and columnist Glenn Whipp's commentary.
You may occasionally receive promotional content from the Los Angeles Times.