How Elisabeth Moss spent her summer 'vacation': Four movies and a floor covering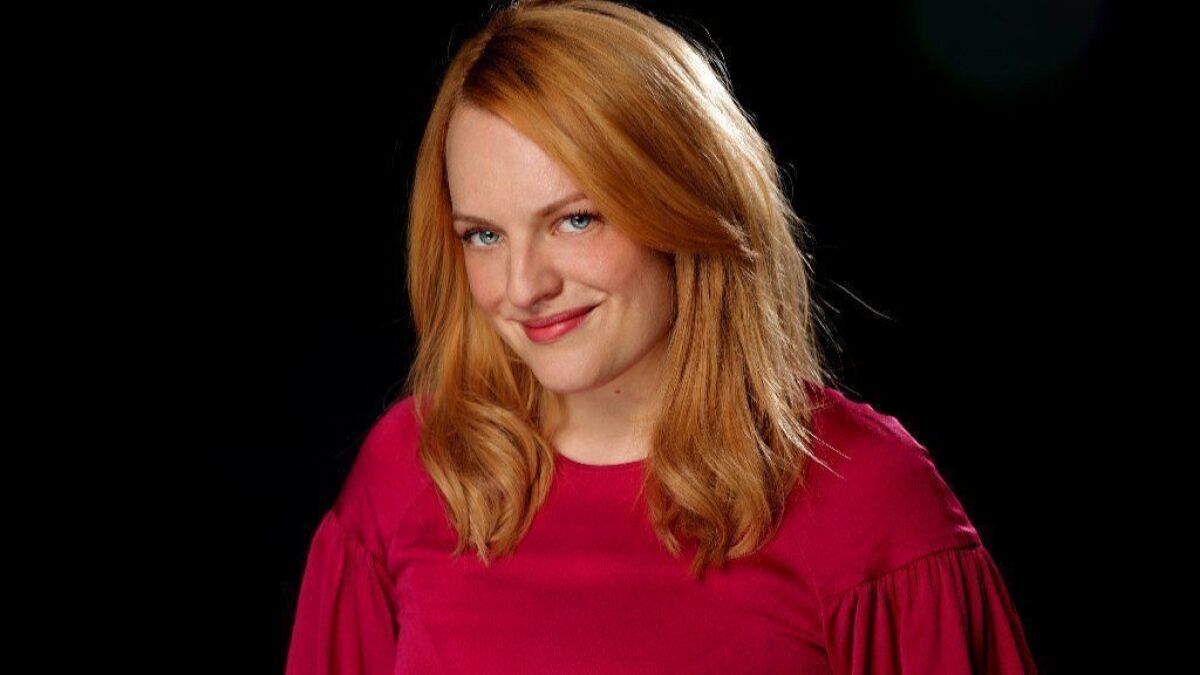 Elisabeth Moss began her summer break from "The Handmaid's Tale" planning to shoot two movies, unpack the 15 boxes she shipped home from Toronto and, maybe, just maybe, finally buy a rug for her one-bedroom New York apartment.
Flash forward a couple of months: Moss has finished the two films — playing a destructive punk rocker in "Her Smell" and starring alongside Melissa McCarthy and Tiffany Haddish in the crime drama "The Kitchen" — and added two more movies to her calendar.
At the moment, she's shooting "Shirley," playing the reclusive short story master Shirley Jackson in a film that sounds very much like the kind of spooky thriller Jackson might have written.
Shortly, Moss will leave the New York location of "Shirley" and fly to California to begin work on "Us," Jordan Peele's follow-up to "Get Out." Then she'll go back east and finish "Shirley," return to California to complete "Us" and then fly to Toronto to start shooting the third season of "The Handmaid's Tale."
"She had boundless, unfathomable energy," "Handmaid's Tale" creator Bruce Miller says. "I get tired just listening to what she's doing day to day."
"Do I covet a bit more sleep?" Moss says. "Yeeeesss. But what am I going to do? I'm not going to pass up opportunities like these."
Moss is sitting in her publicist's office in Beverly Hills. She has been in Los Angeles for a couple of hours, and she'll take a red-eye flight back home after participating in a "Handmaid's Tale" Emmy panel at the Academy of Motion Picture Arts and Sciences' Samuel Goldwyn Theater that night.
Near her chair on a ledge, there's a Jon Hamm bobblehead figure wearing a St. Louis Cardinals jersey, and upon spying it, Moss, a die-hard Cubs fan, feels obliged to rotate it so she doesn't have to look at her onetime "Mad Men" costar's offending garb.
That quiet gesture is vintage Moss, who, as you can glean from her career choices, revels in acts of playful, subversive mischief. Last year, she played a journalist in Ruben Ostlund's squirmy satire "The Square," a performance notable for, among many things, a spirited post-coital tug of war over a used condom and the scenes she shared with a monkey for reasons even Ostlund described as completely arbitrary. ("Why not a monkey?" Moss asked me by way of explanation at a "Handmaid's Tale" Emmys party last year, while holding two trophies, one for acting, the other for producing.)
All of which is to say that if you were one of those people — and there were many — upset by the decision that Moss' "Handmaid's" character, June, made during the Season 2 finale to remain in repressive, authoritarian Gilead after all the time and energy spent on getting her out, know that Moss (kind of) revels in your displeasure, if only because all that grief signaled a deep emotional investment in the show.
"I knew people were going to be like, 'Why the … didn't she get in that van?'" Moss says, smiling. "I get it. I totally do. But she has to make the harder choice. She has to find her daughter."
This isn't to say that Moss doesn't think about servicing the needs of the show's fans. She says she feels "very in tune" with them, meaning that June most definitely will not be confined once again to the beautifully lighted attic in the Waterfords' home next season. That last moment in the finale, when June raises her red handmaid's hood and disappears into the night, signaled the arrival of a June reborn, a woman finally possessing a sense of agency. (The third season, Miller says, moves from "blessed be the fruit" to "blessed be the fight.")
I'm a big fan of letting the story guide you, and you're already starting to see the cracks in Gilead.
— Elisabeth Moss
Everyone, it seems, is ready for a change.
"She's going back to fight," Moss says. "She really means business. There's no more … around. Yeah. It's going to be really fun. It's time."
That doesn't mean that Moss buys into the criticism that the show's second season spun its wheels a bit, mired in darkness and despair. (A search for "Handmaid's Tale" and "misery" generates 369,000 hits, including think pieces with headlines like: "Is 'The Handmaid's Tale' still worth the agony of watching it?")
"I get a little pissy when someone comes up to me and says that they're too scared to watch the show or they find it too disturbing," Moss says. "I'm like, 'Buck up.' That's the problem. If you're not brave enough to watch the TV show, how are you going to be brave enough to face the reality?"
"I get that it's dark," she continues. "I don't expect it to be easy to watch. But you have to be brave enough to face the truth of these things." Moss pauses, saying she really doesn't want to turn this into a political conversation. Still. "It's hard to look at those images and see the things we see on a daily basis and face that kind of reality. But if you don't, aren't you doing a disservice to the people who are actually going through it?" She pauses again. "This is obviously very different because it's a TV show."
Moss leans back and lets out a nervous laugh, aware that there were times during the airing of "Handmaid's" second season when the collision of the show's images and the day's headlines felt a little too close for comfort. President Trump picked an unlikely fight with Canada just as the episode exploring the uneasy tensions between Gilead and Canada aired. The following week, June was granted a brief reunion with Hannah, the daughter Gilead had taken from her, while the news cycle was dominated by news of the U.S. government separating immigrant children from their families.
The traumatic mother-daughter reunion was written in consultation with United Nations experts who offered advice on how such extreme, emotionally fraught situations play out. ("Never as expected," Miller says.) The following episode, save for a brief, biting interlude with the Waterfords, featured June alone on screen, first looking for escape and then giving birth to her long-awaited baby. That delivery scene — moaning, groaning, guttural, beautiful — was thoroughly researched as well, with Moss watching dozens of YouTube videos of home births.
"We wanted women to watch and go, 'Yeah, that's what it sounds like. That's what it looks like,' " Moss says. "It's one of the hardest things I've ever done physically … I almost lost my voice from all that groaning." Pause. "Though, I'm sure, it wasn't as difficult as giving birth. Let's maintain some perspective here."
On the subject of perspective, Moss, an executive producer on the show, initially said she'd bite her tongue when told that Miller had sketched out 10 seasons for "The Handmaid's Tale." But her reluctance to speak on the subject doesn't last long.
"I'm a big fan of letting the story guide you, and you're already starting to see the cracks in Gilead," Moss says. "We know from the book that Gilead ends. So you know, at some point, you have to bring it to a close. If we can't finish the story until Season 7 or 8 ..." As she trails off, it's suggested that it feels like "The Handmaid's Tale" could easily wrap up in five seasons.
Moss cups a hand over her mouth. "I think so," she whispers. "I just feel like with most shows, five is the sweet spot," citing "The Wire" and "Breaking Bad" as examples.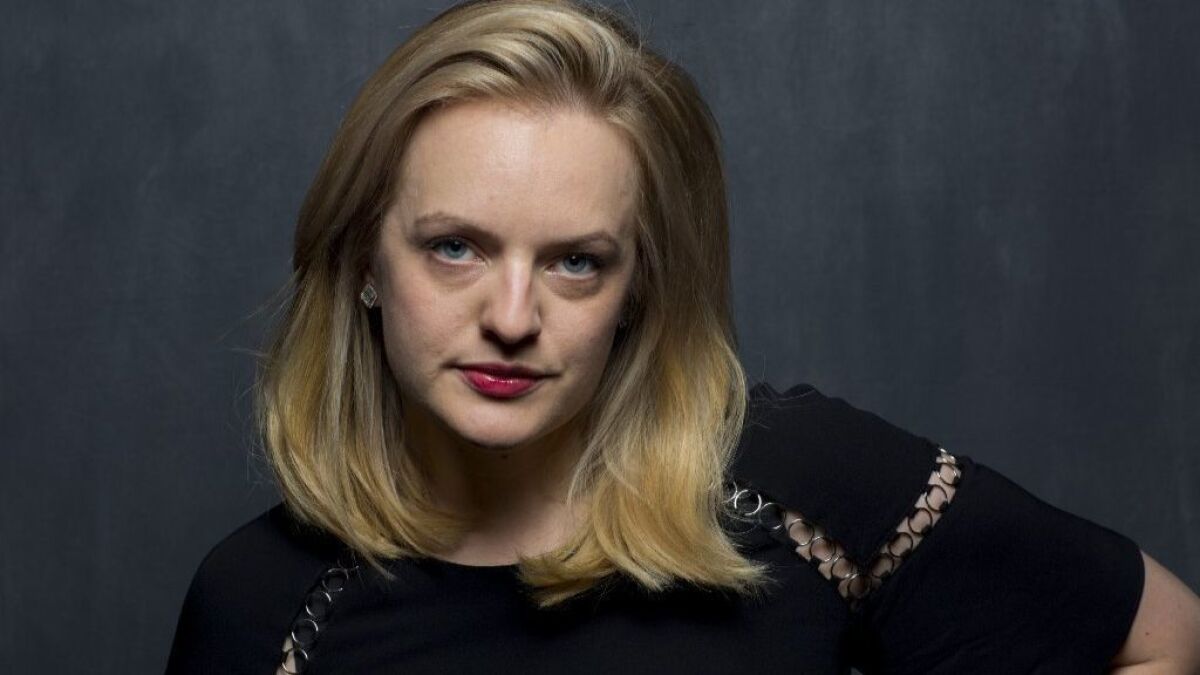 Several weeks after this conversation, Moss calls from the backyard of her family's home in the Chicago suburbs. "The Handmaid's Tale" just earned 20 Emmy nominations, and Moss is, of course, thrilled. But she's nearly as enthusiastic about finally buying that rug for her apartment, an act of commerce she had earlier guaranteed would not happen any time soon.
"It was a huge accomplishment just to get it under the bed," Moss says, laughing. "You think June giving birth was hard? Getting the rug under that … bed was impossible."
Twitter: @glennwhipp
---
From the Oscars to the Emmys.
Get the Envelope newsletter for exclusive awards season coverage, behind-the-scenes stories from the Envelope podcast and columnist Glenn Whipp's must-read analysis.
You may occasionally receive promotional content from the Los Angeles Times.