Q&A: Cast of 'Ozark' pulls no punches on their inept criminals and that weirdly long kiss
In the first season of Netflix's critically acclaimed crime drama, "Ozark," the tourist destination of Osage Beach, Mo., offers little to financial planner on the lam Marty Byrde (Jason Bateman), his philandering wife, Wendy (Laura Linney), and their two kids besides continuous peril, a boat dock wired for electrocution and sketchy characters. One of those is Ruth Langmore (Julia Garner), a feisty 19-year-old who starts out a "straight-up criminal," says Bateman, then in Season 2 morphs into something between Marty's unconventional surrogate daughter (he gives her pointers on money-laundering) and his most reliable employee (she runs Marty's seedy strip club with a determined fierceness). "She's moving on to [the Byrdes'] team."
A few weeks from now, Linney, Garner and Bateman, who also executive produces and directs episodes, will return to Atlanta to begin production on Season 3 of "Ozark." Today, however, they settle on a beige sectional in a West Hollywood hotel room to talk about Season 2's shrinking ensemble, the Byrdes' abysmal parenting skills, and what it's like to play such tightly coiled characters. At first, the Juilliard-trained Linney says, "For me, it's like reading a book — I just put it down and walk away." But when Garner admits to relaxing by binging on "Vanderpump Rules," Linney suddenly remembers that she too has a TV remedy after a long day of Wendy. "There was lots of 'RuPaul's Drag Race' being watched last season."
So many main characters were murdered this season. Does the cast know beforehand who is staying and who's soon to be out of work?
Bateman: [Keeping it secret] is an industry standard in television. It's not something we do on our show.
Linney: Inherently in the culture of television, there's a distrust. Particularly between the writers and producers, and their feeling like they can't let information out. But we have really trusting people who understand that if you give us information, we'll use it for good. We're not going to tweet about it. It helps us do our job.
At this point, you must have goodbye rituals.
Linney: I held a full-up funeral for Jason Butler Harner [who plays creepy FBI agent Roy Petty] at the end of the season. Everyone came in black and we served funeral food. We had a eulogy. We put up photographs of all the characters who'd been killed off. [Laughs]
Bateman: … And ["Ozark" showrunner] Chris Mundy came down the center as the Grim Reaper, holding a scythe.
Garner: It was really sad – and also really funny. [Laughs] I actually have a video of that. It couldn't go on any social media because it would give everything away. But it was priceless.
Laura, was this Wendy's Michael Corleone season, as has been suggested?
Linney: I think it's more than a power grab. There's an urgency. [Wendy] is very primal. She's not very mature, but she's very skilled, shrewd. And she just steps in with a focus that is somehow supported by a subterranean part of herself. I don't think she thinks of it as criminal. I think she thinks of it as survival. She's at a point in her life where she's stripped of a past identity. She's in a new place, surrounded by new people with some Proustian things going on because of her own background. She's clicking into something she understands, it makes sense to her.
Jason, how is it that "Ozark" is so bleak, but also manages to find comedy?
Bateman: The route to the humor is that these people are trying to play dress-up. They're constantly exposed as being out of their depth. Those flashes of doubt, vulnerability and losing their dignity is often hilarious. Then a second later it's heartbreaking. There's nobody bulletproof on ["Ozark"]. That's where laughs live, when the audience can see that they're not really pulling it off.
Laura, how do you rate the Byrdes as parents?
Linney: They're terrible parents. They might be nice, kind and loving to their family. But they're ethically compromised. Something was corrupted. We're not saying these are great people who are victims …
Bateman: They made a decision and they're almost petulant about how it's not been smooth.
What do you mean?
Bateman: They're a little spoiled. It's like, "There's a lot of people getting away with this and we're not." There's moments for the audience to feel joy that these big-city folks are getting their necks stepped on by these smart, crafty country mice. The hubris that the Byrdes have needs some correcting — and they get their medicine every once in a while.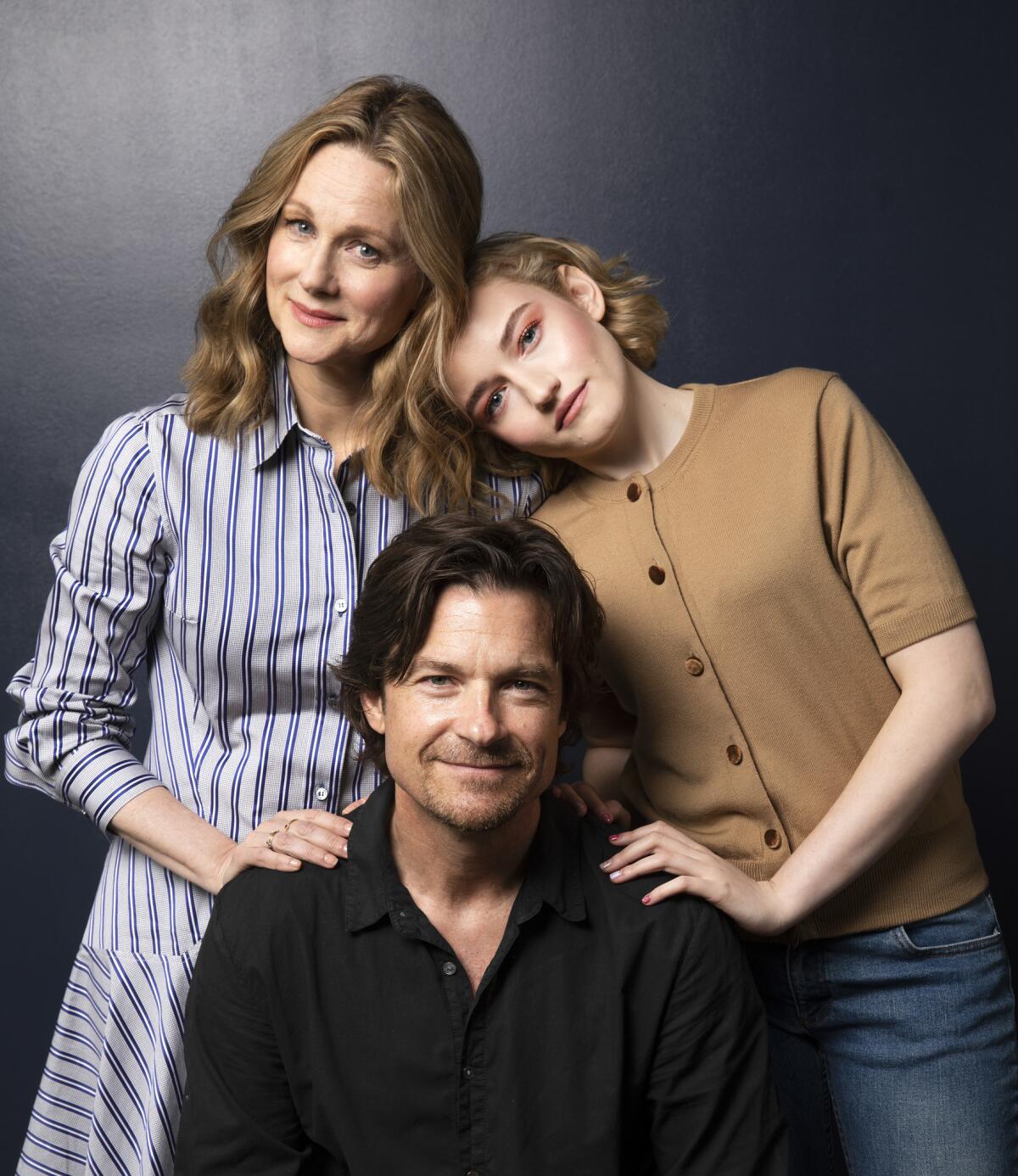 Julia, Ruth's no-good dad is finally out of the picture. Where does that leave our unlikely heroine?
Garner: Her father was such a burden, such a heavy weight. She lost herself because her dad got out of jail. So now she's going into Season 3 gaining herself back.
And that weird lingering kiss she gives her father in the morgue? Was that an acting choice? Or scripted?
Bateman: In the script it's written that the kiss lasts "maybe a little too long."
Garner: That kiss. It could mean something or it could not mean anything.
From the Oscars to the Emmys.
Get the Envelope newsletter for exclusive awards season coverage, behind-the-scenes stories from the Envelope podcast and columnist Glenn Whipp's must-read analysis.
You may occasionally receive promotional content from the Los Angeles Times.