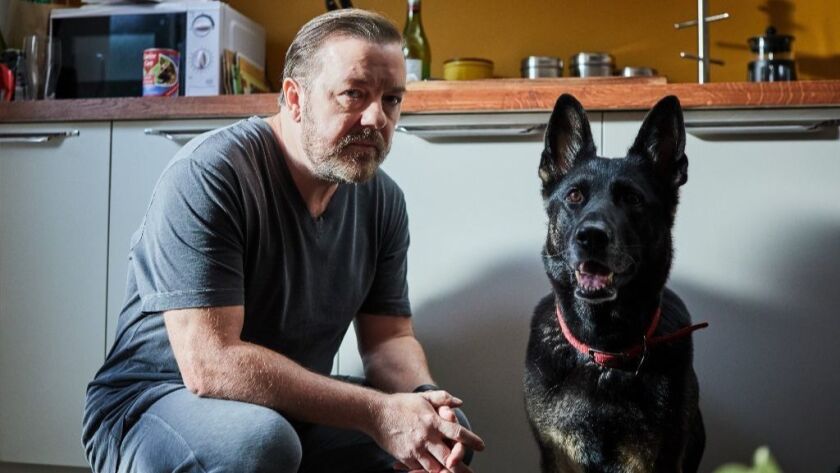 Ricky Gervais reshaped the contours of television comedy as co-creator and star of the hilariously bleak 2001 mockumentary series "The Office." Fortifying his comedic voice with a succession of TV series, stand-up tours, movies and notorious Golden Globes hosting gigs, Gervais in March pushed his acerbic brand of insult humor into dark new territory with "After Life."
In the recently renewed Netflix series, writer-director-star Gervais plays Tony, a bitterly depressed small-town newspaper reporter who starts each day watching video missives from his late wife taped during her last days battling cancer. Remarkably, laughter ensues when Tony tangles with quirky co-workers, a nosy mailman, a heroin addict, the local prostitute, his dying father's nurse and wise widow Anne (Penelope Wilton of "Downton Abbey"). Speaking by phone from the London home he shares with his partner of 37 years, author-producer Jane Fallon, Gervais cracked open a bottle of wine and went deep on "After Life."
When did you decide, "My next TV series will be about death and depression"?
I was on tour with [stand-up concert] "Humanity" in 2017 and had my days free, so I was like, "I should write a new show." The first thing I thought of was: "Imagine a man who loses everything." And then, "What is the worst thing that could happen?" And for me, it would be losing my life partner. I'd be suicidal and depressed and angry. So what stops him from committing suicide? The dog! I'd never commit suicide if my dog was hungry. And then what? "OK, I can do and say what I want because I've got nothing to lose, and if it doesn't work out right I can always kill myself." That was the whole show in a nutshell, and it all happened quite quickly in my head. I got an adrenaline rush and started writing.
Tony is clever, skeptical, brutally honest. Is he basically a depressed version of Ricky Gervais?
Um, that's sort of true. Everything I've ever done has been a bit existential, and if you've got a good vehicle, it can be a Trojan horse to deliver all the things that you care about most. So there is a strand in "After Life" that is getting things off my chest. But sometimes it's Anne in the graveyard who speaks my mind. Sometimes it's the new girl at the newspaper who speaks my mind. Tony isn't just Ricky Gervais walking around saying everything I agree with. He's a mishmash.
Tony says exactly what he wants and doesn't care what people think. Do you relate easily to those traits?
Well, two things there. As an artist, I am quite militant about going toward sacred cows, and I won't back down. But as a person, I'm not like Tony because I do care about the consequences. I'm not a psychopath. I won't fight a mugger because I'm scared of what he'd do to me, so I walk away.
Why did you make Tony a newspaperman?
Because that's the worst job for a grieving misanthrope — when you have to go out into the community and talk to people about the banality of life.
Tony reports on a guy who plays flutes through his nostrils and interviews parents who draw a mustache on their infant "Baby Hitler." Were those fun scenes to dream up?
I love those and a lot of them are true. The breast milk thing happened to friends of mine. They moved to the country and the woman next door came around with a rice pudding made from her breast milk. They said, "Thank you very much," scraped it in the bin, gave her the dish back the next day and said it was delicious. I'm sure I owe a lot to things that have gone before me, but my biggest influence is real life. I steal from real life and make a Frankenstein.
In between the funny bits, "After Life" deals with grief in unflinching terms. How do you make the connection between comedy and death?
They go hand in hand because that's what humor's for. Humor is for getting us over the bad stuff. That's all it's for. It releases endorphins, just like taking medication does if you're depressed. We're all going to die, and we can't do anything about it, so we'd better find it funny. We have a laugh. Then we find a lump. That's life.
FULL COVERAGE: Get the latest on awards season from The Envelope »
---