There are no rules when it comes to dressing RuPaul. That's a lesson Emmy winner Zaldy (born Zaldy Goco) has learned over 25 years of designing for arguably the most iconic drag queen of all time.
"Of course, there's no rules, but there's needs," Zaldy says of compiling outfits for "RuPaul's Drag Race." "There's a definite checklist of needs. Certain people require certain things right off the bat. It's funny because I think somewhere around Season 5 it was like, 'All right, no more feathers.' I don't think we've used feathers for many seasons."
Eleven years in, Zaldy says each season is still a new situation. Moreover, he now needs to consider RuPaul's looks on the "All-Star" seasons of "Drag Race," a U.K. version of the program, as well as new projects he designs for, such as the upcoming Netflix series "AJ and the Queen."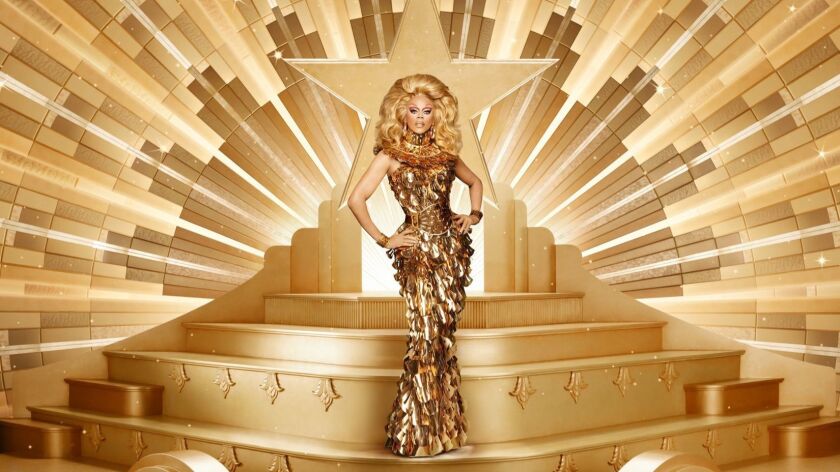 EMMY BUZZMETER: Track the latest predictions in key categories »
"Obviously, Ru is the muse, so when you have the muse you're always thinking about the muse," Zaldy says. "Sometimes we have the luxury of getting into planning certain looks for sort of coordinating with certain competitions, but lately we've just been thinking about the seasons and what looks we want Ru to do. What kind of things she might want to have this season. Just like a fashion cycle."
Longtime fans of the series noticed a big change for the 11th season of "Drag Race." Zaldy notes, "We love a classic Ru gown, and we always do that because it is that iconic image of RuPaul. But it's been really fun to sort of play around a little bit more this time." That playing around meant for the first time in years, suddenly RuPaul was showing leg. That decision was thrilling for Zaldy, but he admits the short dresses that popped up weren't his favorite design of the cycle.
"It's like that character is a real client," Zaldy says. "And for a long, long time it was just like, 'No, I want to wear a long gown.' That was the thing, and so it surprised everybody when all of a sudden Ru wanted to wear one of the short gowns."
"My kaftan look was one of my favorites in a weird way just because it was so different," Zaldy says. "Normally, the biggest emphasis is to make Ru's waist look as small as possible, and to kind of shroud it halfway. It was interesting, but I'm glad it really took. It looks so beautiful on her."
Zaldy has now won two consecutive Emmys in the costumes for a variety, nonfiction or reality category as well as the inaugural honor from the Costume Design Guild Awards this past February. He admits he was humbled by the recognition from his peers. It was a long time coming considering the New York based designer has been working with the likes of Katy Perry, Lady Gaga and Britney Spears for years. But in the end, it always comes back to RuPaul.
Zaldy regularly designs for guests of one of the highlights of the fashion season, the Met Gala, but this year was the first time RuPaul attended. When asked about whether he could explain how RuPaul's colorful suit met the definition of this year's theme, Camp, Zaldy responded with obvious glee.
"How can I explain how a pink sequin, giant custom zebra print done with cut out, appliqué vinyl for a 6-foot-7 man worn with a zebra head with 30-inch-long hand extended ostrich feather main," Zaldy says laughing. "It's just Camp. Completely. I don't think it has to be explained."
And then, for noted emphasis, he adds, "And what Anna Wintour said. She saw Ru and said, 'Top 10 looks.'"
And that's pretty much equivalent to an Emmy win from the queen of the ball herself.
FULL COVERAGE: Get the latest on awards season from The Envelope »
---