Sharon Stone drops the weight of pre-conceived expectations and tackles 'Mosaic' with ease
"There's nothing like hearing Steven Soderbergh say, 'There's a job for you and it's actually for you,'" says Sharon Stone as she settles into a sofa. Dressed in a nubby brown and black pencil skirt, butterscotch top and matching high heels, she's fielding questions about the HBO murder-mystery miniseries "Mosaic" from the comfort of a publicist's Century City office lounge. In a performance widely hailed as her strongest in years, Stone portrays Olivia Lake, an endearingly jaded children's book author whose ski-resort property and high-wattage charm inspire the men in her life to behave badly.
"Olivia has a kind heart and a wicked tongue," says Stone, summing up the tempestuous character conceived specifically for her by Soderbergh and writer Ed Solomon. When filming began in Park City, Utah, in late 2015, she immediately clicked with the famously efficient director. Soderbergh, serving as his own cameraman, expected the cast to nail each scene with minimal fuss. "We shot 20 or 30 pages a day and I loved that," Stone says. "It was like being a racehorse at the gate and you're off and you're free."
Stone does not like to be "over-directed" and in Soderbergh, she found a filmmaker who raised her game without being pushy. "Everybody told me, 'Soderbergh's not going to talk to you,' but that's not really the case," she says. "I remember the scene where Olivia meets Garrett [as Joel Hurley] at the bar and says, 'Give me something strong and muscular.'
WATCH: Video Q&As from this season's hottest contenders »
"As Steven's shooting, he tells me, 'Give him an elevator.' That is such a great direction because not only is it, 'Give him an up and down look' but it's also a period in filmmaking. Joan Blondell. 'The Sweet Smell of Success.' I didn't have to stop, I didn't have to look at Steven, I didn't have to think it through because I knew exactly what he meant. It's a style: 'Hey babe, not only am I seeing you in a glance but I could eat you for breakfast.' So it's not that Steven doesn't talk. It's about how you listen. He speaks to you in the language of your character."
I'm slow and steady. Used to be the bitch. Now I'm just the turtle.
— Sharon Stone
Soderbergh's directing acumen reminds Stone of her collaboration with Martin Scorsese on "Casino," for which she earned her sole Academy Award nomination as fiery mob mistress Ginger. "I learned so much," she recalls. "On days I didn't have scenes, I'd sit next to Marty and ask him, 'What are you looking for?' 'The elements,' he says. So I got these little plastic elephants and put them on top of the monitor: 'These are the elephants we're looking for in the scene.' And I started to recognize the 'elephants.' And one of the elephants in a scene is the mistake, because if there isn't a flaw integrated into the shot, it will not feel natural."
Which brings Stone to her climactic monologue in "Mosaic," when Olivia gets on the phone and pours her heart out to the answering machine of her best friend (Paul Reubens) while chomping on a succession of martini olives. "When you're upset, you eat and talk and eat and talk," Stone says. "It's about the messiness of life. I believe there has to be a moment in every performance where you create a kind of turbulence so the audience reengages in a new way. Like, they thought they knew what was happening and now we have no idea what's going to happen!'"
Almost as notable as Stone's performance in "Mosaic" is the baffling dry spell that preceded it. Given her instantly iconic "Basic Instinct" breakthrough in 1992 and woman-in-a-man's-world "Casino" meltdown three years later, she hoped to be swarmed with A-list offers. That didn't happen. Did Hollywood not know what to do with her? Stone thinks this over. "They respect me now," she finally says. "Now they know I'm the dependable one. I'm the one who comes to work on time and knows my lines, and I'm the one who doesn't [sleep with] my costar or the director or the producer. I'm slow and steady. Used to be the bitch. Now I'm just the turtle."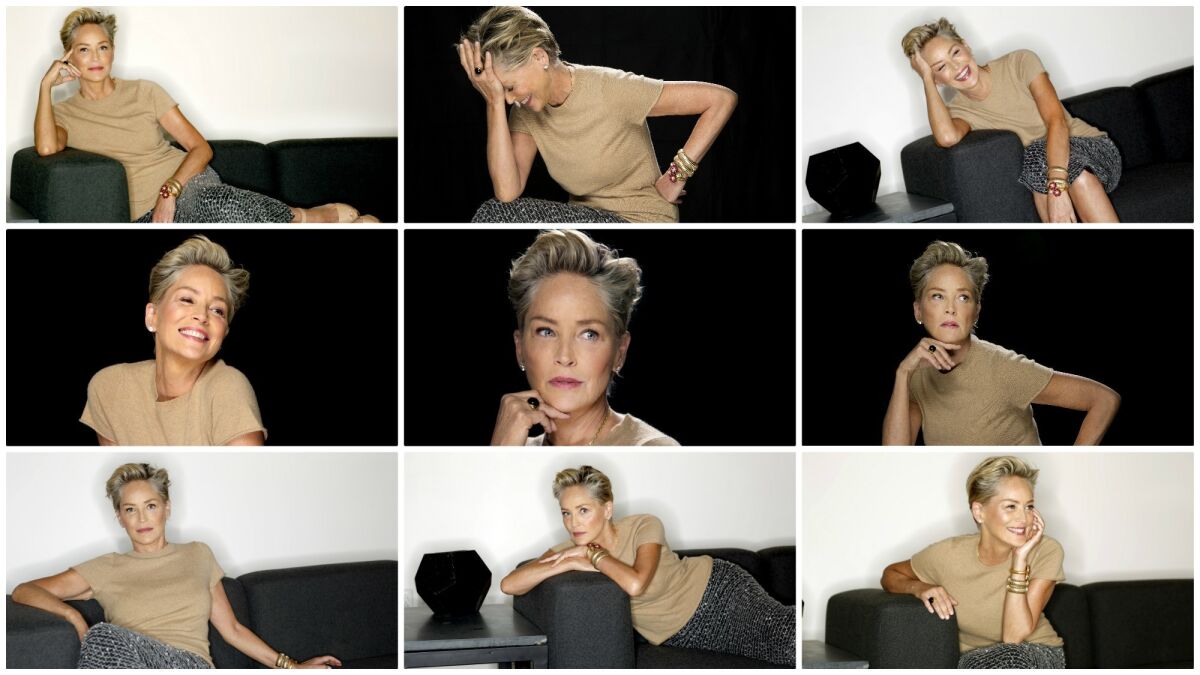 Compounding her show business disappointments, Stone, 60, suffered a stroke in 2001. "It was a massive nine-day brain bleed," she says. "Learning to read and write again, that was a humbling experience." For the past few years, she's focused on raising her two sons and doing philanthropic work.
Professionally, Stone explains, "I took smaller parts and built up a body of work completely different from the thing I got stuck into by the part where I wasn't taken seriously." Of that role as the predatory Catherine Tramell in "Basic Instinct," Stone dryly observes, "It's not as easy to play a psychopath as you might think."
Of "Mosaic" she adds, "The fearlessness with which Ed wrote this story and the rawness with which Steven shot it — I felt like I'd put down a 1,000-pound weight. It felt light. I wasn't trying to fulfill a bunch of preconceived notions. I went to work with ease, finally."
Get our L.A. Goes Out newsletter, with the week's best events, to help you explore and experience our city.
You may occasionally receive promotional content from the Los Angeles Times.