Stephan James embraces the challenge of holding 'Homecoming' together with Julia Roberts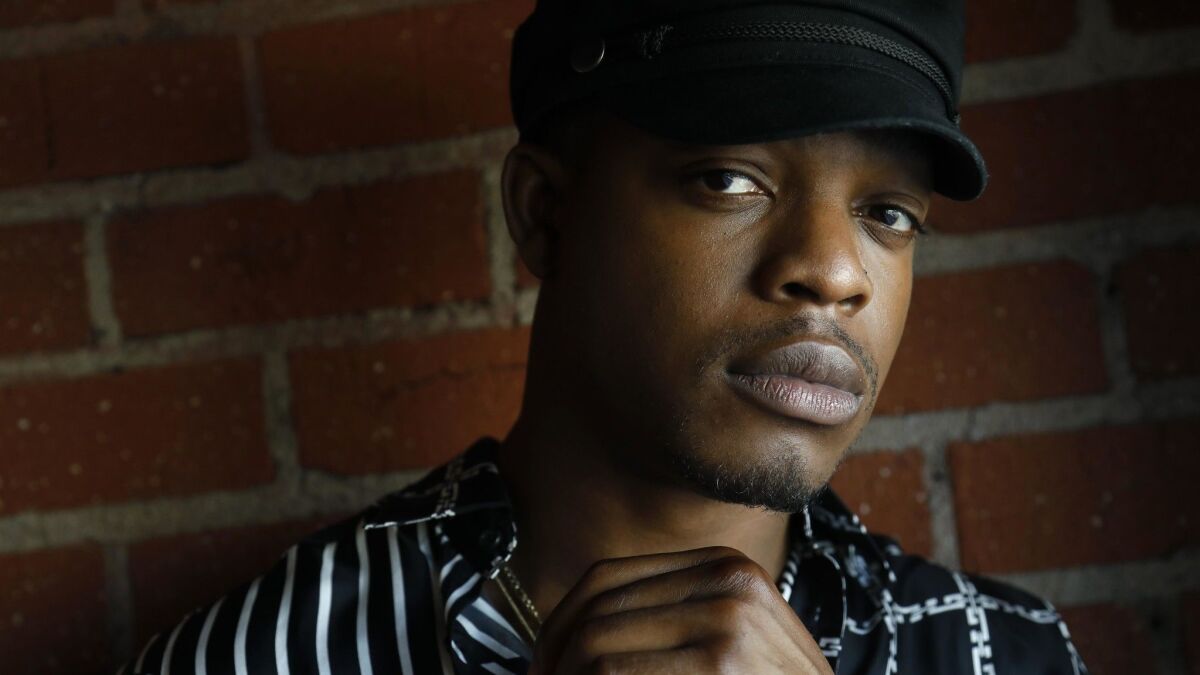 Amazon's "Homecoming" is a twisty, low-key, sci-fi-tinged thriller series in which well-meaning therapist Heidi (Julia Roberts) works with veterans including young Walter (Stephan James) at a re-assimilation facility employing an experimental treatment. There are multiple timelines, with buried secrets and suppressed memories clawing their way to the surface. And one of its key moments is … a quick hug?
"I think that's the first time Walter had any kind of inclination he might really like this woman further than being his therapist," says James. "I think that hug catches Heidi off guard a little bit, but maybe that's the moment too where she sees Walter a little differently."
It's fleeting. It's awkward. It's a beautiful nonverbal exchange in which the two experience each other in a new way. It sparks one of the most convincing romances in Roberts' storied screen career. And despite "Homecoming's" mind-bending bells and whistles, it's that romance's emotional resonance viewers are likely to carry after the final shot of the final episode.
So no pressure, Mr. 25-year-old Toronto native, who's just starting to break stateside. You just have to perform 10- to 15-page scenes with an Oscar-winning movie star and hold the emotional center of the entire show. Also, play multiple layers of a soldier haunted by his wartime experiences.
And to land the part, you have to fly across the country on an off-day during your work as the lead in Barry Jenkins' "If Beale Street Could Talk" to nail a chemistry read with America's Sweetheart.
"I had so many pages of dialogue to memorize, like 15 pages. The 'Julia Roberts' of it all sort of just floated to the back of my head," says the thoughtful actor, chuckling on a sofa in his publicist's offices. "I was just concerned with getting these lines. Then I was in the waiting room and I get called to go in and I was like, 'Oh! I'm about to do this with Julia Roberts. Like, "Pretty Woman." '
"But she broke it down so quickly. So, so quickly. The moment I walked in, she gave me a hug. We spoke about things that had nothing to do with the audition. All these producers are sitting around, waiting and I'm just having this personal moment with Julia Roberts. That was the moment when I felt like this was gonna be a special thing, because of the kind of human being I realized she was."
James, who was nominated for a Golden Globe for the performance, is aware of how crucial Walter and Heidi's chemistry was to the show.
"A lot of it's in the writing, but you know, Julia and I spent a lot of time together — a lot, a lot of time together — hours locked up in a room much like this," he chuckles again, indicating the spare office. "There's nowhere, really, to hide. We only have each other to bounce off of. The cameras are rolling, but we still have to be in front of each other and form a relationship. I honestly credit that to time."
Walter presents as a strong, stand-up guy, but he recognizes he's been damaged enough to need help. James strikes a delicate balance between solid and showing hairline cracks.
"I think, oftentimes, we have this idea in our heads of what PTSD looks like," he says. "Just because you have one guy over there smiling and another guy not smiling, doesn't mean that he's any better than the one who's not smiling.
"Some come back seemingly very normal. You wouldn't know what's affecting them and how deeply it's affecting them. I feel like Walter is that version. I wanted that struggle to slowly unfold."
James is, as the kids say, blowing up. His other recent Hollywood work includes "Selma," "Race," and the upcoming "21 Bridges." Despite his extensive Canadian résumé, he says he's still learning.
"Honestly, I was just fortunate to go to work every day with someone of the caliber of Julia Roberts. To be in the trenches with her every day. It really aided my confidence about the level of workload I could sustain.
"I'm not really scared of words too much anymore," he says, laughing.
---
From the Oscars to the Emmys.
Get the Envelope newsletter for exclusive awards season coverage, behind-the-scenes stories from the Envelope podcast and columnist Glenn Whipp's must-read analysis.
You may occasionally receive promotional content from the Los Angeles Times.