From black socks to black tie, Jimmy Kimmel prepares to host Hollywood's most glamorous night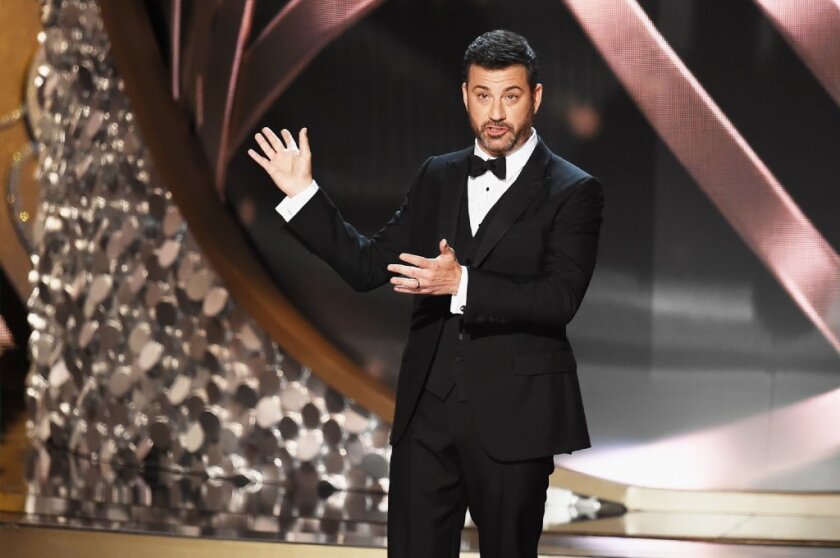 Jimmy Kimmel's late-night talk show isn't taping today, but Kimmel's working. He's always working. Right now he's wearing his standard uniform when he's not on the air — shorts, a Dickies work shirt and black socks.
"I'm a very glamorous guy," Kimmel says, laughing, noting the incongruity of him hosting the Oscars this year, an event that's often billed as "Hollywood's most glamorous night." He's about to head to a tuxedo fitting, a trip-to-the-dentist-type task he tried to dodge, asking if he could just use the same tux he wore when he hosted the Emmys in September.
One problem: It turns out Kimmel had donned that tux at the 2015 Emmys as well. Kimmel's wardrobe designer, Rodney Munoz, literally shuddered at the suggestion that he might wear it again.
When Kimmel hosts the Academy Awards on Sunday, he will become the first person to have anchored the Emmys and the Oscars in the same cycle. Partly, that distinction comes from ABC televising both events. Networks now lean on their late-night headliners to host awards shows and, since renewing its broadcast deal to televise the Oscars through 2028, ABC has more pull than ever with the motion picture academy. The network wanted Kimmel to emcee this year — and, quite possibly, for many years to come.
Kimmel earned strong reviews for his second go-around at the Emmys in September, winning praise for his confident delivery, spontaneous quips and the breezy way he celebrated the victors and mocked the industry. ("Here in Hollywood, the only thing we value more than diversity is congratulating ourselves on how much we value diversity," he joked.)
Yet his unpretentious, regular dude persona isn't everyone's idea of the ideal Oscar host. When Kimmel was hired, some academy members griped that the job should have gone to someone with a background in film, a complaint completely divorced from Academy Awards history.
Says film critic Leonard Maltin: "I am old enough to remember being somewhat jostled by the idea of Johnny Carson being hired because I said, grumpily, 'He's not a movie guy.' What he was was a professional host. What he did, he did well. So I expect no less from Jimmy Kimmel for the same reason."
Hosting is like being the father of the bride. It's not about you, but you are going to pay for it one way or another.
Jimmy Kimmel
For his part, Kimmel hopes he can inject some fun into a show that, with a running time that pushes well past three hours, often feels like a slog. At the moment, everyone's wondering how heavy he'll lean on political humor, and he can't answer that definitively because he doesn't know what Donald Trump might do or say between now and Sunday. ("It's like when Charlie Sheen was on his 'winning' tour," Kimmel says.)
Kimmel figures that there's no avoiding Trump — he took a handful of jabs at the then-future president at the Emmys — but he doesn't think politics will dominate the show. At least on his end. He believes the Oscar winners have earned the right to say whatever they want from the stage.
"You hear people say, 'I'm sick and tired of people talking politics at awards shows,'" Kimmel says. "Well, I'm sick and tired of people talking about how sick and tired they are of people talking about politics at awards shows.
"I don't think anybody's doing this to make themselves more popular," he adds. "The easiest thing they could do is go up there and wave the American flag."
Like most comedians, Kimmel, 49, uses a fear of failure as a motivational tool. Sure, he worried about hosting the Emmys, but, because the ceremony rotates between networks, he knew when the gig was coming up and had years to prepare. (And prepare he did, often waking up in the middle of the night, jotting down jokes.)
Now, the Oscars job has elevated his anxiety to new levels. Few people remember Emmy hosts who bomb. Tank at the Oscars and you'll "Uma-Oprah" your way into the annals of history.
"The Oscars are dissected and for a lot of people it's like a religious event, which the Emmys are not," Kimmel says. "It's like the difference between the college football championship and the Super Bowl. And hosting is like being the father of the bride. It's not about you, but you are going to pay for it one way or another."
Kimmel, by the way, takes pains to defend David Letterman's Oscar hosting performance in 1995, saying that Letterman — the man who inspired Kimmel to pursue a career in entertainment — did a "very good job." The perception that he failed, and that his funny-names gag with Uma Thurman and Oprah Winfrey bombed, Kimmel maintains, came from the self-deprecating host himself.
What's funny is that Kimmel didn't watch Letterman's Oscars live, as he spent the day trying to crash the party afterward. At the time, Kimmel was working at KROQ-FM's "Kevin & Bean" morning show, and he and co-host Kevin Ryder decided to sneak into the famous post-Oscars bash. Donning black tie, they showed up at the Governors Ball dining room at noon, staying there for the next nine hours.
"I was wearing a tuxedo I had probably borrowed from my father-in-law, who outweighed me by 50 pounds," Kimmel says. "I'm sure it was immediately obvious that we had no business being there."
Not having passes, security told them to leave just as the Oscars were ending. Kimmel ran to a pay phone, called the radio station and asked a producer to read him a name as the credits rolled on screen. Kimmel hurried back inside and told the guards they were with Gil Cates, the producer of the awards show. They were again asked to leave. Just then, a river of celebrants clad in tuxedos headed toward the entrance, and Kimmel and Ryder jumped in the flow and made it inside.
"We were pretty nervous," Kimmel remembers. "John Travolta went and got us dinner, which is kind of crazy, but I think he could sense our fear of being thrown out."
So, yes, Kimmel has come far in 22 years, even if he's being paid, as he revealed on the "Kevin & Bean Show," a (relatively) paltry $15,000 to host the Oscars.
"We've got to get some kind of host union going," Kimmel jokes. "There's going to be a march on Washington. It will be a very small march — me and Neil Patrick Harris. But we will march."
Twitter: @glennwhipp
ALSO
If there's a 'Meryl Streep kind of moment' at the Oscars, will President Trump be too busy to respond?
Is Jimmy Kimmel the right Oscars host for this Donald Trump moment?
What this year's Oscar-nominated producers say they're doing to close Hollywood's gender gap
ABC sells all its Oscar ad time; advertisers brace for political speeches
---
From the Emmys to the Oscars.
Get our revamped Envelope newsletter for exclusive awards season coverage, behind-the-scenes insights and columnist Glenn Whipp's commentary.
You may occasionally receive promotional content from the Los Angeles Times.