Constance Zimmer of 'UnReal' prefers 'Cupcake Wars' to 'The Bachelor'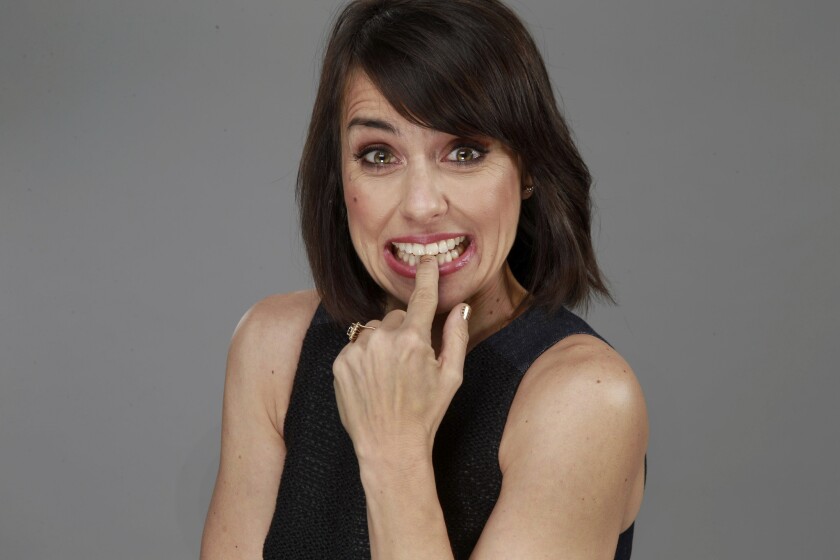 It's the sort of reveal that might prompt Quinn King to throw her trusty walkie-talkie across the room: someone confessing an affinity for "Cupcake Wars."
Constance Zimmer, who plays the gruff executive producer of a "Bachelor"-like reality show in Lifetime's "UnReal," is that someone. And she makes no apologies.
"I'm addicted to 'Cupcake Wars' because my daughter and I are so fascinated by what they do with those cupcakes," Zimmer said when she stopped by The Envelope's video studio this week.
VIDEO: Exclusive interviews with TV stars from your favorite shows
That's just about as far as Zimmer, who has previously appeared in such series as "Entourage" and "The Newsroom," gets to watching reality TV. "Project Runway" also makes the cut. But, otherwise, Zimmer keeps her distance from the genre.
"I hate to say it, but I like watching actors act," she said. "I just love watching stories. You don't really get that with reality television… But I appreciate it. I get it. I understand the attraction 100%."
Constance Zimmmer talks about the similarities between reality TV shows and her show, "UnREAL."
Since "UnReal" premiered last year, Zimmer said she's been invited to only one viewing party for "The Bachelor/Bachelorette" franchise thrown by some friends. But her work life quickly made the viewing experience hard to enjoy.
"I watched one episode and the whole time I was texting with one of our creators and I was like, 'They did a hot air balloon today – we did a hot air balloon. They did tantric sex, we did tantric sex!' My worlds were colliding. It was too much."
"It's almost really anxious for me," Zimmer added, "because I watch it as Quinn. I can't even really watch it as Constance. I see it. I see all of it. I see the angles between the cracks of the doors."
'UnREAL' goes where real reality dares not tread in second season »
But, hey, maybe there's time to try again. The current second season of "UnReal," which premiered this week, airs Mondays – the same night as the new season of "The Bachelorette."
We also talked to Zimmer about her initial reluctance to do the role, her character's relationship to that walkie-talkie, and the evolution of Quinn in Season 2. Watch the full video below.
Constance Zimmer talks about her character, Quinn King, from "UnReal."
yvonne.villarreal@latimes.com
@villarrealy
---
From the Emmys to the Oscars.
Get our revamped Envelope newsletter for exclusive awards season coverage, behind-the-scenes insights and columnist Glenn Whipp's commentary.
You may occasionally receive promotional content from the Los Angeles Times.