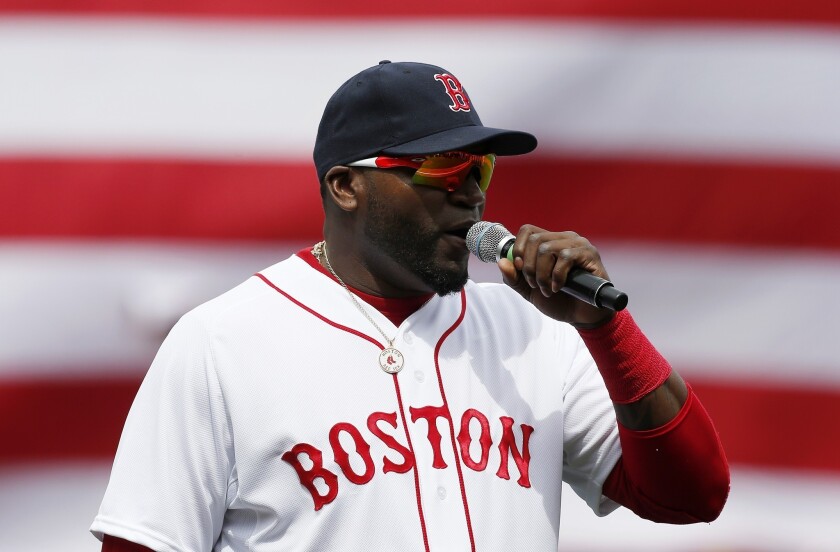 FCC Chairman Julius Genachowski's tweet over the weekend -- dismissing the notion that the FCC would pursue action against stations that broadcast Red Sox slugger David Ortiz's F-bomb in the wake of the Boston Marathon bombing -- may be the most talked about 140-character missive ever from a government official -- or at least one that didn't involve photos of his anatomy.
"David Ortiz spoke from the heart at today's Red Sox game. I stand with Big Papi and the people of Boston," Genachowski tweeted.
Some viewed Genachowski's stance as a courageous departure from nitpicky FCC regimes of the past. Others saw it as hypocritical in the wake of FCC campaigns like the infamous one against Janet Jackson's accidental Super Bowl peep show.
All the argument, however, is likely moot as there is no evidence that any actual FCC infraction was committed. Though the expletive was broadcast on live TV, it went out over Major League Baseball Network and New England Sports Network — cable venues not bound by the purview of the FCC. And though the game was also broadcast over the radio (which is subject to FCC oversight) on the Boston radio station WEEI, the station's program director, Jason Wolfe, says Ortiz's outburst didn't make it to air.
"We were in delay during the ceremony and were able to cut it out in time," Wolfe says.
No infraction, no problem. Guess that solves that.
Or does it?
WEEI controls exclusive rights to broadcast games in the Boston area, but it sells off the rights to broadcast the games to other stations around the country.
"I can't say what happened on other stations," Wolfe says. "They don't get the feed directly from us. They get it from the satellite. It could have possibly gone out over another network."
It's hard to imagine notoriously loyal Red Sox fans ratting out Big Papi to the FCC. That said, all it will take is one angry Mainer to call in and complain to start the hand-wringing all over again.
ALSO:
Comcast scores stay of FCC's Tennis Channel order
Comcast begins appeals process in FCC Tennis Channel ruling
Tennis Channel triumphs over Comcast in FCC discrimination case
MORE
INTERACTIVE: TVs highest paid stars

ON LOCATION: People and places behind what's onscreen

PHOTOS: Hollywood back lot moments
---