Sundance 2013: Documentaries turning to writers to shape narrative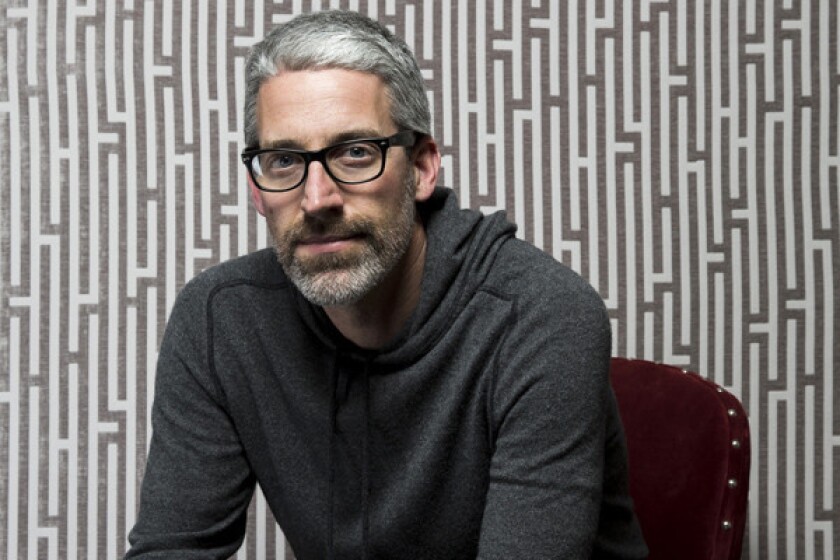 PARK CITY, Utah — A new title has been added to the list of movie credits that describe jobs few people understand. Move over, gaffer, best boy and second second assistant director, and make room for the "written by" credit on an increasing number of documentary films.
"It's a niche within a niche," admits Mark Monroe, one of the best. "There's certainly a lot of discussion about whether it belongs or not. It's a question I get asked five times a day. But no one I've ever worked with has ever had any issue with giving me a writing credit."
At this year's Sundance Film Festival, which wraps up Sunday, three equally strong but very different documentaries have Monroe's name on them as screenwriter: "The Summit," which details a disastrous day on K2, the second-highest mountain on Earth; "Who Is Dayani Cristal?" about the search for the identity of a body found in the desert near the U.S.-Mexico border; and "Sound City," Nirvana veteran Dave Grohl's affectionate tribute to the legendary Van Nuys recording studio.
FULL COVERAGE: Sundance Film Festival 2013
"In the old days," the 44-year-old Monroe said, "documentaries were made in the editing room between the director and the editor. But documentaries are a little more sophisticated these days — they are more than just talking heads. If you want it to screen like a film, it has to be entertaining like a film."
So Monroe's job in a nutshell is "structuring the film in the most dramatic way possible, giving it a narrative drive. These films should provide an emotional ride like watching Meryl Streep or a James Cameron movie."
What Monroe doesn't do, he emphasizes, is "sit down and write something and hand it to the editor. This is an extremely collaborative job. I'm the guy who goes into the jungle with a machete, clears the path and says, 'This is the way we should do it.' I'm not always right, but I get the first whack at it."
"Initially, I suppose having a screenwriter felt strange; I've always written my own material," says Nick Ryan, director of "The Summit." "Now I can't imagine having done it without him.
"Mark's contribution was astonishing. We went back and forth constantly, half of my Google email was with him. He put a focus and structure on the story, channeling loose ideas into cohesive form like a cowboy herding cattle into a corral. It wouldn't be the film it is now without his work."
PHOTOS: Sundance 2013 portraits by The Times
Monroe usually comes on board after the film has started shooting. The process begins, he says, with "a serious discussion with the director about what his hope is, what kind of film he has in mind."
With Grohl, for instance, Monroe found out "within the first five minutes that he wanted to inspire young people to pick up an instrument and play with other people." That's where Monroe got the idea to start the film with Nirvana's long drive from the Pacific Northwest to Sound City.
"Dave interviews people, and I give him questions in addition to his own. Then I interview Dave. I get transcripts and look for stories that feed into what I'm trying to do. I make note cards and put them all on a board."
Next, he says, he turns out pages and gives them to Paul Crowder, an editor and Monroe's partner in the Diamond Docs production company (along with Morgan Sackett). "Paul interprets those pages, we tweak it, turn it, and when we have about five minutes' worth, we send it to Dave."
Monroe was born in Oklahoma, where his father, a former press secretary to Sen. Fred Harris, was the editor-publisher-columnist for the McCurtain County Gazette. Monroe followed in his footsteps, studying journalism at the University of Oklahoma. He then spent five years with CNN in Atlanta before burning out and ending up in Los Angeles working for the TV show "Extra."
Monroe's breakthrough work as a documentary screenwriter came on the Oscar-winning 2009 film "The Cove."
"The filmmakers were in over their heads with all this footage, they needed someone to help with the story," he remembers. "I always get the rough cut, and there was a lot of dolphin slaughter, which we cut down from 16 minutes to 90 seconds."
A firm believer that "a film starts to tell you where it wants to go, what it wants to be," Monroe persuaded the filmmakers to include the footage they'd shot of their preparations to photograph the dolphin kill. "You want to get people on the train, invested in the story," Monroe says, noting paradoxically that "what you are rooting for is getting to watch dolphins being killed."
Because each project is different, Monroe's role varies from film to film. In "The Summit," for instance, it was to help persuade folks "not to back off from the complications of a very complicated story. There was only one person on the mountain who was a native speaker of English and he died. There were a lot of moving parts here, some people wanted to remove some of them, and we said, 'You can't do that.' "
On "Dayani Cristal," which was three-quarters finished when Monroe came on, his task was difficult because this doc has two distinct elements — a detailed examination of how the body found in the desert was identified, and a re-creation (starring Gael García Bernal and complete with voice-over) that retraces the man's 58-day, 2,000-mile journey from Honduras.
"This is a film about a guy you are never going to know, so it's a question of how are you going to get the audience to care for him," Monroe explains. "Originally, his family was not introduced until the end of the film, and I brought them in early on, which made you fall in love with him." Monroe also spent days with Bernal to understand the tone the actor wanted in his extensive voice-over.
"In general I come on board after the filmmakers have been living with their passion, maybe for four or five years," Monroe says. "When they have something, where there is magic, I love to get on board. Making more of the magic is part of my job."
VIDEO: A video guide to Sundance 2013
---
From the Emmys to the Oscars.
Get our revamped Envelope newsletter for exclusive awards season coverage, behind-the-scenes insights and columnist Glenn Whipp's commentary.
You may occasionally receive promotional content from the Los Angeles Times.